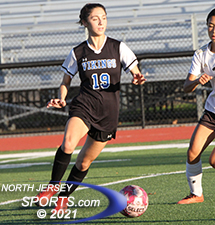 Isabella Bianchi leads a solid defense for North Arlington, which locked up a league title for the first time since 2000.
NORTH ARLINGTON – Pulling two upsets to reach the semifinals of the state tournament made North Arlington's girls soccer program one of the feel-good stories of a truncated 2020 season. Making a run in state tournament play was not the end of the story though, as it has been only the beginning. With most of the key players returning this fall the Lady Vikings have already achieved the majority of their pre-season goals before the state tournament is even seeded and they are not still satisfied.
With two more road upsets this season in the Bergen County Tournament over Westwood and Lyndhurst, the Vikings made the Round of 16 for the first time in over two decades. Even a loss to Paramus to end the Lady Vikes' run could not curtail one of the best seasons in school history. Since that county tournament loss, they have rattled off four straight shutouts, the biggest of those being a 2-0 shutout of Saddle Brook that locked up an outright NJIC-Meadowlands Division crown. It was the program's first league title since 2000.
"Winning the league was our number one goal heading into the season," said North Arlington head coach Mike Vivino. "I knew we would be competitive in the county tournament, but to win two games was a pleasant surprise. We feel confident that our best 11 players can play with some of the better teams around. Being strong up the middle of the field and having a bunch of players who can put the ball in the net is a huge asset. The kids have all bought in and they're seeing the results."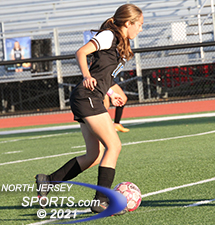 Arancha Antues has 14 goals and 20 assists for North Arlington, which won two games in this year's Bergen County Tournament.
After an early-season loss to Hasbrouck Heights the Vikings' hopes for a league championship dwindled significantly. They were not fazed by the challenge ahead and knew they needed to run the table in order to at least grab a share of the title. The Vikings did their part when sophomore striker Lia Cruz's second-half goal and a stern defensive effort led by Isabella Bianchi gave North Arlington a 1-0 win in the rematch with Hasbrouck Heights.
Then last week when Saddle Brook tied Heights the Vikings needed a win over Saddle Brook to lock up an outright title. It was only fitting that the dynamic duo of Cruz (23 goals, 12 assists) and junior center midfielder Arancha Antunes (14 goals, 20 assists) both scored and assisted on the other's goal in a 2-0 win.
"It's a great feeling to be league champs and to do what we've done over the past two years," said Antunes. "For the players who are juniors and seniors now losing the way we did in the state tournament my freshman year really shaped us. We knew we had some talented players coming into the program. The challenge was learning how to work together and making it all click on and off the field."
The victory was especially sweet for Antunes. In her freshman year, she was the lone goal scorer in a 10-1 drubbing against Belvidere in the first round of the state tournament. That could have been a breaking point for a young player and a young team hoping to find its way. Instead, it is a rallying cry for a team that has grown rapidly in a short amount of time.
The Vikings have kept the ball rolling with a win over McNair Academic. Nicole Garcia scored 14 seconds into the match and added another goal eight minutes later for the first multi-goal game of her career in a 7-0 win, the fourth shutout in a row for sophomore goalie Daliana Rojas. With the state tournament right around the corner, North Arlington looks to be peaking once again at the perfect time.
"We're not just happy to be there this year, we're ready to play, we're ready to win, and we feel we have another run in us," added Antunes. "We have amazing team chemistry and we're all very unselfish. It all seemed like a dream last year. But now we are putting that dream into action and we're seeing what we're capable of accomplishing together. Our state section bracket is very tough. This whole season has been exhilarating. To see the whole school and the whole town behind us has been amazing. It will come down to the little things and the fine details to see how we can go."
FOR MORE PICTURES OF THIS EVENT PLEASE CLICK HERE. TO BUY A COLLECTOR'S PRINT OF THIS STORY PLEASE VISIT 4-FeetGrafix.com.