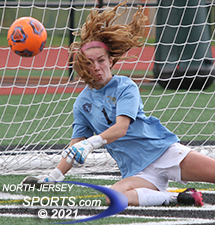 Junior keeper Mackenzie Ward made two brilliant saves in the second overtime period and two more in PKs to push Old Tappan past rival Demarest 0-0 (3-2 PKs) in the Bergen County Toutrnament's Round of 16 on Saturday in Franklin Lakes.
FRANKLIN LAKES – Through two rounds of the penalty kick shootout in the Round of 16 of the Bergen County Tournament on Saturday, Northern Valley/Old Tappan had yet to convert one, but the Golden Knights were no less confident in the outcome.
It was just before the third round started when Emily Clune, standing with her fellow Old Tappan shooters in a tight group near midfield, yelled out, "It's not over yet. We have the best goalie in the county."
It is hard to argue to with scouting report on junior goalkeeper Mackenzie Ward.
Having made two brilliant saves in the final five minutes of the second overtime just to get her team to PKs, Ward dispatched of two rival Northern Valley/Demarest's attempts from the spot to set up Clune for the walk-off.
Clune cracked her fifth-round PK inside the right post to give 9th-seeded Old Tappan a 0-0 (3-2 PKs) victory that sends the Knights into the quarterfinals where they will play top-seeded and defending Ramapo, a 3-0 winner over Park Ridge.
"PKs are a lot of pressure, but I was level-headed because I know we have one of the best goalies in the county and [Ward] was going to keep us in it no matter what," said Clune, NVOT's senior central defender. "I felt like we had a lot to prove. We are a team that came off a .500 season last year and our drive helps us get past any mental stigma I had to step up and make it."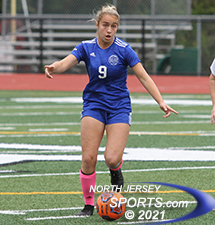 Senior Emily Holzer set up some of Demarest's best scoring chances.
There is just not much separating these two teams from the Northern Valley school district, not in geography and certainly not in terms of play on the field. Their one regular season meeting so far ended in a 1-all draw, their seeds in the Bergen County Tournament were No. 8 for Demarest and No. 9 for Old Tappan and Saturday's Round of 16 matchup at Ramapo High School was tied for all 80 minutes of regulation and the 20 minutes of the two overtime sessions.
Even the penalty kick shootout was tied at 1 through its first three rounds.
This rivalry this year has been crying out for a difference maker and down the stretch of another looming stalemate that turned out to be Ward, a multi-sport athlete who has the perfect skill set to be a standout goalkeeper. Her athleticism allows her to put herself in the proper positions and her competitiveness means she will risk life and limb to keep a soccer ball out of the back of a soccer goal.
Demarest has a dangerous attack that centers upon Emily Holzer's ability to hold up play with her back to the goal. The senior has a deft first touch, she keeps the ball close after first contact, can maintain possession in tight spaces and then find runners.
It was an entertaining battle all afternoon between Holzer, a Lehigh commit, and Clune, a multi-sport standout, as they went at it in the middle of the park for 100 minutes. Even though there were a few legit chances and a couple more half chances through regulation and the first extra session, it was in the final five minutes of the second overtime that it looked like Demarest was finally going to find that elusive goal.
Emily Clune anchored the Old Tappan defense for 100 minutes and then cracked the game-winning PK.
Both times Holzer was the target of a ball played into middle of the field about 25 yards from goal and both times Holzer distributed to senior striker Victoria Constantine on runs down the right channel. Both times Constantine got a step on the last defender and both times Ward came flying out to get anything she could on the attempts. Constantine put shots on frame both times and Ward turned each of them away in chaotic scrambles, the second time with a kick save with 99:26 of the 100 minutes played.
"Yes I remember them both and I just tried to do whatever I could to make those saves for my team," said Ward. "I just wanted to get us into PKs. When we got there I just tried to focus on the eyes [of the shooters]. The eyes don't lie and the hips don't lie either so I just try to focus on where they are trying to go and commit."
Constantine knocked the first PK past Ward to her left before Ward made the next two saves, one to either side. Old Tappan's first two shooters each missed the target so when OT's Olivia Connell finally connected in the bottom of the third round the shootout was tied at 1. Demarest's fourth kick flew harmlessly over the crossbar, which allowed Alexandria Tripodi to give the Knights the lead when she connected in the fourth round. Ward got a piece of Demarest's fifth shot, but freshman Chloe Abramson hit it with enough pace to sneak it through the keeper's gloves, which meant that it was Clune's turn to either end the festivities or send the shootout in the sudden death rounds. She provided the former.
"I think it is pretty obvious that Demarest being [seeded] 8th and us 9th, that we tied last time that we are pretty even teams and we both played really hard," said Old Tappan head coach Laela Brock. "When we got to PKs I was glad that we had the opportunity to practice them in scrimmages against Wayne Valley and Mahwah. We did our best to practice them under pressure, so our girls were ready. And our goalie, Mackenzie Ward, saved two in the last 10 minutes coming out aggressive and in PKs she saved two. I think that shows that, without a doubt, she is one of the top goalies in the county."
FOR MORE PHOTOS FROM THIS EVENT PLEASE CLICK HERE. TO BUY A COLLECTOR'S PRINT OF THIS STORY PLEASE VISIT 4-FeetGrafix.com.