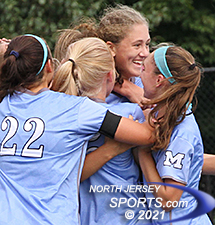 Sophomore Marissa LaVergetta scored the goal that put Mahwah in front to stay in a 2-0 win over Emerson in the Round of 16 of the Bergen County Tournament.
MAHWAH – In the early portion of the season, Mahwah was rolling along without a loss over its first seven games. Then the injury bug hit, the biggest of those being center midfielder and UConn commit Isabella Gomez. That was followed up with losses to Northern Valley/Demarest and River Dell. Heading into Bergen County Tournament play and facing a dangerous Emerson side, which had just upset Pascack Hills in the opening round last week, Mahwah's sophomore-dominated lineup needed to mature from being role players built around Gomez to attacking threats in their own right to avoid another upset bid by the Cavos.
Sophomore midfielder Marissa LaVergetta scored a gorgeous goal in the first half. The fourth-seeded Thunderbirds had to weather a second-half surge until Emily Edge's goal gave them some breathing room. Morgan Marchesi capped the scoring in the final minute as sophomores scored all three of Mahwah's goals in a 3-0 victory over No. 20 seed Emerson on Saturday afternoon at Mahwah High School.
Right from the opening whistle Mahwah found feet and used a quick passing game to control the tempo of the match. Nearly the entire first half was played in Emerson's end of the field. LaVergetta collected the ball just outside the top corner of the box. With the defense sitting back and giving LaVergetta room, she settled a ball and then delivered a perfect strike. In the 19th minute, she bent a shot that appeared to be going wide but curved back to glance off the post and in to put the Thunderbirds ahead with a 1-0 lead that they took into the second half.
"I took a shot but honestly I was really surprised when it went in," said LaVergetta. "It's been a really tough week for us with injuries. But we had to step up today and focus on playing together as a team to set the tone."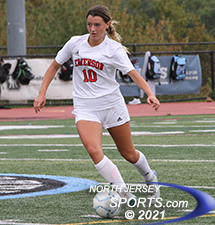 Gia Mandile was in the middle of many of Emerson's best scoring chances..
Mahwah nearly scored seconds into the second half but the shot from point-blank range went wide. That flipped a switch in the Cavos, who dominated the next 20 minutes of play. They missed scoring the equalizer by an inch when Julia Elek bombed a knuckler from 45 yards out. Her shot hit the left post and went directly across the goalmouth before eventually being cleared out of danger.
Gia Mandile was a handful for the Thunderbirds' defense with her playmaking ability. She consistently set up teammates for quality scoring opportunities early in the second half. The Cavos kept knocking on the door until a well-executed counterattack gave Mahwah a much-needed insurance goal. Anna Porcucznik beat a defender along the right flank all the way to the end line before delivering a cross along the six-yard box that Edge tapped home to make it 2-0 with 17:33 to play.
"We definitely had some chances in the second half and if we finished one of them it could have been a drastically different outcome," said Emerson head coach Amanda Vietri. "Against a team like Mahwah you have to put two good halves together. We need to settle down immediately and not wait until we are down before we get going. We have a very tough section for the state tournament. What we do have is experience. We have 12 seniors that are determined to get that sectional title. It's a really special group to have for my first year as a head coach."
Emerson nearly got that goal back 30 seconds later when Mandile sent a through ball into the box with Mia Worthington's shot trickling just wide. From that point on, Mahwah head coach Justin Saputski shadow marked Mandile with LaVargetta with senior sweeper Julia Pecak helping over the top. That helped the Thunderbirds regain control with Marchesi's goal off a feed from Kaitlyn Kelly providing the finishing touch on the win.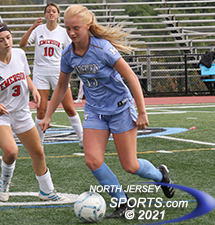 Emily Edge and Mahwah will take on 5th-seeded Paramus in the quarterfinals next weekend.
"We had some problems in the second half with their attack but we figured it out and pulled it together," said Pecak. "We had such a good start in the first half. For the games that are coming up we have to come out for the second half and play like it's 0-0."
Michaela Tracey made four saves to pick up the shutout for Mahwah (6-2-3). All nine of the Thunderbirds' positive results this season have come by shutout.  Jamie Falotico made 10 saves for Emerson (7-3).
For the second straight Bergen County Tournament Mahwah has advanced to the quarterfinal round. That round has been a thorn in the side of Mahwah. Since 2010, the Thunderbirds have made the last 8 six times only to be eliminated in each of those contests. Facing fifth-seeded Paramus, a 4-0 winner over North Arlington on Saturday, the short-handed squad will have to put two solid halves together to finally break the 12-year hex without a BCT semifinal appearance.
"Paramus is a very good team and Justin (DeFeo) does a great job of preparing them for big games," said Mahwah head coach Justin Saputski. "We were really young today and it's been a 'next girl up' approach for us. Right now we're young and those players are getting some good experience. Against Paramus, we'll have to manage the flows of the game and it can't just be one good half and then coming out flat in the second half. I'm proud of how we made adjustments on the fly and stuck together in the crucial moments. We'll work some things out this week and we'll get ready for next weekend."
FOR MORE PICTURES OF THIS EVENT PLEASE CLICK HERE. TO BUY A COLLECTOR'S PRINT OF THIS STORY PLEASE VISIT 4-FeetGrafix.com.