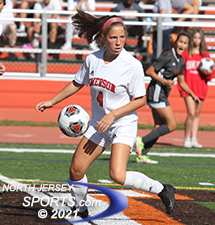 Victoria Sterinsky assisted on Emerson's first goal and scored the one that tied it in the second half before the Cavos upset No. 13 Pascack Hills, 4-3 in overtime in the Round of 32 in the Bergen County Tournament on Saturday in Montvale.
MONTVALE – They are all over the place, on the back of t-shirts, in social media profiles, on banners, flags, etc. They are those sayings that at this point are cliché-like, but are meant to inspire. "Character is what you do when no one is watching," "Teamwork makes the dream work,"…insert your favorite one here.
But occasionally there is a phrase that really nails the occasion and the character of a team.
"Our motto all season has been, 'All gas, no brakes," said Amanda Vietri, Emerson's first-year head coach, who brought her team into Saturday's Round of 32 Bergen County Tournament tilt as the No. 20 seed and the underdog on the road against No. 13 Pascack Hills. "I told the girls that we had nothing to lose coming into this. We aren't the ones that were expected to win, we had no pressure. All gas, no brakes and that is exactly what they did."
Because Pascack Hills was unwilling to pull the ripcord to slow things down either, the result was a seven-goal thriller with more twists and turns than a hula hoop contest. Emerson lead at 1-0 and 2-1, Pascack Hills took a 3-2 lead with 22 minutes left in regulation and the Cavos got right back to even 115 seconds later.
The result was not finalized until there were just 17 seconds left in the first overtime period when Emerson freshman Mia Worthington pushed a ball on the ground and on the diagonal for Gia Mandile, who was in a sprint with two defenders. Mandile won the race and, ironically, hit the brakes. Mandile stepped on the ball, let the two defenders speed by and then used the resulting space to fire one back across goal and inside the opposite post.
That brought to an end an entertaining 89:47 of soccer as Emerson grabbed a 4-3 victory and advanced to take on No. 4 Mahwah in next weekend's Round of 16.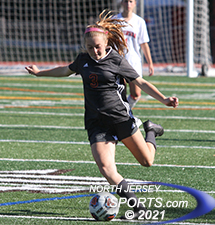 Sophie Pinkwater's goal with 22:11 left in the second half gave Pascack Hills a short-lived 3-2 lead..
"Mia Worthington won the ball and got it on my foot. I took a few people on, found some space and I scored," said Mandile. "We just lost a game in our league against Saddle River Day on a [tough] call, so we really wanted this. We saw this game as a chance to turn around our season back around and we were going to keep going for as long as it took."
It didn't take long for Emerson to signal its intentions. Less than five minutes in Victoria Sterinsky made a run up the right side and when she got a step on a defender, she sent in a cross that landed right on the foot of Mandile, who volleyed it home for the 1-0 Emerson lead.
Then it was back-and-forth at breakneck pace until the teams traded goals in a two-minute span midway through the opening half. Pascack Hills got even when Nikki DiCaprio, the Broncos' senior central defender, moved up and got on the second ball at the back post after a Maryellen Roche corner kick. DiCaprio held possession in traffic and got her right foot around a rolling shot that found its way past Jamie Falotico, the screened Emerson goalkeeper, and inside the near post to make it 1-1 in the 16th minute.
The Cavos kept flying forward and their sustained pressure put them right back in front. A rushed clearance induced a short header that bounced just outside the 18 and Emerson's Bobbi Morton pounced. She beat a defender's foot to the half-volley and hammered it home for the 2-1 lead that Emerson took into halftime.
"Our style of play keeps it super high intensity all the time," said Sarah Jablin, Emerson's central defender who is not afraid of or discouraged from making forays forward. "Nobody on the field is ever bored. Tired maybe, but never bored."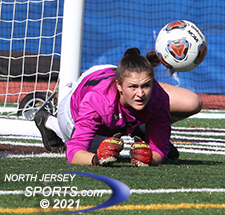 Emerson keeper Jamie Falotico made a bunch of good saves, incluiding this one with 12 minutes left in regulation of a then-tied game.
There were no boring moments in this one as Pascack Hills pulled back into a tie just over four minutes into the second half. Reece Benisatto got free up the left side, settled the ball with her first touch and then moved the ball onto her right foot for a shot that hit the side netting inside the opposite post to make it 2-2 and the Broncos carried that momentum into the lead.
Emily Sailer, a problem all afternoon with her determined runs up the flanks, jumped onto a loose ball and one-touched it on frame. Falotico made the initial save, a tough one in which she was able to push the ball off her left post, but the ricochet came back across the goal line and bounced a couple of times before Pascack Hills freshman Sophie Pinkwater could run on a tap it home with the outside of her right boot to give the Broncos their lone lead of the game, 3-2, with 22:11 to play in regulation.
That advantage lasted all of 1:55 as Sterinsky caught up to a Mandile through ball and slotted it past the on-rushing Kira Quigley to knot the score at 3 with 20:16 left in the second half.
"They had just scored but we did not get down. We were hungry and we really wanted to win," said Sterinsky, who finished the day with a goal and an assist. "Gia played the ball between two girls and I just got there. I tipped it, I poked a toe and it went in."
There were plenty of chances and half-chances for both sides the rest of the way but there was no more scoring until the waning seconds of the overtime when Mandile finally brought an end to the festivities.
If Emerson (6-2) was the underdog in this round against the No. 13 seed, then it knows its status for next weekend's trip to No. 4 Mahwah. While the Cavos may not have the deepest roster, they do have legitimate weapons that make them dangerous, even on a day when they might be up against an opponent perceived to be superior.
Mandile has a legitimate long throw that she can put on heads in the box and Jablin is a true two-footed player. She takes corner kicks from the right side with her left foot; corner kicks from the left side with her right foot to make them all in-swingers and is dangerous every time she stands over a restart. Falotico is an athletic keeper and the Cavos share the ball and have plenty of finishers.
"We are used to being the underdogs. We are a smaller school and we have to prove ourselves every game in this tournament," said Jablin. "Nobody expected us to be able to come out and win this game, but we did and we are going to put everything we have out on the field against Mahwah, too."
Pascack Hills (5-4) bowed out, but no without plenty of positive moments in a game that was fun to watch for the neutral.
"Unfortunately we did not come out on top, but that is the way it goes sometimes and you have to give credit to Emerson. We fought all the way to the end and I could not have asked more from the girls," said AJ Alaprentis, who is in his first season as the Broncos' head coach. "I told them they just have to focus on the future now and not the past. We will put this one behind us and we are looking forward to getting back on the field for our next game on Tuesday."
FOR MORE PHOTOS FROM THIS EVENT PLEASE CLICK HERE. TO BUY A COLLECTOR'S PRINT OF THIS STORY PLEASE VISIT 4-FeetGrafix.com.