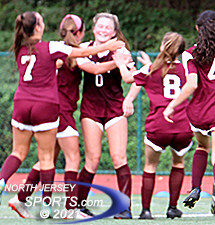 Park Ridge celebrates Kerry Perez's free kick goal late in the first half that was the difference in the Owls' 1-0 win over Saddle River Day on Wednesday.
PARK RIDGE – Kerry Perez and Ella Madden have played together so long it feels like they have been in high school forever. Not only do the two Park Ridge standouts play off one another well on the pitch but they also pick each other up when a defense picks their poison and focuses its efforts on slowing one of them down.
Such was the case when Saddle River Day came to town with an unblemished record and looking for a signature early-season win. With Madden being tightly marked all game, it was up to Perez to find a way to get the ball in the back of the net.
That would not come easy against one of the best goalies in Bergen County, Rebels' senior Livia Davidson. It would take a perfect shot and Perez was there to deliver such a strike. She hit a perfect 30-yard direct kick with less than two minutes to play in the first half. A rock-solid effort by the Park Ridge back line made it stand up in a 1-0 victory over Saddle River Day on Wednesday afternoon in Park Ridge.
"One goal is often the difference in a big game, so you always have to keep playing for the full 80 minutes," said Madden. "I know if I could hold the ball up top and let our midfielders make their runs that we'd get some looks at the net."
Saddle River Day possesses a slew of multi-sport athletes and that athleticism showed up early. They were able to use the long ball to get it forward and carry the ball into the attacking third of the field. The Owls never budged and got consistent play along the back line from Juliana Barros, Jenny O'Leary, Nicole Freiler and impressive freshman Allie Shenloogian.
"Park Ridge has three very strong midfielders, so we tried to play over the top to bypass the midfield and use our speed to our advantage," said Saddle River Day head coach PJ Petrow. "Their back line did a great job as well of holding us off and then playing out through the back to get the ball to their midfielders. I'm very proud of our effort today, we just weren't able to break through and put the ball in the net."

However, equally as impressive was the play of Saddle River Day in the back. Physical senior Dakota Corey was all over the field winning 50-50 balls and Calista Collins did a more than admirable job in keeping Madden, one of North Jersey's most dangerous strikers, in check. Even when the Owls did break through Davidson would charge off her line to break up any potential goal-scoring threats.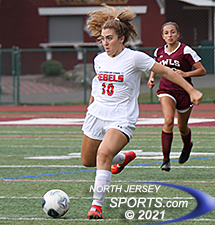 Dakota Corey anchored a stingy Saddle River Day back line.
It seemed the game would head to halftime scoreless until a late direct kick gave Perez a long-awaited opportunity at getting a shot on frame. She struck it perfectly as it bent over the outstretched arms of Davidson and dipped just under the crossbar with 1:41 remaining to give Park Ridge plenty of momentum heading into the second half.
"I saw the keeper creep out off of her line a little bit so I took a shot and tried to drop it right under the bar," said Perez. "There was a point in the game where I looked at one of our center mids Anna Francica and said that we have to keep our composure and settle this down. Saddle River Day is athletic and more physical than other teams we have played. But we started making more combination passes and that's when started getting some scoring chances."
Playing with a lead is something Madden and Perez have been comfortable with over a successful run throughout their four years at Park Ridge. The second half was no different as the Owls played through Madden up top and dominated possession.
Not getting an insurance goal could have proved costly with the Rebels making a late push to net the equalizer and force overtime. Senior goalie Shea Broderick was largely inactive but made two big plays in the final 10 minutes. She came off of her line at the top corner of the box to get to a through ball just before SRD's Leanna Tsahalis got there. Then she made a save on a shot by Jessica Yee to secure the Owls third straight win.
Broderick had three saves to earn her third shutout of the season and the 13th of her career for Park Ridge (4-1).
Davidson finished with eight saves for Saddle River Day (3-1).
Park Ridge will face a major test on Saturday when they face Pascack Valley. But with the Owls firing on all cylinders and with playmakers like Perez and Madden who are constant scoring threats they feel this is just the beginning of a final successful season together.
"Overall, I thought we played smart and possessed the ball really well after a tough start," said Park Ridge head coach Dylan Evans. "We had a number of chances and we did some really nice things in our attack. But we weren't able to put another in to put them away at the end of a game. Getting a second goal would have taken some pressure off at the end of the game. I was pleased with the way we moved the ball and used the whole field."
FOR MORE PICTURES OF THIS EVENT PLEASE CLICK HERE. TO BUY A COLLECTOR'S PRINT OF THIS STORY PLEASE VISIT 4-FeetGrafix.com.