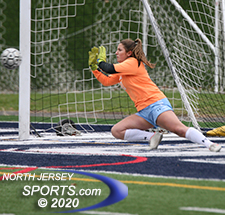 Lauryn Mockler saved a PK in the fourth round of a shootout of IHA, which held off Montclair Kimberley Academy in the North East F state sectional final.
MONTCLAIR – Immaculate Heart Academy senior Lauryn Mockler knows a thing or two about perseverance. After sitting behind a log jam of talented players at center back the Blue Eagles' coaching staff thought she should try her hand at being a goaltender.
For her it was an easy decision and a chance to get on the field, but for much of her junior season and most of this year, Mockler was still a backup who came in when the outcome of a game was already in hand.
Needing a spark after a rough stretch of the season, IHA head coach Eric Pfeiffer turned to the steady senior and she delivered in big wins over Northern Highlands and Ramapo. When the pressure was on Mockler came up big.
However, that was just a taste of things to come.
As IHA and Montclair Kimberley Academy went to penalty kicks Mockler knew this was her time. All of her hard work, all of her patience would all come down to a penalty kick shootout that would decide how Mockler and her teammates would define their season and their careers in a Blue Eagles uniform.
On the 4th shooter, Mockler came up with a huge save. Then, after a goal by IHA tri-captain Allie Zitelli, Mockler watched as MKA's final penalty kick sailed over the bar and her teammates mobbed her with IHA winning its first section title since 2018 over top-seeded Montclair Kimberley Academy.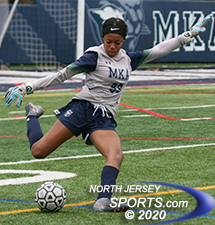 Alex Rallatos had a busy day in the MKA net.
"This game is so unpredictable that you have to be prepared for any situation," said Mockler, who finished with ten saves. "I love pressure situations and you have to be headstrong when a challenge is front of you. We couldn't shrink, we had to rise up to the challenge."
IHA set the tone right from the opening whistle, literally. Freshman sensation Alexandra Barry cracked a shot from midfield that forced MKA goalie Alex Rallatos into a save. MKA's Bella Douglas was dangerous throughout the match and broke loose on a breakaway just three minutes in. Mockler cut down the angle and made a fantastic save to keep the game scoreless, but it did not stay that way for long.
Barry was a handful up top throughout the opening minutes before finding the back of the net in the 12th minute. She took a centering pass from Ashley Lamond, took a touch before ripping a knuckling shot from 20 yards out. Rallatos got a hand on the shot but could only watch it bounce into the side netting as IHA grabbed the early lead.
After being back on their heels during the first half the Cougars dominated possession through the second half and the two overtime periods. On an errant tackle at the edge of the box, they were awarded a penalty kick with 22:03 to play. Douglas stepped up and hit the PK to knot the score at 1.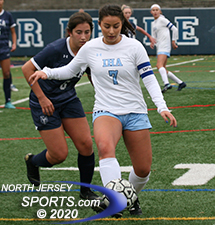 Allie Zitelli converted the deciding PK for IHA.
The Cougars kept pressing numbers forward but the Blue Eagles' clamped down in the defensive third with Mockler providing a sense of stability in between the pipes. After going nearly 50 minutes between shots IHA had one last chance in the final minute of regulation off of a corner kick but a header went over the crossbar and the teams headed towards overtime.
"We all came into this came knowing how big of a deal this was and we couldn't let it slip away," said Lamond. "There were ups and downs but we kept working hard and we found a way."
MKA stayed in control through the overtime periods but Mockler commanded the box and refused to let anything by her. As she walked to the opposite end of the field for the penalty-kick shootout that would determine whether IHA would end the season as champions or not Mockler was remarkably poised. With all the perseverance she experienced just to get to this point Mockler was focused on relishing in a moment she would remember for the rest of her life.
After each team converted their first two penalty kicks, Mockler dove to her right to make a save on the third shooter. Bell answered with a save with the teams tied at 3 going into the fifth and final shooter. That was a level of comfort for the Blue Eagles as Zitelli, who was making plays all over the field all game long as she has throughout her stellar career, stepped up to take the kick. Rallatos could barely move as Zitelli cracked a perfect strike into the upper right-hand corner to put IHA in front.
"I just focused like our team did the entire game on controlling what we can control," said Zitelli. "This season has been such a journey and we wanted this game so bad. It's been a battle for us to get to this point after not winning our section since freshman year. I think it's a real testament to our character, how close we are, and how hard we work to overcome adversity."
On MKA's last PK, Mockler looked up as the shot sailed over the crossbar then looked ahead to see all of her teammates charging towards her in pure elation. She knew she had done it, that her team had done it. After a two-year drought, IHA was a championship team once again.
"I'm so humbled to be part of such an amazing team that loves each other so much," added Mockler. "Our coaching staff has been amazing in getting us ready for this moment and we always lift each other up as teammates. I'm still speechless that this is even happening. Knowing what this team has been through, what I've been through personally, for us to end it like this is incredibly gratifying."
With a host of seniors who have had to watch other teams celebrate at their expense for the past two years the Blue Eagles that their perseverance through the hard times would pay off. With a successful end to a long journey culminating in a section title, they did just that.
"This is the best feeling I've ever had in my life," said IHA captain Lexie Schouten. "I'm crying happy tears and sad tears at the same time. It's a game that will bond us forever."
FOR MORE PHOTOS FROM THIS EVENT CLICK HERE. TO BUY A COLLECTOR'S PRINT OF THIS STORY PLEASE VISIT 4-FeetGrafix.com.