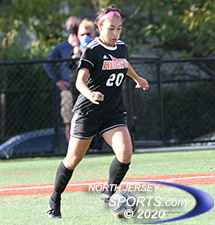 Alex Garcia scored on a day full of goals for Hasbrouck Heights in a 5-1 win over Wood-Ridge in the season opener for both teams.
HASBROUCK HEIGHTS – Over the past 20 years, Hasbrouck Heights has been one of the more consistently successful small-school girls soccer programs in Bergen County. However, for the past two years the Aviators have taken their lumps with a young squad. Now those players who started as freshman and sophomores are juniors and seniors and with another influx of quality young players in the midfield and along the back line, Heights is once again a dangerous team.
That was on full display in the season-opener against neighboring rival Wood-Ridge on Friday afternoon.
Three-sport star Paige McGuire opened the scoring with Alexa Garcia and Ella Reyngoudt adding goals as Hasbrouck Heights pulled away late in the first half en route to a 5-1 victory at Hasbrouck Heights High School.
"We've been working really hard together and the extra work we put in showed today," said Garcia, a sophomore midfielder. "It was not easy with the pandemic going in but we've all bought in and we feel that work will pay off in the end."
Less than 10 minutes in, the Aviators set the tone. Kayla Perrapato unleashed a shot from the top corner of the box. McGuire snuck behind a defender to the back post and one-timed it home for a 1-0 lead.
The best stretch of play for Wood-Ridge came following the game's first goal. They two-touched the ball effectively through the midfield and had a pair of scoring chances on free kicks. Both kicks from Emily Gardella and Natalie Cala bent just over the crossbar. But from there things broke down defensively and the Aviators were there to take advantage of a pair of failed clearing opportunities. Garcia and Reyngoudt collected those attempts and delivered perfect shots as Hasbrouck Heights took control by halftime with a 3-0 lead.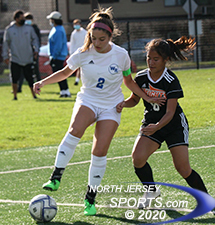 Natalie Cala's second half free kick led to Wood-Ridge's goal..
"I thought we had some jitters in the first few minutes but we got past that," said Hasbrouck Heights' head coach Claudio Fontalvo. "Once we got that first goal we settled down and started controlling the midfield. Our whole team committed to winning the first ball and have an idea of what to do with the ball once we win it. I feel we have a great combination of talent, heart, and some tactics that will help us contend for a league title, which is a goal of ours."
The second half was more of the same. The Aviators were in attack mode throughout and tacked on two more goals from Jenna O'Malley and Reyngoudt to put the game away.
Hasbrouck Heights (1-0) got five saves from junior goalie Odi Gomez, who commanded the box well throughout the match.
Wood-Ridge (0-1) averted a shutout in the 74th minute when a free kick from Cala hit the crossbar, then Gisela Castro followed with a header off the crossbar before heading in her own rebound.
Having not won a league title since 2015 and without a state section title since 2008 the Aviators are striving to break both of those droughts in one fell swoop this season.
"We played really well and came out with the 'W' but we still have a lot to work on," said Gomez. "No team is ever going to play a perfect game. But we strive to come as close as we possibly can to playing one. Soccer is a true team sport and we worked as one unit. But you don't get anything for winning one game. We have to work even harder and keep it moving into the next game, where we hope to play even better."
FOR MORE PHOTOS FROM THIS EVENT CLICK HERE. TO BUY A COLLECTOR'S PRINT OF THIS STORY PLEASE VISIT 4-FeetGrafix.com.