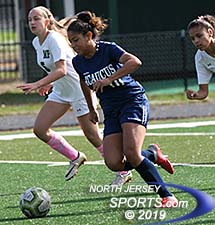 Damaris Rodriguez scored the first goal for Secaucus, which won the first girls soccer title in program history with a 2-0 victory over Midland Park in the NJIC Tournament championship match.
NEW MILFORD – Secaucus senior Damaris Rodriguez is a four-year starter who has thrived during big moments in big games throughout her career. She has done it all both on the pitch and on the basketball court but there is one thing missing from her impressive resume as she has strived to bring the Patriots to a championship level in soccer.
Coming into this season not much was expected of the Patriots, but they have defied the odds all season and upset top-seeded Saddle Brook to earn a berth in the NJIC Tournament championship match.
Locked in a scoreless duel with Midland Park, Rodriguez used a great individual effort to help Secaucus take control.
She used a nifty move to get open then bent a shot just inside the right post in the first half. Fellow senior Jasmin Bujari added a second-half goal as fourth-seeded Secaucus won the first title in the history of the girls' soccer program with a 2-0 triumph over No. 3 seed Midland Park on Saturday at New Milford High School.
"We were really nervous coming into the game but we had to keep moving the ball and attack whenever we could," said Rodriguez. "It is the first time in history that we've done this. I couldn't have done this without my teammates and we couldn't have done it together without our coaches. Everything just worked today and we came together at the right time."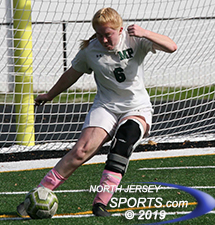 Midland Park's Mackenzie Cleary clearing one out of the back.
Both teams were trying to feed their stars early. That proved to be a strategy that was not working as Rodriguez and Midland Park's Shae Minicucci each broke loose a few times only to find a second defender waiting for them. It was going to take a special effort for one of them to get loose of a defensive effort designed to stop them.
Rodriguez was on a full-speed run with the ball before stopping on a dime and using a pullback maneuver to elude a defender and get enough room to get off a shot. She took a touch then bent a shot around the Midland Park goalie and into the side netting in the 30th minute that gave Secaucus the lead going into the second half.
"The halftime talk was about how hard we worked to let anxiety and nerves get the best of us," said Secaucus Kaefer Garcia. "We had to take the space they were giving us. When you get this far it's about how bad you want it, it all starts with that. We came ready to play and we took over in the second half."
Secaucus continued to push forward in the second half and found success with quick combination passes. A give-and-go between Rodriguez and Bujari led to a Bujari shot that skipped past the Panthers' keeper to give Secaucus a 2-0 lead.
Midland Park pushed hard to get one of those goals back. Led by a stellar effort from marking back Joan Banks and freshman striker Daniela Peschetti moving back late to bolster things along the back line, the Patriots held on for a second straight shutout and more importantly, the first championship ever for Secaucus girls' soccer.
"Four years in the program and it's been a long road to get to where we are," said Garcia. "When you win this tournament it shows what we're capable of with hard work and determination. We're finally here and we want to stay here."
FOR MORE PHOTOS FROM THIS EVENT PLEASE CLICK HERE. TO BUY A COLLECTOR'S PRINT OF THIS STORY PLEASE VISIT 4-FeetGrafix.com.