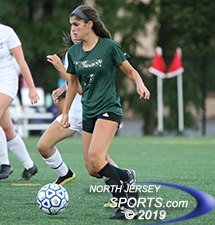 Kaydee Yallo got Lyndhurst on the board with a first half goal in a 3-0 victory over New Milford on Friday afternoon.
LYNDHURST – Lyndhurst has been consistently successful in the regular season generally and specifically in league play for the past decade, but the Golden Bears have yet to get over the hump in either the Bergen County Tournament or in state tournament play.
Brutal 1-0 losses in both playoff events last season have motivated this year's squad to become not only the best team in school history but also one that wins championships. The first step towards the ultimate goal is to win a league title. Facing a stingy New Milford team, the Golden Bears shrugged off a slow start by doing what championship-caliber teams do: sticking together and making adjustments on the fly.
Kaydee Yallo, a junior midfielder, opened the scoring in the first half and sister Karlee, a senior middie, added one in the second half as Lyndhurst stayed undefeated on the season by methodically pulling away for a 3-0 triumph over New Milford on Friday afternoon in Lyndhurst.
"They tried to clog the middle and we had to adjust the way we played to through it," said Kaydee Yallo. "When we worked the ball wide and got in behind their back line we created more chances."
Lyndhurst went on the attack right from the opening minute with Kaydee Yallo having two opportunities from point-blank range. Only both were stopped by New Milford goalie Bridget Coss Y Leon (12 saves). After those bonafide scoring chances, the Knights' flat four in the back tightened up and forced the Bears to create their offense from the flanks. It took nearly the entire first half but the Golden Bears finally cracked the code with Kaydee Yallo fittingly scoring the game's first goal.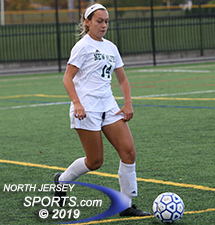 Ally Whitaker had a couple of New Milford's best scoring chances.
She used some nifty footwork to dribble between two defenders near the top corner of the box before ripping a left-footed shot. Coss Y Leon dove to her left and got her fingertips on it but it bounced off the post and trickled in that gave Lyndhurst a 1-0 lead in the 30th minute.
"I was just keeping my head up and looking to get a foot or two of space to get my shot off," added Kaydee Yallo. "We have to work out a couple kinks but we feel like we're getting better every day. We want to be league champs, section champs, state champs, that's our goal."
The two best scoring chances for New Milford (1-4) came a minute apart late in the first half on direct kicks by senior back Ally Whitaker. Both of them were on target but right at Lyndhurst keeper Claudia Lapinski, who saved both.
In the second half, the Golden Bears spaced out their offense, switched fields effectively, and shots on frame soon followed. It did not take long for them to add an insurance goal with Karlee Yallo's goal off of a feed from her sister in the 48th minute making it 2-0.
"We wanted to play better and move the ball quicker to get more shots," said Karlee Yallo. "I think we had better first touches and communicated much better in the second half."
Freshman striker Amanda Dasler finished off the scoring at the back post, capping a fantastic run midway through the second half by the Golden Bears with Deirdre Kearns getting the assist.
The shutout was the fourth in a row for Lyndhurst (5-0). Now the Golden Bears will rest up over the weekend before traveling to face with fellow unbeaten Dwight-Englewood. With sole possession of first place in the NJIC-Liberty Division on the line, Lyndhurst head coach Kim Hykey knows that her team must start better if they are going to keep the unbeaten record intact.
"We have never played well at Dwight-Englewood and our style is more suited to turf than grass, so it will be a bit stressful," said Hykey. "Last year, we lost there 1-0. I think we'll use that game last and today's game as experiences to draw from to make sure we don't start slow again. We're definitely improving and getting closer to where we want to be. But we have to be able to execute for a full 80 minutes without needing a full half to make adjustments in order to take that next step forward."
FOR MORE PHOTOS FROM THIS EVENT PLEASE CLICK HERE. TO BUY A COLLECTOR'S PRINT OF THIS STORY PLEASE VISIT 4-FeetGrafix.com.