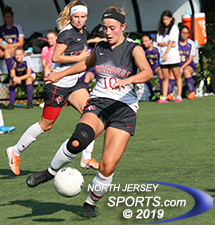 Sofia Milevski picked up her second hat trick of the season as Elmwood Park stayed perfect on the young season with a 4-0 win at Garfield on Wednesday afternoon.
GARFIELD – After three rough years of varsity soccer, the current crop of Elmwood Park seniors were tired of being pushed around. They turned some heads with two straight wins to start the season and, with big games against Glen Rock and Rutherford coming up, the Crusaders had to avoid the temptation to overlook a Garfield team that was itself looking for a signature win. Led by dangerous striker Sofia Milevski, the Crusaders avoided the trap.
Martyna Majewski opened the scoring and Milevski followed with a hat trick, her second of the season, as Elmwood Park remained undefeated with a 4-0 win over Garfield on Wednesday afternoon in Garfield.
"Our juniors and seniors have been playing together for a few years now and we're finally getting comfortable playing as a unit," said Elmwood Park head coach Bryan Press. "We really stringed together some passes and used the whole field. In practice we work on everybody getting touches on the ball so that they feel the confidence to do that in a game situation. We made simple passes and created our offense by building an attack not just kicking and running."
Garfield was riding high after scoring its first victory of the season on Monday over Manchester Regional. The Boliermakers came out flying in the first few minutes but the Crusaders quickly responded and grabbed a lead in the process. Majewski missed a golden opportunity in front on a corner kick only to get a second chance on a nearly identical play. Freshman Cali Terranova bent in a corner kick and Majewski headed it home to put Elmwood Park ahead.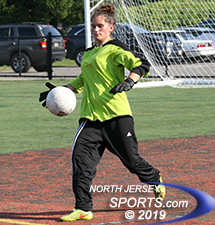 Caroline Farago made 8 saves on a busy day inside the Garfield goal.
"It was unexpected because I didn't think I'd get another chance after messing up the first corner kick," said Majewski. "Cali made another good corner kick and I just made a run to get in position. I just aimed towards the goal, got my head on it and it went in the right spot."
Garfield nearly tied it when Julia Zielinski broke loose up the left side and go off a hard shot on net. Elmwood Park keeper Maria Taseva dropped down to make a save before Isabella Balcazar cleared it.
Milevski was marked tightly early on. Her poise and experience showed as she stayed patient before cashing in on a scoring opportunity midway through the first half. She shielded a Garfield defender to let a pass run into space. The senior ran onto it inside the top of the box then ripped a laser in the upper right-hand corner to give Elmwood Park a 2-0 lead.
"When people defend me hard, that's my biggest motivation to find a way to score," said Milevski. "I knew what I wanted to do when the ball went into space. I took one last touch and placed it in the top right corner which is where I wanted it to go."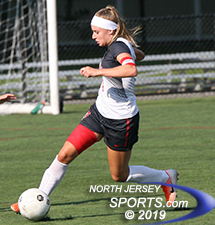 Martyna Majewski scored the opening goal for Elmwood Park, which is now 3-0 on the season.
After seemingly years of not getting breaks on the pitch the Crusaders caught a big one less than three minutes into the second half. Kayla Richards took a shot towards the right post that Garfield goalie Caroline Farago reacted to and was in position to make a save. The shot was blocked but popped straight up to Milevski, who headed is inside the left post to pad the Crusaders' lead. Four minutes later, she capped her second hat trick by beating Farago to a through ball and slipping it past her into the lower left-hand corner.
Taseva needed to make just two saves to earn her second straight shutout for Elmwood Park (3-0). Milevski has now scored on all three Crusader victories and has seven goals on the season.
Farago made eight saves for Garfield (1-3).
Elmwood Park will find out more about themselves on Friday in a showdown with Glen Rock before taking on Rutherford. In years past, there was a fear in facing those teams. Now that feeling is replaced with excitement knowing they have a chance to prove themselves and move to the top of the NJIC-Colonial Division.
"My freshman year the scariest moment of my life was being 24 hours away from playing Glen Rock knowing we didn't have much of a chance," said Milevski. "Now we feel confident and we're excited for chance to prove people wrong about us."
FOR MORE PHOTOS FROM THIS EVENT PLEASE CLICK HERE. TO BUY A COLLECTOR'S PRINT OF THIS STORY PLEASE VISIT 4-FeetGrafix.com.