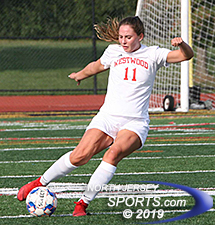 Ashley Downes bounced in a free kick for Westwood's first goal in a 2-1 victory over River Dell on Tuesday afternoon.
ORADELL – Soccer is a sport where most adjustments have to be made by the players on the fly. Only when teams head to their respective benches for halftime can a coach can make the necessary changes to give their team the best chance to win. Sometimes a total overhaul of a team's alignment is needed, other times it is just a tweak here and there. Locked in a scoreless duel with River Dell, Westwood head coach Kristyn Preciado used the allotted 10 minutes to make sure her team understood the importance of this game and what needed to be done to come away with a victory.
A fortunate bounce off of a long free kick from Ashley Downes gave Westwood the lead and Meghan Riedel's goal delivered a much-needed insurance goal as Westwood took control early in the second half before holding on late for a 2-1 triumph over River Dell on Tuesday afternoon in Oradell.
"This was a good win for us because we did some good things but we also saw some weaknesses that we have to clean up," said Preciado.
Both defenses shined in the first half by consistently winning 50-50 balls and limiting offensive opportunities. In fact, each team mustered just one shot on net over the first 40 minutes. The only true scoring chance for either team came as the buzzer sounded as River Dell's Sarah Vanderbeck ripped a volley just over the crossbar. If the Cardinals were going to get a second straight win, something had to change in order for them to find the back of the net.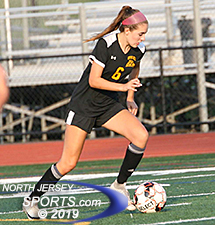 Alaina Grenz scored the goal for River Dell.
"We told the girls that we have to play with a purpose in the attacking third," added Preciado. "I told the girls that all of you have individual skill but for us to start scoring goals that it has to be all 11 of you working together as one. Once we started executing as a team things started to click for us offensively."
A switch was flipped for the second half as Westwood took control, nearly scoring in the first 20 seconds, and it kept the pressure on until finally breaking through with some help from the turf. Less than eight minutes into the half, Downes lofted a 40-yard free kick into the box that bounced near the penalty spot and up over River Dell goalie Erikca Calimag and into the upper right-hand corner to put the Cardinals in front.
"I was just trying to get the ball into the box for one of my teammates and got a lucky bounce," said Downes, a junior.
Westwood finally found its rhythm and a second goal soon followed. Meghan Riedel had the full attention of the Hawks' defense and was well-marked until that point. With her talent and knack for scoring goals, it took just one opportunity for her to make her imprint on the game.
On a counter attack Riedel had the up the left flank with Caelan Brown hustling to make an overlapping run. That froze  the River Dell defense and allowed Riedel enough space to get off a shot. She took one dribble and ripped a knuckler into the side netting inside the far post to double the Cardinals' lead to 2-0.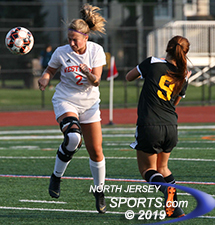 Haley Fasano and the Westwood defense won a lot of 50/50 balls as the Cardinals improved to 2-1 on the season.
"When the outside defender took a step to cover the run (by Brown), I knew I could get off a shot," said Riedel. "Since I was on the left side it's harder for a goalie to cover the far post so I was aimed for a spot and hit the shot."
With a two-goal deficit and time running out, River Dell (1-2) played like a team with nothing to lose and nearly forced overtime. Elaina Grenz broke loose up the left side and delivered a perfect cross that Vanderbeck tapped in at the back post with 7:16 to play. Two minutes later, a corner kick by the Hawks led to a pair of shots from close range. However, both were blocked and the ball was cleared. The Hawks made two more runs but both were cleared away by senior defender Haley Fasano as the Cardinals held on.
"Against a team as strong as Westwood is you have to play a full 80 minutes," said River Dell head coach Adam Herman. "We showed flashes but we're still trying to find our way. Once we can piece it all together we feel we'll be pretty dangerous but we still have a lot of room for improvement."
Tuesday's win was the start of a huge week for Westwood (2-1). With games against Pascack Hills and a vastly-improved Paramus side on the horizon, the Cardinals will see just how close they are to regaining their championship form of 2017 when the Cardinals reached the Group 2 state final.
"We just learned a new formation in practice yesterday and this was the first game using it so that will take some time to get adjusted to," said Downes. "There are definitely places to improve and we could always communicate better. Once we tweak some things and get more comfortable with our formation we'll be even better."
FOR MORE PHOTOS FROM THIS EVENT PLEASE CLICK HERE. TO BUY A COLLECTOR'S PRINT OF THIS STORY PLEASE VISIT 4-FeetGrafix.com.