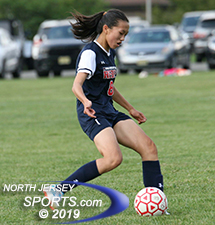 Sophomore Jessica Yee scored twice in the first half to give Saddle River Day just enough offense to hold off Emerson, 2-1, on Monday afternoon in Saddle River.
SADDLE RIVER – When PJ Petrow took over as the head coach at Saddle River Day for the 2017 season, he was aware of the steep climb the program faced in gaining respect. After a tough first season, the Rebels grew last year having close games with all of the top teams in their division. However, they were unable to finish those games and lost a remarkable five matches in overtime. With the 2019 season now upon us, this is the year in which the Rebels have to take the next step.
The first measuring stick came on Monday when reigning league champ Emerson came to town. Thanks in part to a pair of impact sophomores, Saddle River Day showed that it is certainly capable of making some noise.
Jessica Yee scored twice in the first half to put the Rebels in front. A strong defensive effort led by several outstanding saves from fellow sophomore goalkeeper Livia Davidson made that lead hold up as Saddle River Day scored the biggest win in Petrow's tenure with a hard-fought 2-1 triumph over Emerson on Monday afternoon.
Saddle River Day got the ball to start the game and went on the attack immediately, earning a corner kick. The Rebels caught the Cavos napping with a short corner. Yee touched the ball around a defender and then bent a shot into the upper right hand corner to give the Rebels a surprising lead just 1:03 into the match.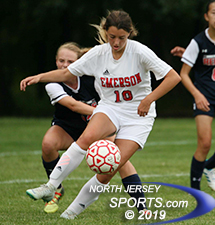 Gia Mandile had the goal for Emerson as she knocked in a corner kick in the 12th minute.
"Getting the early goal definitely gave us a confidence boost that we needed," said Petrow. "We then had to weather the storm for awhile but we stuck together."
That certainly got the Cavos' attention. They kept the pressure on consistently for the next 15 minutes. Davidson made a diving save and also a one-handed punch save over the bar what appeared to be sure-fire goals. She was only able to hold them off for so long though as Gia Mandile knocked in a corner kick from Courtney Callagy in the 12th minute to tie the game at 1.
Emerson had two more chances to net the go-ahead goal but misfired from close range. The Rebels were just fighting to regain control but that all changed on one swing of Yee's leg. She carried the ball into space on a counterattack and ripped a perfect shot from 25 yards out that went over the outstretched hand of Emerson keeper Gianna Mancino and dipped just under the crossbar to give the Rebels a 2-1 lead with 21:05 to play in the first half.
"I was just trying to get everything behind the shot and get it on target, thankfully it went in," said Yee. "It was important for us to keep our heads up and keep fighting even when things weren't going our way."
The Rebels started to build momentum late in the first half but that flipped to start the second half. Davidson was forced to make two saves in the first three minutes, the latter of which was another diving stop to preserve the lead.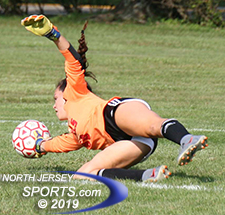 Sophomore Livia Davidson made some quality saves for Saddle River Day, which improved to 2-0 on the seasonr.
Emerson kept pushing numbers forward throughout the second half. Freshman sweeper Calista Collins was under pressure for most of the game but showed poise well beyond her years with a solid performance.
The Cavos' best and last chance to tie the game was with 7:30  left to play when Mandile fed Katelin Quinones for a breakaway. Davidson, who was aggressive and commanding in the box all game long, charged off of her line and cut down the angle. Quinones got off a shot but Davidson made the point-blank save as the Rebels held on for the landmark win.
"My philosophy was to be as aggressive as I could be and also play under control, play every team like we're playing the number one team in the country" said Davidson. "Emerson is a top team in our league and my intensity was raised a bit going into this game, our whole team had their intensity up all game. I thought our defense did a great job communicating and that helped me have the confidence to play well."
Davidson finished with nine saves for Saddle River Day (2-0). Her counterpart, Mancino, had five saves for Emerson (2-1).
In a span of 80 minutes, Saddle River Day has gone from the hunter to the hunted. The Rebels will not get much time to bask in the glow of this win as they face defending North 1 Group 1 section champ Midland Park on Wednesday. With the expectations for the season now raised, Petrow is excited to see just how far his team could go this season.
"It wasn't the prettiest win but we'll take them when we can get them, especially over a team like Emerson," added Petrow. "We definitely got tired in the second half but we hung in there and played tough. Everyone played a role and it was team effort that we hung on for the win. For all of the players who are on this team this is definitely the biggest win we've had in my tenure here and I'm happy for all of them."
FOR MORE PHOTOS FROM THIS EVENT PLEASE CLICK HERE. TO BUY A COLLECTOR'S PRINT OF THIS STORY PLEASE VISIT 4-FeetGrafix.com.