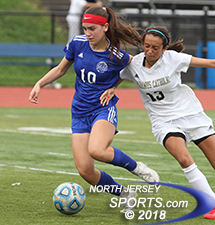 Carly Sherman scored the first and last goals for NV/Demarest which advnaced to the quarterfinals of the Bergen County Tournament with a 3-0 win over Paramus Catholic on Sunday.
DEMAREST – Northern Valley/Demarest had a full head of steam heading into Sunday's Bergen County Tournament's Round of 16. Seeded fourth, the highest ever in their history, the Norsewomen are the product of a labor-intensive and patient approach to building a program from the bottom up.
"There is a reason why our program can kind of sustain this nice quality pool of players because we have a direct community link. It is not easy. We have three towns and three rec commissions coming together to feed a regional club, to feed a regional high school and we work very hard to get kids engaged in the sport," said Demarest head coach Chris Eftychiou. "These kids are a product of that. Every single kid on the field today came out of our local community program."
Demarest has a lot of good players, a lot of quality depth and another quality win under its belt after a 3-0 victory over 13th-seeded Paramus Catholic on Sunday afternoon. The win rights a wrong made by the schedule-making powers that be because after being left off of each other's regular season schedules, Demarest and Old Tappan, the No. 5 seed, will meet next weekend in the quarterfinals in a 5:30 p.m. start at Indian Hills High school.
"All the girls wanted to do was win this game and they want to play Old Tappan because they are not on our schedule this year. We tried to put them on, but it did not work out and there is such a respectful rivalry there. I have been in the school district coach for 16 years and this was the first time that we could have gone a season without playing Old Tappan," said Eftychiou. "It is really one of the great rivalries that still exists in Bergen County. This opportunity to face them is coincidental or ironic or whatever you want to say. Maybe it's fate."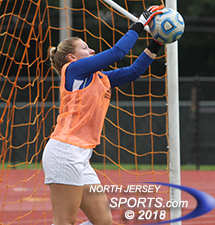 Paramus Catholic keeper Kate Donnelly made 11 saves on a busy day in net.
To get there, Demarest first had to deal with Paramus Catholic and the Norsewomen came out on the front foot. When Carly Sherman hustled home the game's first goal to cap off a dominant opening eight minute stretch, it was looking like Demarest was going to be able to cruise into the quarterfinals. But rather than that early tally being the sign of a barrage to follow, Demarest was still clinging to just that single goal advantage as the clock ticked below 18 minutes in the second half. Paramus Catholic was hanging tough at the end of a trying week stocked with quality opposition.
"We've had a week. We had IHA, we had these guys, we had Westwood…We are running a gauntlet and we knew what we were up against here. We are the No. 13 seed going up against the No. 4. They pressed us early, they got an early goal, but then we were able to even the game out for a while and give ourselves a chance, but we just couldn't get that one moment of greatness that we needed."
It was a long time between moments for Demarest, too, but some of its inability to extend its lead came down to bad luck. In the 30th minute, Sherman hit a left-footed rip from 20 yards out that struck the underside of the crossbar but bounced back into the field of play. The Norsewomen also lost standout senior Izzy Urquiola to an ankle injury for the later part of the first half and had to settle for the slim 1-0 lead at the break.
Urquiola returned and promptly threatened by taking down a ball in a tight spot and rifling it into the outside side panel in the 49th minute. Victoria Constantine, one of three Demarest's three freshman starters, sent Sherman through the channel in the 54th minute but the shot went just wide and Sherman also had two other quality looks, a volley over the bar in the 60th minute and a tricky one touch that chipped the keeper bounded softly past the right post.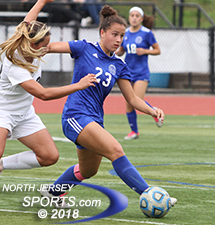 Senior Izzy Urquiola scored a goal and assisted on another for Demarest, which will play Old Tappan in the quarterfinals.
Demarest finally gave itself some breathing room with a goal that was the direct result of some hard work. Urquiola saved a ball near the left touchline and kept it in play for Abby Rozen, who then found the feet of Constantine. Urquiola, who never stopped moving, was by then in the middle of the field and took a Constantine pass to the middle of the field where she cleared a defender and snapped a shot into the lower right with 17:42 remaining.
Sherman got her well-deserved second goal in the 75th minute. She pounced onto a free ball that was created by her own pressure on a defender and deposited it into the goal for the 3-0 final score. Sherman, a sophomore who plays with speed and aggression, is a part of the infusion of talented underclassmen that has bolstered this senior class, which includes Urquiola, Emma Miller, Gabi Cammalleri, Alissa Gonzalez and Antonia Sames, who are all starters and important pieces. Miller, the goalkeeper who is in her third year as a varsity starter, supports a back line that includes two freshman outside backs in Grace Hamlin and Elizabeth Argenziano and junior central defender Kyra Pialtos. The defense limited Paramus Catholic to just one shot on goal. A fourth freshman, Emily Holzer, a striker that scored four goals in three varsity games before being sidelined by mononucleosis, will be another weapon when she returns.
"I think this team is special. We lost our whole back line from last year and people thought that was going to be a problem, but all of the freshman that came in are doing a really great job," said Sherman. "We all fight hard until the end, we love this sport and I really think we can do big things."
Getting to the county quarterfinals is special for Demarest, which has been there just one time prior.
"We were hoping to get to the next round and we were hoping we would get to play OT. That is going to be a great game to be a part of," said Miller. "I am proud of our effort today and that we gave ourselves the opportunity to get there. It is going to be fun."
FOR MORE PHOTOS FROM THIS EVENT PLEASE CLICK HERE. TO BUY A COLLECTOR'S PRINT OF THIS STORY PLEASE VISIT 4-FeetGrafix.com.