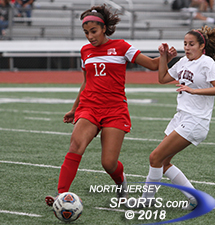 Emily Cevallos had a goal and two assists for Fair Lawn, which knocked off Park Ridge, 6-1, in the opening round of the Bergen County Girls Soccer Tournament.
FAIR LAWN – Fair Lawn scored its first goal just eight minutes in, held a 2-0 lead at halftime and went on to win by the final score of 6-1. Looking at those numbers suggests that the Cutters' Bergen County Girls Soccer Tournament first round matchup against Park Ridge was a start to finish domination by a Group 4 team against its Group 1 opponent. That was not the case; not at all.
Just four minutes into the second half junior Dana DiBella knocked in a goal from the edge of the area to get Park Ridge to within a goal and then, just over five minutes later, the Owls' Claudia Segovia floated one from distance that barely missed its mark, sailing just over the crossbar by inches. With less than a half-hour to play, it was a one-goal game and momentum, even if just by a little, seemed to be on Park Ridge's side.
"We came out a little flat there in the second half and the game tightened up. That is the type of team [Park Ridge is]. I don't care what group they are or what the seeds were, they are a tough and I knew they weren't going to give up," said Fair Lawn head coach John Van Soest. "The scoreboard does not necessarily show what the game was like."
Fair Lawn (5-2-1) could feel the heat, but it also has a player that can change a game quickly and junior striker Sasha Lachter led the recovery. Lachter won the duel for a high-bouncing ball at the edge of the area, dribbled through the remaining traffic, which included the vanquished goal keeper, and walked in the goal that gave the Cutters their two-goal advantage back at 3-1 with 26 minutes to play.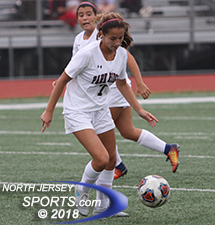 Junior Dana Dibella scored the goal for Park Ridge.
That put Park Ridge in a position to have to chase the game anew with one of the few options being to move pieces up the field albeit with tired legs. That opened space and the spread on the scoreboard. Lachter turned a Park Ridge turnover into a through ball for Emily Cevallos, who rifled one into the left side of the net for a 4-1 lead with just over 22 minutes left to play. That goal finally broke the resistance and sealed the Cutters' pace in the Round of 16 where they will play at ninth-seeded Westwood on Sunday in a 12 p.m. start.
"They had some opportunities even after they scored, but I knew that if we kept our heads up and kept pushing that we would eventually get some through balls through. We did and we were able to score off of them," said Lachter, who scored the only goal in Fair Lawn's win over Cliffside Park in last year's county tournament first round win. "I am really proud of this entire team. It was 2-1 for a while and, to be honest, I was a little bit nervous, but to go from that to a 6-1 win says a lot about the way we just kept playing."
It was Lachter who opened the scoring eight minutes into the game and sophomore Jessica Koka who doubled the advantage in the 16th minute on a breakaway set up by a perfectly-weighted lead pass sent through the channel by Cevallos, a deft distributor from the midfield all afternoon for the Cutters.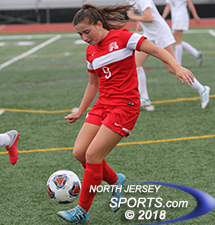 Sophomore Jessica Koka scored twice for Fair Lawn, which will play at Westwood in the Round of 32 on Sunday.
"Our forwards, Sasha and Jess, were making good runs all day and I just tried to split the defense and hit them going forward," said Cevallos, who finished with a goal and two assists. "This win definitely gives us some confidence that we hope can carry us into the Westwood game."
Park Ridge was a bit unlucky on a prime scoring chance in the first half. DiBella, a crafty striker who does not need much time or space to get off a shot, hit the crossbar with an strike of opportunity with 28th minute and, less than two minutes into the second half, freshman Shea Broderick just missed with a rip of the second ball off a corner kick.
Park Ridge's sophomore keeper Hannah Hanson was credited with 12 saves in the game, many of them of the difficult variety, especially when the Owls' were forced to push up late in the game. Cevallos set up Fair Lawn's fifth goal as she sent in Koka ahead of the pack. Koka made it 2-for-2 on 1-v-1 opportunities to make it 5-1 with 21 minutes left and senior Isabella Legra converted an Amanda Luandi long throw from the left touchline into the Cutters' final goal with less than five minutes left.
Next up is Westwood, a team that went all the way to the Group 2 state final last year and has been in good form in recent weeks.
"Westwood is a quality team. If you look at their record, sure they have lost a few, but they play a good schedule and they are going to be tough. We know that," said Van Soest. "We will do our research, see what might work for us and try to put our best out there."
FOR MORE PHOTOS FROM THIS EVENT PLEASE CLICK HERE. TO BUY A COLLECTOR'S PRINT OF THIS STORY PLEASE VISIT 4-FeetGrafix.com.