Wednesday, November 16, 2016
By Cory K. Doviak
NJS.com Editorial Director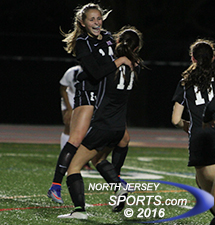 Eva Hurm celebrating one of her two goals during Northern Highlands' four-goal second half that got it past Hopewell Valley, 4-2, in the Group 3 state semifinals on Tuesday in Basking Ridge.
BASKING RIDGE – Northern Highlands has won a lot of games over a lot of years in the Group 3 state playoffs, but it is hard to remember one like this. It is rare that the Highlanders give up any goals, but giving up the first two of the game, the second one right after halftime, against a Hopewell Valley team that was running rampant made for a very different first 43 minutes than Northern Highlands is used to.
"I thought Hopewell Valley was a fantastic team. For them to come out and score two goals on us…that was tough," said Northern Highlands head coach Tara Madigan. "But there was still a lot of time left in the game."
Of the ensuing kickoff after Hopewell Valley increased its lead to two goal right out of the gate in the second half, Highlands switched the momentum in its favor with one piece of brilliance from one of the state's best players. Eva Hurm, the senior Notre Dame commit, used her first touch to take the pace off a cross in the area and her second touch to knock the ball inside the far post before it ever hit the ground. With 37 minutes left to play, the fight-back was on and it ended in stunning fashion, a 4-3 Northern Highlands win that puts it into the Group 3 state final for the sixth straight year.
Highlands will play Wall Township on Saturday in a 12:30 start at Kean University for the title that it has won in four of the last five seasons with only last year's 1-0 loss to Colts Neck interrupted the string of unprecedented success.
Hurm's not only got the Highlanders on the board, it also obviously lifted their spirits. Just three minutes later, Joanna Kelly scored to tie the game and six minutes after that Hurm set up Claudia Dipasupil for a goal from just inside the 18. From down to 2-0 and nearly getting run off the field to up 3-2 in the span and on the verge of running away with the game all in the span of about eight minutes. What happened?
"Honestly, that is the kind of team that we are. When we stepped back on the field [after halftime] and they scored again, it was like 'Ok, we have to do this," said Hurm, who scored three goals in the first 31 minutes in Highlands' win over Wayne Valley in the sectional final last Friday. "After we got the first goal back everybody's energy picked up right away and we just rolled with it."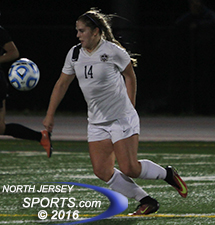 Katarina Nilsson had a goal and an assist for Hopewell Valley, which finished its season at 20-5.
Hurm added her fifth goal in the last two games by converting her own corner kick in the 64th minute. She took the restart, followed it in and, when it was spit back out of the traffic in front of the net, Hurm hammered it inside the opposite post to make it 4-2.
While unaccustomed to having to make such a comeback, Highlands is well versed at killing games off, but Hopewell Valley, which had outscored its state playoff opposition by a 20-0 margin coming into the game only to give up four goals in 27 minutes, did not make it easy.
Katrina Nilsson, the Northeastern-bound senior, was a handful for the Highlands back line all night and she had a full head of steam going when she was taken down inside the penalty area. Nilsson converted the penalty kick she created to get the Bulldogs back to within a single goal with eight-and-a-half minutes to go. And Hopewell Valley kept up the pressure right until the final whistle or just about. Northern Highlands keeper Sara Ghorashi's final save came with the PA announcer barking out the number 3 having started a countdown with 10 seconds to go in regulation.
"I give a lot of props to that team. They constantly put a lot of pressure on us. They just kept shooting and No. 14 [Nilsson] used her body to turn to goal. She is an amazing player," said Ghorashi. "We just knew that we had to leave everything we had on the field and work our hardest no matter what the score was at any point of the game."
Highlands run of postseason success is pretty much unprecedented in the New Jersey high school soccer. Six straight years of reached the final day of the season is not something that will be duplicated by any program in the near future unless the Highlanders make it seven in a row next year.
But this specific group has been different. There was tremendous turnover with the graduation of nine seniors from last year's team, in-season injuries that cost the Highlanders the services of Julia Homman, the All-State defender, and other who have missed time here and there. The players have changed; the tradition and expectations have not.
"I thought the way our girls played in the second half said a lot about the team that we have this year and the resiliency. Overcoming adversity with a couple of girls getting hurt in the game and having to come out, I am very proud of the way they played tonight," said Madigan. "I am very happy for this group. This was something that they put on their list of goals in August and for the seven seniors that have been here for four years, this is special for them. But it is also special for this young group of athletes that have never played in a state final. We are certainly happy to be back there."
CLICK HERE FOR MORE PHOTOS FROM THIS GAME. TO BUY A COLLECTOR'S PRINT OF THIS STORY, PLEASE VISIT 4FeetGrafix.com.