Saturday, November 12, 2016
By Cory K. Doviak
NJS.com Editorial Director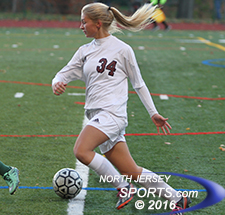 Freshman Hannah Hanson scored both goals for Park Ridge, which beat Kinnelon, 2-0, to win its first state sectional title since 2007.
PARK RIDGE – As a freshman in a program good enough to set its sights on winning a state sectional championship, Hannah Hanson rode the varsity/JV shuttle this season. She did not join the big club full time until the junior varsity season officially ended as the North 1, Group 1 state sectional tournament began early last week. For a player who might have been lost in the shuffle, she is instead an integral part of Park Ridge's playoff history book.
Hanson, who came on as a sub in both halves against Kinnelon in Friday afternoon's championship match, scored both of the Owls' goals in a 2-0 win that gave them their first state sectional championship since 2007.
"I try not to think about anything when I go out there. It can be too much pressure if you think about being a freshman going into a playoff game, so I just went out there and ran as much as I could," said Hanson, who got a couple of words of encouragement from Park Ridge athletic director Chris Brown as she walked to the center stripe before walking on in the first half. "Mr. Brown told me to just go out there and make something happen and that is all I tried to do."
Kinnelon was the two-time defending champion and also the team that beat Park Ridge in the 2014 final on this same field, so history was not on the Owls side nor was the weather in the first half. The wind was howling and it was at the Colts backs at the start of the game. Park Ridge would not have been out of the game had it reached halftime by just a goal or two, a tie would have been ideal until it got its chance to play with the aid of Mother Nature.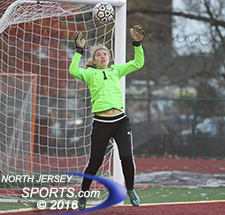 Kinnelon keeper Kristina Kalafsky was solid against heavy Park Ridge pressure.
But the Owls were in no way content to sit in their back third and clear balls out until the halftime whistle blew. Instead they kept the ball on the ground, moved it crisply and took repeated aim at the Kinnelon net while pressing its advantage in possession. Haley Raspanti, Megan Gasnick, Nicole Thomas and Dan Dibella all had quality chances in the first 20 minutes and only a combination of steady play by Kinnelon keeper Kristina Kalafsky and some bad luck kept the Owls from turning its advantage in the run of play into a tangible one on the scoreboard.
Kinnelon's best first half chance was a golden opportunity as Park Ridge was called for a foul just outside the penalty area in the middle of the park. The wall was pushed back to near the 6 which gave Sarah Racine any angle she wanted. The Kinnelon senior made solid contact, but Park Ridge keeper Kelly McCann needed to only to shuffle to her right post to pull in the line drive.
Having survived that scare and having so much of the ball, it was starting to get frustrating for Park Ridge. Far from just hoping for halftime, the Owls wanted a lead to work with.
"We really wanted to at least get one in before the half. We had the momentum, but getting at least one going against the wind was really important," said Thomas, a junior who did a lot of damage from an advanced midfield position. "We knew that we would have the wind in the second half and that we would get a lot of shots and we could make things happen. So getting that one goal would make it that much tougher on them playing from behind and against the wind."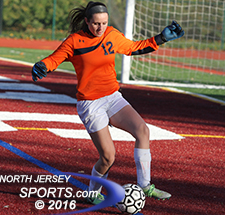 Kelly McCann kept a clean sheet for Park Ridge, which will play Glen Ridge in the Group 1 state semifinals.
That goal finally game in the 25th minute as Gasnick hit a shot into the mixer in front of the net. The ball was spit out to the left and Hanson was right there to hammer it in. The Owls almost doubled their lead six minutes later when Hanson got a rip of opportunity on the third ball off a corner kick, but Kafalsky was up to it and Park Ridge had to settle for the 1-0 halftime lead.
"I think we had a lot of energy, our passing was strong and our speed on the flanks was able to break through their backline. Once we knew that we could actually do that, we were finally able to take advantage," said Park Ridge head coach Molly Jaffe. "We had a lot of shots on goal in the first half and we felt like our lead could have been more."
The second half played out according to the weather conditions as Park Ridge was easily able to start counterattacks with an assist from the wind while Kinnelon needed to string passes more together to earn its opportunities. Claire Perez hit a thumper right at Kalafsky to give Park Ridge the first second half scoring chance six minutes in and Kinnelon's best chance to get back even came six minutes later when Lainey Lewis made a twisting run through traffic. She got off a shot, but it went wide right. Park Ridge had just about all of the remaining chances until Hanson finally found the insurance. She took a through ball on the left, two-touched it, beat the keeper and scored to make it 2-0 with 4:17 left in the game. It was all over but the lengthy celebration.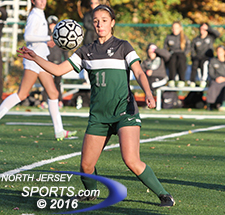 Sarah Racine had one of the best scoring chances for Kinnelon, which finished the season at 17-6-1.
"We lost seven starters from last year, we have not played a single game with our starting lineup and to win 17 games under those circumstances…I am happy about that," said Kinnelon head coach Dr. Steven Racine, whose team finished 17-6-1. "I am proud of the effort we gave today, we just didn't have enough of what we needed against a really motivated team that had been waiting to get back at Kinnelon for two years."
Now that Park Ridge is over the Kinnelon hurdle and had a trophy in hand, it can set about the work of trying to win an outright Group 1 title starting with a semifinal matchup against Glen Ridge on Tuesday at Indian Hills High School.
"I think the biggest pressure we faced was the game before this one against Emerson just because we know them so well and getting over beating a good team three times in the same year. Today I just felt a great energy," said Jaffe. "I honestly think that the rest, I don't want to say just gravy, but we have a trophy and this is something that this program has been trying to get since 2007. It feels great to be the team to have finally broken through and we will just go on and try to build on the legacy."
CLICK HERE FOR MORE PHOTOS FROM THIS GAME. TO BUY A COLLECTOR'S PRINT OF THIS STORY, PLEASE VISIT 4FeetGrafix.com.