Wednesday, November 9, 2016
By Cory K. Doviak
NJS.com Editorial Director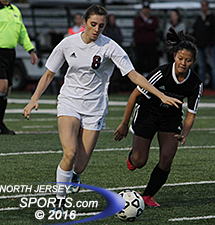 Nicole Thomas scored the go-ahed goal and added another for top-seeded Park Ridge, which beat Emerson, 4-1, in the North 1, Group 1 state sectional semis.
PARK RIDGE – Having beaten Emerson twice during the regular season and having a one-goal lead at halftime, Park Ridge was probably just a goal away or even just one long stretch of scoreless soccer away from putting the game away as the teams returned after the intermission. The Owls had the opportunity to press their advantage, but instead they found themselves in a tie game just over one minute into the second half.
Emerson scored off a well-executed set piece in the 42nd minute and, all of a sudden, it was game on.
"At the half one of the things that we talked about was not fouling in the middle [of the field] and then that is exactly what we did," said Park Ridge head coach Molly Jaffe. "That registered right away and we have had this kind of never give up attitude that really came through today, especially after they scored that goal."
Instead of being rocked by giving up the equalizer, the Owls recommitted to what had worked for them and that was possessing in the midfield and playing balls on the ground on angles that stretched the Emerson defense. Less than three minutes after giving up the equalizer, Park Ridge went back in front and stayed there on the way to a 4-1 win and Friday's North 1, Group 1 sectional final. The top-seeded Owls will play No. 3 Kinnelon with a chance to win the program's first title since 2007.
The go-ahead goal came at the end of a pretty combination played in the middle of the field as freshman Dana Dibella picked out junior Nicole Thomas making a run toward the right post. The feed was perfectly weighted as Thomas took possession near the 6 and deposited it inside the opposite post for the 2-1 lead.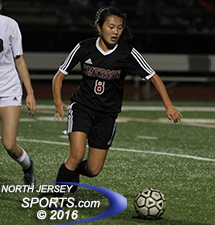 Hinya Oyu's goal right out of the halftime break got Emerson even at 1.
"I got a chance and I made sure to kick it to the corner of the net, away from the keeper like we have been practicing and it went in," said Thomas. "We were playing really well and we had momentum. We kept it on their half the entire game right up until they got that goal to tie it. We didn't have to change anything. We just had to stay confident."
Park Ridge (18-3) had the better of possession from the get-go, but had nothing to show for its efforts on the scoreboard. Claudia Segovia rattled the crossbar in the 14th minute, Claire Perez stepped through two defenders and buzzed the left post in the 21st minute and Dana Dibella spun at the top of the box before hitting one into the midsection of Emerson goalkeeper Katie Falatico on what turned out to be a significant play. During the build up to it, Emerson centerback Alexa Schmidt went down with a knee injury and did not return.
Even while absorbing copious amounts of pressure with a suddenly depleted back line, Emerson was still just a couple of minutes of getting out of the first half with no damage done before one moment of indecision put the Cavos behind. Segovia sent a hopeful roller from the right sideline toward the near post and, in one of those should-I-or-shouldn't I situations between keeper and defender, space opened up for Dibella, a freshman who pounced on the opportunity to pound it in.
"Another freshman, Claudia Segovia, crossed it in and it was rolling slowly," said Dibella, who lead Park Ridge in assists in just her freshman season. "I just kind of ran up, kicked it away from the goalie and shot it."
That turned out to be the first goal of many for the Owls, but not the backbreaker because Emerson took its halftime instructions and got right back in the game. It was Melanie Whited's free kick from left to right that led to a second ball that Hina Oryu headed in to tie the game.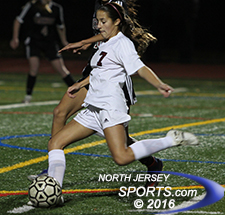 Freshman Dana Dibella scored the game's first goal for Park Ridge, which will host Park Ridge in Friday championship match.
What looked like it could be a turning point in Emerson's favor instead turned into the last gasp of an outstanding season for the Cavos, one of the best in program history. They fell behind three minutes later and couldn't find another equalizer.
"It was 1-1 and but they just wore us down there at the end. They have a lot of talent up front, they have a lot of skill and their girls finished. We had a couple of chances to get back in it, but we missed," said Emerson head coach Matt Lachman, whose team finished 16-5 in a season in which it won two county tournament games, the first two in program history. "I am so proud of my team and they can hold their heads high. We just ran into a really good team today. They beat us three times, they beat us for the league [title] and they played a little better than us today, but we have nothing to be ashamed and a lot to be proud of."
Segovia scored on a header in the 57th minute to make it 3-1 and Thomas tucked one in with just under four minutes to play to close out the scoring for Park Ridge, which is now just one win away from hosting a trophy.
"It seems like we get close every year, but this year we all know we can do it. We know we can win," said Thomas. "The whole team is supporting each other, we have the town and the school behind us and we are ready to take this on Friday."
CLICK HERE FOR MORE PHOTOS FROM THIS GAME. TO BUY A COLLECTOR'S PRINT OF THIS STORY, PLEASE VISIT 4FeetGrafix.com.