Saturday, November 5, 2016
By Cory K. Doviak
NJS.com Editorial Director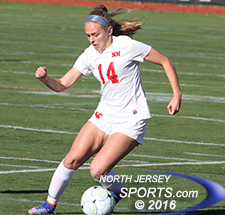 Evan Hurm scored on a pretty chip of the keeper with 26 minutes left for the final tally in Northern Highlands' 3-1 win over NV/Old Tappan in the North 1, Group 3 state sectional quarterfinals.
ALLENDALE – Sure it was only a one-goal lead, but any lead is usually enough for the Northern Highlands girls soccer team, especially in a tournament setting. The problem for the team that falls behind is that Highlands just does not give up many goals, only three so far this season coming into Friday afternoon's North 1, Group 3 state sectional quarterfinal against Northern Valley/Old Tappan.
Seeing out games is how the Highlanders have built their reputation, so when Claire Nam scored on a nifty volley with just over 12 minutes to go in the first half, it figured to be pretty much game over. Highlands beat Old Tappan by the same 1-0 score during the regular season and it looked like that result was just 40 short minutes away as the Highlanders carried their lead into halftime.
Top-seed Highlands did win and the six-time defending state sectional champions are heading to the semifinal round, but not following the expected script. Old Tappan scored a quality goal through the run of play that got them even in the second half before Northern Highlands regrouped by scoring twice in one minute to post a 3-1 victory in Allendale.
"Credit to Old Tappan. There was not much we could have done [about that goal]. I felt like it built up very quickly and it happened very quickly and we didn't have time to adjust. It was a great goal," said Highlands head coach Tara Madigan, speaking of the quick-strike equalizer. "A 1-1 game is a tough circumstance in the state tournament."
Old Tappan was without Caroline O'Sullivan, the junior sweeper who keeps the Knights organized in the back, through injury, but was holding up well against the pressure in the early going. Highlands had the possession and a few probing runs, but it always does and the game was still scoreless through 27 minutes. Then there was a moment of brilliance by Claire Nam.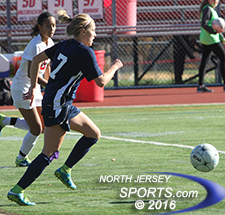 Freshman Jenny Fernandez assisted on the Old Tappan goal early in the second half.
On a well-placed ball played in by Claudia Dipasupil on one hop, Nam shouldered past a defender and got to the ball first then half-volleyed a half-a-chip over the keeper's head and in for the 1-0 Highlands lead with 12:29 left in the first half. Old Tappan goalie Jada Usal made a steady save of Joanna's Kelly's free kick and Dipasupil buzzed the right post on a counter attack in the 34th minute, but it the Highlanders still had to settle for the 1-0 halftime advantage.
But before the game could settle in a pattern of Highlands burning time before going forward in coordinated attacks, Old Tappan got even just over three minutes into the second half. The freshman combination of Jennifer Fernandez and Samantha Derrico gave the Knights a glimpse of their future. Fernandez played a ball into space on a diagonal to the left and Derrico pounded it home from in close to pull the game even.
Old Tappan had nine minutes to dream of a way to get another and get past the five-time defending sectional champion and this year's Bergen County titlist. Reality set eventually set in starting with a free kick awarded to the Highlanders about 30 yards from goal on the left. Senior Eva Hurm hit a low skidder with pace that got through to the keeper unimpeded and when a rebound was the result, Kelly pounced to put the Highlanders back in front with 27:03 left in regulation. Fifty nine seconds later, Hurm made it look a little prettier with a chip of the keeper from 20 yards out that gave the Highlanders the two-goal cushion they would carry home.
Old Tappan, led by a solid group of seniors, including three – Kelly Walsh, Izzy Ramil and Amanda Tripodi -- who have been starters since their freshman seasons, gave it a real go, but saw their season come to an end with a 12-6 record and a solid list of accomplishments.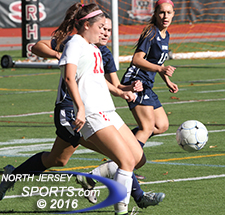 Highlands senior co-captain Amy Harris ran the full 80 minutes for the first time this season.
"We played really well and I am really proud of them. Two of the three goals [that we gave up] were really good, top level goals, but we fought, we got that goal and we were hanging in there for a while," said Old Tappan head coach Tom Quinn. "It's a very nice group of girls and we had a really good season. We won our league and we made some noise in the states and counties."
Northern Highlands is the head noisemaker in charge when it comes to the state and county tournaments over the last five years and there is no reason to think that the run is close to coming to an end. The nine graduation losses and the in-season injuries like the one that ended All-State defender Julia Homman's season two weeks ago have been well documented, but the cupboard never seems to be bare and there is even some good news on the injury front. Senior co-captain Amy Harris, who sprained her ankle in the first preseason scrimmage and then battled an illness, played the full 80 minutes against Old Tappan, the first time she has done so all season.
Her return to the front line only bolsters an already lethal attack and she is motivated to make up for lost time.
"This is the first time getting in a game and going as long as I could and I feel great. Losing the seniors from last year and then going through the injuries we have gone through, we are a team that adjusts and adapts very well. We have been doing it all season," said Harris. "To come back and be in the middle of it, I feel like I never left. Everyone on this team, the starters, the bench, the injured players, are all a part of it. We are together and we want to keep going."
CLICK HERE FOR MORE PHOTOS FROM THIS GAME. TO BUY A COLLECTOR'S PRINT OF THIS STORY, PLEASE VISIT 4FeetGrafix.com.