Monday, October 31, 2016
By Cory K. Doviak
NJS.com Editorial Director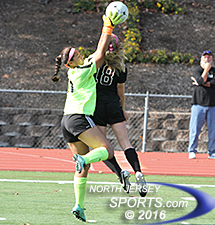 Northern Highlands keeper Sara Ghorashi thwarted every Ridgewood attack and kept a clean sheet for the Highlanders, who won the program's record 13th Bergen County title with a
1-0 win in Oakland on Sunday.
OAKLAND – Northern Highlands has made it easy on those who might be tasked with prognosticating a girls soccer season. Need to predict a winner in the league the Highlanders play in? Take the Highlanders. Need a county champ? Take the Highlanders. State sectional champ? Group 3 state champ? Highlanders and Highlanders and, more often than not over the past six-plus years, they will make the picker look like he or she really know what he or she is talking about.
From the outside it is a lay-up. Inside the program, however, there is a different perspective. Every year brings a new group of players, some with plenty of experience, some with none. There are graduation losses to deal with, outside expectations and of course and unfortunately, injuries that inevitably pop-up.
And none of that even takes into account the strength of competition that the Highlanders are trying to stay one step ahead of in one of the most talent-rich counties in the state.
The loss of Julia Homman, one of the state's best defenders and overall players, to a knee injury in last week's Bergen County Tournament semifinal round against Ramapo and then a midweek loss to that same opponent, Highlands' first and only of the season so far, certainly did not bode well heading into Sunday's county championship match against Ridgewood team that has been on a roll.
"I think when we graduate nine players last year, that although people like you in the media expected us to be back here, reality is we only had three starters back here on this roster," said Madigan. "I don't think that we thought that we were going to march to a county final. Injuries are part of the sport, unfortunately, and every year you deal with adversity."
Adversity and all, Northern Highlands is still on top of the Bergen County heap as it got a goal from Claire Nam on counter attack in the 14th minute and rode it the rest of the way to a 1-0 victory that gives the Highlanders their fifth county championship in the last six years. The win also gave the program 13 in its history breaking a tie with Ramapo for the most all time.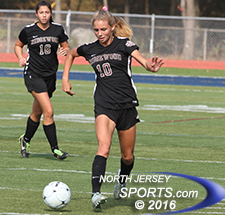 Allie Landino had Ridgewood's best chance, a ripped half-volley that was saved in the 20th minute.
Highlands has churned through a host of talented players during this run of brilliance that has lasted for more than half-a-decade, many of them in the midfield and up front, but the foundation of the Highlander program is a defense that just does not give up goals very often. No opponent had scored against Highlands before last weekend's semifinal round and it gave up two in the loss to Ramapo as it began to adjust to the reality of losing Homman.

Ridgewood takes a defense first type of approach as well, but it knew that if it was going to win its first county championship since 1994, it was going to have to put at least one past Highlands sophomore keeper Sara Ghorashi. The Maroons sniffed an opportunity when Hannah Cermack stood over a free kick on a diagonal from the right about 30 yards from goal. Ridgewood put some numbers in the box, but when the ball bounced out of the scrum in front of the net, it headed the other way and quickly.
Highlands' Joanna Kelly settled the ball to kick the transition into gear and then sent in senior Claire Nam, who was running free up the left flank. Nam hurried forward, but she did not rush. She froze the keeper and deposited the game's lone goal into the lower left hand corner.
"We practice that a lot. Quick transitions are a good way to counter and punish the other team. The midfield won the ball and without that my goal would not have been possible. They slipped it through and I just passed it in," said Nam. "The keeper came out a little bit, but I just visualized hitting the corner and put it right in."
Ghorashi was tested often. She picked off a lot of balls in the air on crosses and corners and got off her line to thwart through balls, but she also was called upon to make that one key do-or-die save. Six minutes after Nam's goal a cross was sent in from the right and it cleared the pile in the middle of the 18-yard box and fell right in the path of Allie Landino, who did not flub her lines. Landino hit a cracking half-volley on target, but Ghorashi stood her ground, saw the ball and parried it over the bar.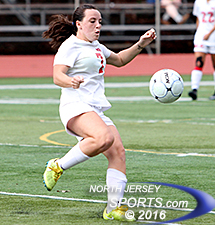 Joanna Kelly assisted on the game's lone goal as Highlands won its fifth county championship in the last six years.
"I saw it coming and I knew I had to do whatever I could to keep it out," said Ghorashi. "It's one of things that you have to be ready for as a goalie and it was all reaction."
It was back-and-forth there in the middle part of the first half as Ridgewood keeper Britt Cunningham made her best stop when she slid out to break up a 1-v-1 opportunity for Highlands' Eva Hurm, but the action settled back down through halftime and well into the second half before Ridgewood went all out after the equalizer in the final four minutes.
Highlands, however, is so tough to break down and knows how to close out a close game. The Highlanders played to the corners to run clock and Ghorashi picked off one final ball in the air with just under one minute to go to set off a somewhat muted celebration for a Highlanders program that is used to collecting trophies and moving on to the next task.
Highlands (15-1) will open defense of its North 1, Group 3 state sectional title on Tuesday when, as the top seed, it will host No. 16 Passaic Valley. Ridgewood will now turn its attention to the state tournament as well. Seeded second, the Maroons will host No. 15 Mount Olive.
"It's an outstanding accomplishment anytime you can get to the final of the Bergen County Tournament," said Ridgewood coach Jeff Yearing. "This was one of our goals at the beginning of the year and we got here. This game didn't end with the result we wanted, but the effort just reinforces that we have a quality team and speaks well to the ambitions of this team and the potential we have for the state tournament."
CLICK HERE FOR MORE PHOTOS FROM THIS GAME. TO BUY A COLLECTOR'S PRINT OF THIS STORY, PLEASE VISIT 4FeetGrafix.com.