Monday, October 24, 2016
By Rich Barton
NJS.com Staff Writer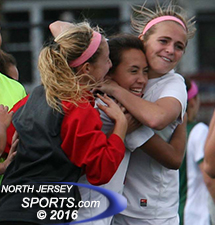 Claudia DiPasupil (center) is mobbed after her goal in overtime gave Northern Highlands a 2-1 win over Ramapo and a trip to the county final for the sixth straight season..
ORADELL – The road to a county championship is a well-worn path for the Northern Highlands girls soccer program. To get there, a team often has to face adversity to navigate through a rugged schedule. Despite the loss to graduation of a supremely talented cast of seniors, Northern Highlands picked up where they left off and then some this year by not allowing a goal the entire season heading into the Saturday's Bergen County semifinals. Facing archrival Ramapo, the Highlanders faced adversity in a variety of ways, but when push came to shove the end result was a familiar one.
Claudia DiPasupil knocked home a corner kick from Eva Hurm 4:30 into overtime as top-seeded and defending champ Northern Highlands survived and advanced to the Bergen County final with a 2-1 semifinal victory over fourth-seeded Ramapo on Sunday at River Dell High School in Oradell.
"Anytime we play Ramapo it's going to be a battle and they are great competition every year," said Hurm. "We knew someone was eventually going to score on us. It was about how we responded to it and I thought we played with a chip on our shoulder in overtime."
Northern Highlands had two quality scoring chances in the first four minutes but could not convert. Everything was going the Highlanders' way until All-American senior sweeper Julia Homan went down with an apparent knee injury and did not return to the game. The Highlanders could not mount much of an offense from that point on. Although Ramapo did not take advantage in terms of shots on net, the Green Raiders were able to neutralize the midfield and frustrate the Highlanders.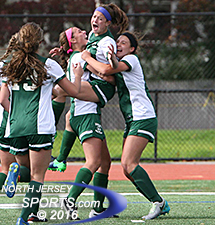 Ramapo f reshman Mary Clare Langan gets a lift after tying the game with the first goal scored against Northern Highlands all season.
"I think Julia getting hurt definitely had us worried," said Hurm. "She's such a big part of this team and we're all so close that it took us awhile to adjust to that. You can't just replace someone like Julia, but we had some girls who really stepped up."
The game remained scoreless until the 58th minute when the Highlanders took advantage of the swirling wind. The Notre Dame-bound Hurm bent a 35-yard direct kick near the sideline towards the back post. Teammate Joanna Kelly rose above a defender to challenge Ramapo keeper Lizzy Stellakis for the ball. Kelly got enough of a touch to pop the ball in front that was booted home by Elizabeth Peebles for a 1-0 lead.
Ramapo made a late push and gave a rare test to Highlanders' goalie Sara Ghorashi. The sophomore showed poise beyond her years late and it was evident that it would take a perfect shot to beat her, but with time winding down that is exactly what the Green Raiders got.
Freshman Mary Clare Langan received the ball about 35 yards out and took a touch before unleashing a shot with pinpoint accuracy. Her effort bent just barely over the fingertips of a leaping Ghorashi and into the upper right-hand corner with 1:33 remaining in regulation to tie the game at 1.
The Highlanders came out to start overtime with a raised level of intensity. Between playing their arch nemesis and with a desire to avoid a dreaded penalty-kick shootout, they wasted no time in setting the tone and eventually earning a corner kick that led to the game-winner.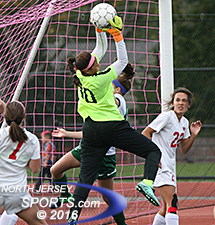 Sara Ghorashi made five saves for Highlands, which will play Ridgewood in the county final on Saturday.
Hurm lined a low, curving corner kick just outside the six-yard box. Stellakis dove and was able to get a hand on it but the ball went right to DiPasupil, who slid a shot inside the far post with 5:30 left in the first overtime to keep Northern Highlands' unblemished record intact.
"Eva crossed it back post and as the garbage player my job is to be at the back post," said DiPasupil. "It just came to me and it was nice to know that I could place the ball where I wanted it to go."
Ghorashi finished with five saves for Northern Highlands (14-0). Riley Cedro and Katelyn Ewell played well in the defensive third after Homan went down with the injury. Stellakis had six saves for Ramapo (10-4-3).
Northern Highlands will make its sixth consecutive appearance in the Bergen County final, winning three times and sharing another in its past five trips. The Highlanders will take on third-seeded Ridgewood in the BCT championship match on Sunday at Indian Hills High School in Oakland with a 12:30 P.M. start. Ridgewood played the Highlanders as well as any team this season, losing 1-0. With the pressure mounting and more at stake this time around the Highlanders hope that Ridgewood will bring out the best in them just as Ramapo did on Sunday.
"We come into every game working our hardest and this is where we want to be," said Ghorashi. "I think we still have a lot of room to improve. We have to go to practice and into games giving one-hundred percent effort and we'll be ready."
CLICK HERE FOR MORE PHOTOS FROM THIS GAME. TO BUY A COLLECTOR'S PRINT OF THIS STORY, PLEASE VISIT 4FeetGrafix.com.