Monday, October 17, 2016
By Rich Barton
NJS.com Staff Writer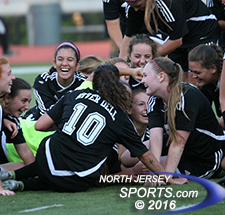 River Dell, the No. 7 seed, celebrated its
2-1 upset win over No. 2 IHA in the Bergen County Tournament quarterfinals on Sunday at Indian Hills High School.
OAKLAND – Dealing with adversity is nothing new to River Dell standout Rachel Sorkenn. Having to sit out her entire junior year with a broken leg, the University of Miami commit could only sit and watch as River Dell got knocked out of last year's Bergen County Tournament in the quarterfinal round. Now back and at full strength for her senior year, Sorkenn just wanted the chance to get back on the field and see how far the Golden Hawks, fully healthy, could go in tournament play.
As the No. 7 seed, River Dell was as far in the Bergen County Tournament as its seed suggested it should go. Standing in the way of a deeper run was Bergen County stalwart and perennial state power IHA in the quarterfinals.
After 60 minutes of play, Sorkenn was bottled up and barely had room to get a touch on the ball. After all she has been through just to get back on the field for one last eason with the friends she grew up playing the sport with, Sorkenn was not about to let frustration get the best of her. What happened over the course of the final 19:02 is something that neither Sorkenn, her teammates, the River Dell coaching staff or anyone in attendance will soon forget.
Sorkenn scored on a gorgeous 35-yard strike to tie the game then netted the game-winner with 1:57 remaining in regulation to give River Dell a berth in the BCWCA Tournament semifinals with a 2-1 upset over No. 2 IHA at Indian Hills High School in Oakland.
"It's an awesome feeling to beat IHA," said River Dell senior Madeline Weber. "We really stepped it up in the second half and gave it everything we had. This win is the best thing that's happened to me on a soccer field."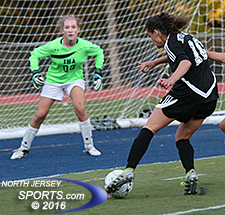 Senior Rachel Sorkenn lining up River Dell's game-winning goal with just under two minutes to play in regulation.
River Dell came in with nothing to lose and played like it from the opening whistle and nearly scored just seconds into the game. On a cross just outside the six-yard box, Sorkenn whiffed in front and the Hawks were not able to get a shot on net.
That appeared to be a wake-up call as IHA controlled the remainder of the half. The Blue Eagles found the back of the net in the 15th minute. Cayla Chlomiek toe-poked a pass, Julianna Shrekgast ran onto it and slipped a shot past a charging Alison Sorkenn to give IHA a 1-0 that lasted well into the second half.
IHA kept the pressure on throughout the first half and into the second but a stingy defense led by Alison Sorkenn, a four-year starter in net, was up the task. Weber, a marking back, and sweeper Breanne Van DeWeghe were awfully busy but maintained a physical presence along the back line. Alison Sorkenn was rock solid and made several outstanding saves in the second half to keep the Hawks within striking distance.
"IHA is a great team and I knew I was going to get some shots at me," said Alison Sorkenn. "I had to be constantly focused on where the defenders are in front of me and how I could position myself to cut down on their angles. I knew if we could keep it at 1-0 that we'd eventually start clicking and score."
Rachel Sorkenn did not have a single shot on goal through 60-plus minutes, but a player of her talent and skill level needs just one shot to make a major impact on a game. She finally got the ball off of a deflected pass from Caton Henderson and created enough space to get off a shot, albeit a long one. She unleashed a 35-yard blast into the upper right-hand corner in the 61st minute to tie the score at one and give the Hawks some life.
"Honestly, I just wanted to rip a shot after going the entire game without one," said Rachel Sorkenn. "It's frustrating to have someone on your back at all times but I had to fight through it. I saw the goalie was off of her line a little bit so I just ripped it."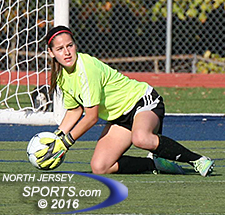 Alison Sorken made 11 saves for River Dell, which will play No. 3 Ramapo in the semfinals next Sunday.
That set up a frenetic final 19 minutes of regulation with end-to-end action. IHA had several chances over that span, two of which went over the crossbar and two others were saved. As the Blue Eagles pushed up to try to net the go-ahead goal it also made them susceptible to a counter attack. That is exactly what happened when midfielder Julie McGovern booted a ball into space up the left side. Rachel Sorkenn took a long touch ahead but ran onto it inside the top corner of the box before IHA keeper Victoria Bertussi could get to it. With a defender bearing down, Sorkenn slid a left-footed shot past Bertussi and inside the far post for the game-winner with 1:57 to play.
"I was coming up the left side and saw the goalie coming out so I aimed for the far post," said Rachel Sorkenn. "I saw the goalie get a hand on it but it went in. It's the biggest goal I've ever had."
Rachel Sorkenn scored her team-leading 14th and 15th goals of the season for River Dell (9-2-1). Alison Sorkenn was equally as impressive in net with 11 saves. The UConn-bound Shrekgast scored the lone goal and Bertussi had four saves for IHA (5-5-2).
River Dell advances to the Bergen County semifinals next Sunday against third-seeded Ridgewood, a 1-0 quarterfinal winner over Pascack Valley. The teams met back on October 5 with Hannah Cermack scoring both goals in a 2-0 win for Ridgewood. With more at stake and River Dell looking for its first-ever berth in a Bergen County final, the Hawks are looking for a better outcome the second time around.
"Not everyone thought we could win but obviously you thought we could win," added Rachel Sorkenn (giving Richie Ballgame credit for his pre-game prediction, exact final score included, on NorthJerseysports.com's Hitting the Post Thursday). "At the beginning of the season we felt, with a lot of teams losing top players and us coming back and being healthy, that we had a shot to be in the mix with teams like Northern Highlands, IHA, Ramapo, and Ridgewood. We played well as a team and we're up there with those teams now and we're excited to play in the semifinals next weekend."
CLICK HERE FOR MORE PHOTOS FROM THIS GAME. TO BUY A COLLECTOR'S PRINT OF THIS STORY, PLEASE VISIT 4FeetGrafix.com.