Wednesday, October 12, 2016
By Rich Barton
NJS.com Staff Writer
Megan Mancini scored twice for Clifton, which bounced back from a county tournament loss with a 6-0 win over Bergen Tech on Tuesday.
CLIFTON – Anger, frustration, and tears are all reactions to watching the opposing team celebrate an upset win in a county tournament. That is what Clifton experienced on Saturday when the No. 2 seeded Mustangs were knocked off in the Passaic County quarterfinals by No. 7 seed Lakeland.
While a county title is no longer in play there is still plenty left to play for. After a long four days to think about the loss to Lakeland the Mustangs finally got a chance to get back on the field and work toward the next goals, winning a league title and making a deep run in the state tournament.
Clifton took out its frustrations in grand fashion. Meaghan Mancini led the way with two goals and two assists as the Mustangs got back on track with a dominant 6-0 triumph over Bergen Tech on Tuesday at Clifton High School.
"Losing to Lakeland definitely got our focus back," said Clifton senior captain Daniella LoBue.
The Mustangs came out like a team on a mission by using quick passes to create numerous scoring opportunities early. They put one in the back of the net in the 11th minute to open the scoring. Talented sophomore Maria Orozco worked a give-and-go with Jessica Roldan that led to a breakaway with ended with Orozco slipping a shot past Bergen Tech goalie Joella Chase for a 1-0 lead.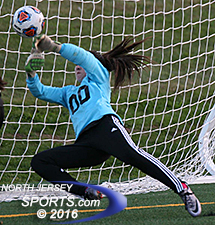 Bergen Tech keeper Joella Chase made 22 saves, hardly any of them easy.
Bergen Tech had its best stretch of play in the next eight minutes with two quality scoring chances. Katie Katz cracked a shot from a tough angle that was saved and Christine Choi bent a hot one from the top of the box just inches wide of the right post.
From that point on it was all Clifton. Mancini, Orozco, and Giuliana Richards ran roughshod through the Knights' back line. Only the play of Chase, who made four consecutive saves on breakaways, kept it close. She could only hold off the constant wave of offense for so long though. Richards was taken down in the box with Mancini converting a penalty kick in the 26th minute before the junior striker scored on a breakaway in the 30th minute to give the Mustangs a 3-0 lead.
"On the penalty kick I just picked a corner and went for it," said Mancini, who now has a team-highs of 16 goals and 11 assists on the season. "They had an athletic goalie so I tried to keep it low and hope for the best."
The onslaught continued in the second half. Jessica Roldan converted a feed from Casey Gervacio just minutes in and Richards followed shortly thereafter with a goal to make it 5-0.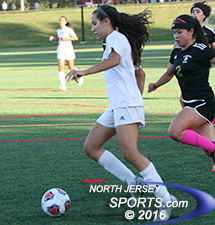 Giuliana Richards helped Clifton improved to 8-3 on the season.
Sophomore Amanda Ale capped the scoring with her first career varsity goal for Clifton (8-3). Cindy Espinal and Brienna Martins each made two saves to split the shutout.
There are not many instances where a goalie can allow six goals and was still the best player on the field. Chase, a sophomore, was just that for Bergen Tech (5-7). She made one spectacular save after another with half of her career-high 22 saves coming on breakaway chances and another four coming on point-blank shots.
With the Big North-Liberty Division now in hand, the Mustangs will set their sights on peaking for the North 1, Group 4 state tournament, which is just two weeks away.
"We're going to prepare the best we can because the state tournament is coming up fast," said Clifton's Daniella LoBue. "Our practices have been great the past few days and we feel like we're a team that can go far."
CLICK HERE FOR MORE PHOTOS FROM THIS GAME. TO BUY A COLLECTOR'S PRINT OF THIS STORY, PLEASE VISIT 4FeetGrafix.com.