Monday, November 3, 2008
By Cory K. Doviak
NJS.com Editorial Director
Jaclyn Wood converted a PK in the first half to put IHA in front for good on the way to its third Bergen County title in the last four year. Wood has been on the field for all three.
FRANKLIN LAKES – Since Day 1 of the season, IHA has been the favorite to win the Bergen County Tournament and over the last couple of weeks Ramapo has emerged as the team with the best chance to knock off the defending champion. When they met for the title on Sunday afternoon on Ramapo's home field it was a question of which team would be able to force the other into its preferred style of play. Ramapo likes be physical and own the middle of the field, while IHA likes to run around defenders and attack from a variety of angles.
While both teams got the pace of play in its favor during various portions of the game, it was IHA that was able convert its opportunities into goals and a 2-0 win. With a penalty kick goal from Jaclyn Wood in the first half and Rachel Wechsler's pretty finish of a CJ Graetzer cross 13 minutes into the second half, IHA got to celebrate its third Bergen County championship in the last four years.
"It's hard to put into words. I am extremely proud of the kids, their commitment to each other. The most impressive thing for me is to see how they pull for each other, how they root for each other, how they practice hard and compete against each other," said IHA head coach Steve Silver. "They make it a great environment and they are a lot of fun to be around."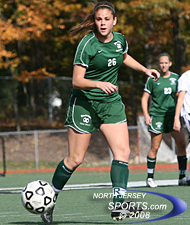 Amy Van Dyk nearly set up a Ramapo goal that wound up being thwarted by the goal post.
It's been a fun four-year run for Wood, a senior who was on the field for all three championships and put IHA in front for good. Tara Wilk's strong run into the penalty area from the right side ended when she was taken down hard and the foul called put the ball on the six yard line, from where Wood converted the PK into the right half in the 20th minute.
Just four minutes before, Ramapo's Amy Van Dyk had taken possession of a goal kick near the midfield stripe and sent Katie Wiederhold in up the right side. Wiederhold got a step on her defender and got a clean look, but her shot kicked off the right post and was cleared out. So when Wood converted IHA's next chance, it was almost like a two-goal swing.
"It was huge. We've only been down once all season (in a 1-0 loss to Pennington Prep) and it was different for us. It's really difficult when you go down, especially in a county final, so it was just huge," said Wood. "Ramapo was playing really well in the first half, so I think that goal lifted our team up and we just played a lot better."
Ramapo keeper Emma Giegerich made two saves, once plucking a serve from the end line by IHA's Tara Schwitter and once staying home on a chip try also by Schwitter, in the final six minutes of the first half to keep her team within a goal at the break and it was the Green Raiders who had the first legitimate chance at the break.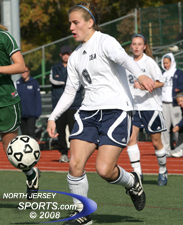 Tara Wilk's run into the penalty area drew the foul that led to IHA's first goal.
Avery Jackson put in a cross of deep in the corner that found Kellie Wiederhold at the far post and her first touch was with her knee, which popped the ball up. But before she could get a boot on a second touch, IHA keeper Kate Courter swooped in to take the ball out of the air.
It was just over a minute later that IHA struck for its second goal and it did so quickly and with precision.
Erin McGovern played a lofted through ball up the right side and Graetzer ran onto it just before it bounced over the sideline. Graetzer, on the dead run, carried it into the corner and when she had cleared the foot of the last defender, she cut a cross to the middle of the crease just as Wechsler had started her run.
"Erin kicked it over the top into the corner and I just ran and put a cross in," said Graetzer, whose touch was on display all game, especially when she hit the cross bar on a corner kick just seven minutes into the game. "All of us were working really hard and I was just happy to contribute."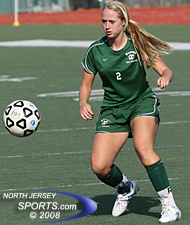 Taylor Schulte and the Ramapo defense played well against the speed that IHA possesses.
Graetzer's contribution turned into an assist when Wechsler made a last second adjustment and volleyed the ball on target. Giegerich did well to get her fingertips on the ball, but it wasn't enough to keep it out of the top shelf.
"I saw [Graetzer] beating her girl and all I could think was that I was the only one up there and I somebody has to hit it in," said Wechsler, a senior forward. "I was planning on hitting it with my head, but it just dipped right down and I just stuck my foot in there. It went right over the goalie's hands."
Ramapo, which came in as the No. 6 seed and upset No. 3 Ridgewood and No. 2 Northern Highlands before running into the top seed in the final, kept pushing to get back in the game, but IHA's ability to maintain possession left the Green Raiders without enough touches to creep closer. But after what was obviously a disappointing loss, Ramapo head coach Paul Heenehan sounded anything but defeated.
"We came out in the second half and had a couple of point blank shots to make it an even game, but woulda, coulda, shoulda…The bottom line is that I just told the kids that I am extremely proud of the way they played and they know, based on our experience in this county tournament, they know that we can play with anybody," said Heenehan, whose 599 career wins are the most in the history of New Jersey high school girls soccer. "No regrets, we'll move forward."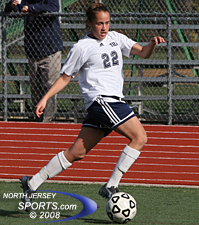 Rachel Wechsler capped the scoring with her volley in the 45th minute.
Ramapo is the defending North 1, Group 3 state sectional champion and is the No. 4 seed in this year's tournament. After a first round bye, the Green Raiders will begin defense of their title on Friday against the winner of Tuesday's match between No. 5 Wayne Valley and No. 12 Sparta.
IHA is the No. 2 seed in the Non-Public North A bracket and will have a few days off to enjoy its latest accomplishment because of a bye into the quarterfinal round.
"We got here, we made it two in a row and I am happy," said Silver. "I am happy for our seniors most of all."
FOR MORE PHOTOS OF THIS EVENT OR TO BUY A COLLECTOR'S PRINT OF THIS GAME STORY, PLEASE VISIT 4FeetGrafix.com.