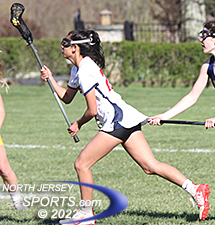 Nia Carrera scored three goals for Saddle River Day, which won its second straight game, 12-8 over Ramsey on Thursday.
SADDLE RIVER – Like any young team in any sport, the Saddle River Day girls' lacrosse team has experienced its fair share of growing pains this season.
First there were three one-goal losses in a nine-game span. That was followed by three more convincing losses which could have derailed the Rebels' season. Despite the rough first month, this team is confident that the talent is there and they can turn things around for county and state tournament play.
A good measuring stick came into town on Thursday when the Rebels faced off against Ramsey, a team also looking to get back on the winning track. In one six-minute stretch during the first half Saddle River Day showed why not only the future of the program looks bright but the present as well.
In that spurt four different players found the back of the net as Saddle River Day scored five straight goals and never looked back to earn its second straight win, 12-8, over Ramsey in Saddle River.
"We needed to work together and keep moving the ball to start off the game strong," said SRD's Nia Carrera. "As the season is going on, we're playing much better together and we're finally starting to click."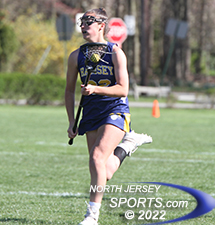 Sydney Klepper scored four goals to lead Ramsey.
Senior Sydney Klepper opened the scoring for Ramsey but the Rebels quickly responded. Senior Leanna Tsahalis and freshman Bella Pedone consistently sliced their way through the Rams' defense to create scoring chances. Carrera, Julia Pope, Grace Magna, and Pedone all scored during the run to give Saddle River Day a 5-1 lead.
"I think we're really improving on what we've needed to work on," said Tsahalis, who will play at Georgetown next year. "We're starting to trust each other more and we've changed a lot from how we played at the beginning of the season. I think that trust will reflect how we play for the rest of the season."
Ramsey received goals from Shannon Brown and Klepper late in the half to cut the lead to 8-4 and had chances early in the second half to slice four-goal deficit even further. Rebels' goalie, sophomore MC Salter, was up to the task with three huge saves to keep the Rams at bay. The Rams' best chance to come back occurred later in the second half when a pair of yellow cards gave them a two-player advantage.
It quickly turned into a disadvantage as defender Lucia Guardascione forced a turnover. Pedone quickly moved it up to Tsahalis who then found Carrera all alone along the right flank. Carrera cut, create an angle then went low for the short-handed goal to wrap up the Rebels' second straight win.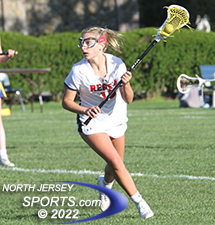 SRD freshman Bella Pedone did a little bit of everything with two goals and two assists along with a game-high eight draw controls and four ground balls.
"We had our heads up and we worked together well today," said Saddle River Day first-year head coach Carly Cappello. "That helped us be more successful in transition. We've worked recently on utilizing the time and space we have, even in transition. The girls believe in the process of growing together as a team and we're finally turning that corner. Today we came in with a gameplan, we stuck to it, and we executed well when we had our opportunities."
Tsahalis, who led the team in scoring last season, showed she can be a playmaker as well with a career-high five assists to go with a goal for Saddle River Day (3-7). The versatile Pedone did a little bit of everything with two goals and two assists along with a game-high eight draw controls and four ground balls. Pope led all players with four goals, Carrera had three, and Magna with two goals for the Rebels.\
Klepper led the way for Ramsey (3-7) with four goals and Brown added a pair. The Rams will look to bounce back this weekend with a first-round game in the Bergen County Tournament as the No. 7 seed against tenth-seeded Westwood.
The Rebels will also have a Bergen County Tournament game at home. They are the No. 8 seed and will face ninth-seeded Indian Hills on Saturday. With the seven-game losing streak now well in the rear-view mirror the team is starting to realize their potential and they are excited for what they can accomplish in the second half of the season.
"To win on Saturday in counties, we'll have to get off to another good start like we did today," said Pedone. "We're looking up more and our trust in each other has grown a lot over the past two games. This win was huge for us. It really helped us get our head in the right place and ready for Saturday's County game against Indian Hills."

FOR MORE PHOTOS FROM THIS EVENT PLEASE CLICK HERE. TO BUY A COLLECTOR'S PRINT OF THIS STORY PLEASE VISIT 4-FeetGrafix.com
---