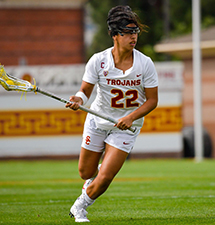 Isabel McMahon (above), Daniella and Micheala will become the first set of sisters to play in the same NCAA Lacrosse Tournament when the take the field for their respective schools on Friday night.
SADDLE RIVER – For the McMahon family lacrosse is the sport that has captured the hearts of every one of them. After stellar high school careers at Saddle River Day, Isabel, Daniella, and Michaela McMahon sought out the ultimate test of playing on the Division 1 level, the highest level that collegiate athletics has to offer. Not only did the three sisters want to challenge themselves academically, but the hope was that they would each head to top-notch programs and achieve something truly special.
All of their hard work has paid off as each of them are major contributors for their respective teams this season and each of them will play in the first of the NCAA Tournament on Friday. Isabel, Daniella and Michaela will become the first trio of sisters ever in NCAA history to accomplish that feat for three separate universities.
"It's amazing for the girls to share in such a great experience," said Karen McMahon, matriarch of the family and the head coach at Saddle River Day. "It's also great for Paul (her husband) and myself, Gabby (a former star at IHA and USC), Sophia (a junior at Saddle River Day and Stanford commit), and the rest of our family to go along for the ride on this journey."
Despite the tight bond between the sisters each of them took a very different path to where they currently stand.
Isabel, was better known around Bergen County as Izzy and for her exploits on the basketball court during her high school years. After leading IHA to a Bergen County title as a freshman she transferred to Saddle River Day on her way to becoming a 1,000-point scorer and a first-team all-county selection. In fact, Izzy did not even play lacrosse until her junior year in high school and had no intentions of playing at the collegiate level when she committed to play basketball at Army where she was a contributor on a team that reached the NCAA Tournament.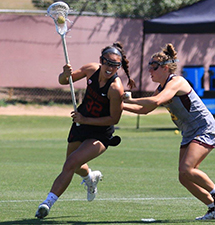 Daniella McMahon is now a junior captain at Stanford University.
But as her love of basketball waned her love of lacrosse grew immensely. She walked onto the Army team and immediately cracked the starting lineup as a freshman. It was then when Isabel realized that she wanted to take a crack at another dream of hers, following in her sister Gabby's footsteps at USC.
Izzy made an impact in her redshirt sophomore season before adding to her impressive resume with 33 goals, second on the team. In this, her junior year, she shined during the Pac-12 tournament with a career-high five goals in the semifinals against Cal before adding another two in the Pac-12 championship game win over Colorado that gave the Trojans an automatic berth to the NCAA Tournament.
"It's huge that this is all happening for both me and my family," said Isabel, a Health and Human Science major. "Especially after missing out on the national tournament last year it's very gratifying to get there this year. I feel very accomplished and quite humbled at the same time. I'm grateful for the experiences I've had at different schools and playing basketball as well. The dynamics are so much different and yet similar at the same time when it comes to the work and dedication you need to be successful. It's made me a better leader. I've never been so excited before as I am now to play in the NCAA's and to see (Daniella and Michaela) going through the same thing is just amazing."
Daniella was equally as dangerous on the basketball court as she was on the lacrosse field at Saddle River Day, earning first team all-county honors in both sports. She had opportunities to play either sport collegiately, but made up her mind to follow in her parents' footsteps by choosing to play lacrosse. She could have easily taken a similar path and fell into a comfortable situation by signing with USC. but she wanted to forge her own path and go where she had to essentially start from scratch. Where better to do that than one of the top academic institutions in the world, Stanford University. Seeking out unfamiliar surroundings and committing to not only a sport but also as challenging an academic environment that that is was an major life adjustment. Now, as a junior captain on the precipice of a second straight NCAA berth for the Cardinal, Dani knows that she made the right decision.
"I had a lot to work through on and off the field when I first came to Stanford, but it's all been worth it," said Dani McMahon, a second team all Pac-12 selection this year with 25 goals and 14 assists for a total of 39 points. "This year we were on the bubble and it was incredible to see our name pop up on the screen when the bracket was being announced. The beauty of this whole ride has been not just growing up playing with my sisters but each of us going our own way and seeing success independently."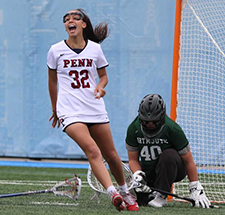 Michaela McMahon has made her mark at the University of Pennsylvania as a freshman this season.
Michaela also saw plenty of her success in her time in a Saddle River Day uniform both personally and as a major part of the first championship lacrosse teams in school history. In the 2017 season, the three-time first team all-county selection netted three goals and two assists to lift the Rebels past Mountain Lakes, 10-9, for the North 1, Group 1 section title. Last year the teams met again for section supremacy with Michaela providing a perfect end to her spectacular scholastic career. She scored another hat trick, including the game-winning goal in overtime, as the Rebels repeated their championship run on her way to finishing with 543 career points with a school-record 181 assists and being named first team all-state as a senior.
In a Rebel uniform she was often asked to dominate the ball and facilitate the attack. When she arrived at the University of Pennsylvania Michaela realized quickly that her role would be equally as important, albeit in a much different capacity.
"It's a totally different game in college than it was in high school," said Michaela McMahon, who had 22 goals this season and was named honorable mention All-Ivy League. "Not just the speed of game but my role in the offense and how I had to learn to work more off the ball. In high school with my sisters the chemistry came so much more naturally. In college it required a lot of film work with my coaches for me to really grasp the way I can best fill the role I play on the field. As for all of my sisters, we've been each other's biggest supporters and it's great to have such a strong support system within your own family. To all be part of something special at the same time is incredible and I'm very fortunate to be a part of it."
All three of their first-round NCAA Tournament games will be happening at the same time on Friday night. USC will take on the University of Denver at the University of Michigan. Stanford will travel to Evanston, Illinois and Northwestern University to square off against Notre Dame. Penn rounds out the trio of games when it heads to Syracuse University to face Georgetown.
It is both an exciting and a stressful time for the McMahon family but the important thing for the family is to live in the moment and realize just how rare and how unique this opportunity this is.
"All any parent would want is for their kids to have great life experiences and enjoy going through them both individually and together as sisters," added Karen McMahon. "Gabby and Sophia are so excited for them, one having been through it and one hoping to experience it herself in the future. Now Paul and I can finally sit back and enjoy watching them play. To see your own kids fly the coop so to speak and flourish is just an amazing feeling. I'm so proud to say that I'm their mother."
TO BUY A COLLECTOR'S PRINT OF THIS STORY PLEASE VISIT 4-FeetGrafix.com.