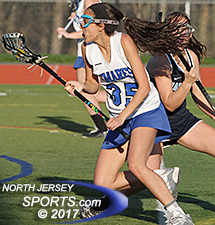 Junior Hannah Schwartz scored 9 goals, including the 100th of her career, as NV/Demarest turned a 6-goal second half deficit into a 14-13 win over Waldwick on Wednesday afternoon.
DEMAREST – There were still about 17 minutes to play in the game, but Northern Valley/Demarest girls lacrosse coach Alexandra Champ was waving the white flag. Her team trailed by six goals, it was without one of its most important players, Jamie Cottrell, who left with a foot injury in the first half, and chances were slim that the Norsewomen were going to able to make up the ground against a solid Waldwick side. The Warriors had scored five of the first six goals of the game, they led by five at halftime and had Demarest doubled up at 12-6 early in the second half.
Seemed like an opportune time for Champ to get some of her less experienced players some time on the varsity field, so she emptied the bench.
"I put my subs in. I was starting to think we weren't going to win. We were down 12-6, I wanted to get everybody in, get everybody some playing time and now I am so glad that I did," said Champ. "Not that it was really the plan, but when ended up happening is that the girls that went in did their jobs and the starters got to rest. And when they came back…"
And when the starters came back, so did Demarest as the Norsewomen, riding the momentum of junior Hannah Schwartz's drive for her 100th career goal, turned what could have been a deflating lack of effort into an afternoon to remember. Over the final 13 minutes of the game, Demarest finished on an 8-1 run, Schwartz got her 100th plus two more and finished with nine goals on the day, including what turned into the game-winner with 3:01 left in the stunning 14-13 victory at Norsemen Stadium.
"We looked horrible. Everyone gave up. We weren't even hustling for ground balls. I admit it; I gave up there for a minute, too. I lost hope. Then all of a sudden, one thing started leading to another," said Schwartz. "Everyone started connecting, it took every single person on the field and it is crazy what ended up happening."
Waldwick's Paige Wonsowicz scored twice before leaving with an injury late in the second half.
Waldwick's Katie Rowell scored the game first goal, slicing through middle after Jessica Turner won the opening draw. Demarest's Sammie Gordon tied the game at 1 two-and-a-half minutes later, but Waldwick responded by scoring the next four goals. Jordan Petersen split two defenders and walked in for the goal that gave the Warriors a 5-1 lead 11:13 into the game and they held a 9-5 lead at halftime.
It was after Waldwick scored with 17:02 left in the game to go up 11-5 that Champ went to her reserves. But instead of that being the beginning of the end, it was the start of relative quiet as neither team scored for nearly six minutes. While it was Waldwick that broke the stalemate to go up 12-5 with 11:11 to play, the Demarest starters returned to the field refreshed and got it going at both ends of the field. Demarest got a couple of solid saves from goalkeeper Sophia Mattola to back a defense that allowed just one goal the rest of the way.
On the offensive side, Demarest scored four unanswered goals in the span of 1:43 to get back to within 12-9 and then the adrenalin really started pumping when Schwartz reached the 100-goal milestone to make it 12-10 with 7:26 left.
"That has been a goal of mine since I came in to high school, but the way the game was going in the first half I definitely did not think I was going to get to 100 today," said Schwartz. "To have all my teammates there to hug me right after it was just such an awesome feeling and I think that really brought us together to keep going and try to win the game."
While Schwartz scored 9 of her team's 15 goals, there were two others that were just as pivotal in the comeback. Both were involved Sammy Gordon and they came just 13 seconds apart. The first one got Demarest to within 12-11 with 6:45 to play and the second was a case of turning lemons into lemonade. Because of a cut on her finger that spilled blood onto her jersey, Schwartz, who had been so good on draws in the second half, was sent to the sideline for a band aid and a wardrobe change.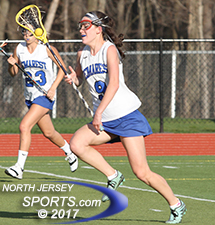 Sammy Gordon won a key draw and assisted on the goal that got Demarest even at 12 with 6:32 remaining.
Gordon was forced into the center circle to take the draw. She won it and sprinted down the middle before dishing to Hannah Schoenfeld, whose loan goal of the day tied game at 12-12 with 6:32 remaining.
"When Sammy went into take the draw [Waldwick] didn't know what to expect because she had not done it before. I switched Hannah [Schwartz] to center two games ago and she has taken all the draws since then, so when Sammy went in there it kind of shook things up and we were able to take advantage of that," said Champ. "Sometimes it takes a little bit of luck, too."
Demarest played just about the whole game without Cottrell, the junior attack who injured her foot on a rush toward goal, while Waldwick had to alter its offensive scheme late when Paige Wonsowicz went down with a knee injury while chasing a loose ball on the draw right after Demarest had tied the game. Shortly after that, the Warriors found themselves trailing for the first time as Schwartz scored off an assist from Gordon with 5:16 left to play. The final five minutes belonged to the defenses as each team could muster just one more goal.
Rowell bullied her way down the middle to get Waldwick back even at 13 with 4:24 left, but Schwartz was too much to handle in the second half as she scored was stood up as the game-winner from a free position with 3:01 to go. Demarest forced two turnovers in the final minute to make the lead stand up.
How much does this win, a two-game winning streak and a 3-2 record mean to a program that has finally turned the corner toward respectability? Demarest defender Cabby Cammalleri tried to explain, but had to do so through tears of joy.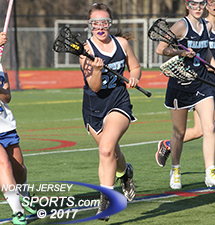 Waldwick's Jordan Petersen finished with three goals.
"I just love lacrosse, all the girls on this team do, and that did not show up in our record last year. Now all of our hard work is starting to show up in the box scores," said Cammalleri. "My teammates are all laughing at me because I am crying, but I love everybody on this team and I am so happy that we are having some success. People are going to see that we are a good team. We have a good record, we have a player like Hannah [Schwartz] that has 100 goals and we are going to start to get some recognition."
Rowell led Waldwick with four goals, Petersen had three, Turner and Wonsowicz each had two and Allison Sullivan had the other one for the Warriors. Demarest's attack was less balanced, but that was because Schwartz was on such a roll. Gordon and Ally Maisel each had two goals and Schoenfeld had one to back up Schwartz's nine-goal day.
Needless to say, Champ, in her second year as Demarest's head coach, is encouraged. Her team knocked off rival Northern Valley/Old Tappan, 10-4, on Monday and now it is time to set the bar a little bit higher.
"We didn't even enter [the Bergen County Tournament] last year, but I just talked to [Athletic Director] Greg [Butler] yesterday and told him that I want to go in this year," said Champ. "Last year was my first year and it was all about the basics. This year we are on a much high level. We have a much high lacrosse IQ, higher skill level and a better idea of how the game flows."