Friday, April 15, 2011
By Rich Barton
NJS.com Staff Writer
Montclair goalkeeper Lucy Ferguson finished with 18 saves for Montclair, which grabbed its second win of the season, 13-7, over Ramapo.
MONTCLAIR – Ramapo and Montclair knew exactly what one another was going through during a tough start to this season. Both girls lacrosse teams have plenty of individual talent, but are still struggling to have it mesh together in game situations. Each team has performed well in the first half of each of their games this season, only to fall apart in the second half and walk off the field with disappointing losses.
Something had to give on Thursday as both teams faced off against one another with a hard-fought first half that ended in a tie. The outcome would come down to which relatively inexperienced squad could avoid its customary second-half lull and find a way to close out a game.
After falling behind by a goal early in the second half, Montclair more than made for the deficit on sheer hustle. The Mounties won one ground ball after another, which slowed Ramapo's momentum and allowed Montclair to execute its game plan of spreading out the 'Po defense and attacking the open spaces. The result was a seven-minute span in which Montclair did not allow a shot and scored six straight goals with each coming from a different scorer to take control of the game en route to a 13-7 victory at Watchung Field.
Kiara Bostwick scored three goals to lead Ramapo.
"We didn't want to lose this game. To win it, we talked about winning every ground ball and working together as a team," said Montclair's Clare Keating. "I think we relaxed more in the second half and we ran our plays pretty well. This is definitely a win we needed to get our confidence back up with the (Essex) county tournament coming up starting this weekend."
Both teams came into the contest hungry for a win and played like it throughout the opening stanza. Montclair quickly grabbed a 3-0 lead, but the Green Raiders fought back in a first half which saw more stern defense and solid goaltending from both Ramapo' Sam Poremba and Montclair's Lucy Ferguson as the teams were deadlocked, 4-4 at the break.
Ramapo's Kiara Bostwick used a nifty move through traffic to score early in the second half and she nearly scored again two minutes later on a point-blank shot that was saved by Ferguson. That was the starting point of the 6-0 Montclair run that decided the game. After tying it up, Keating beat a defender and scored to pull the Mounties into the lead for good, 6-5.
Then, while absorbing a hard check from Ramapo's Morgan Sissler, Montclair middle Allison Murnick was able to get off a low-liner that found the back of the net. Two minutes later off of a free position, Keating drew in three defenders, then fed Jaime Putman for an easy goal and the Mounties were off and running on their way to their second victory of the season.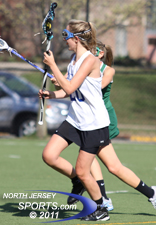 Jaime Putman scored the second of Montclair's six straight second half goals.
"It's nice that we played just as hard second half and as confident as we did in the first half," said Montclair head coach Ann Jennings. "I thought when we started winning all the 50-50 balls, our offense started clicking and everything was falling into place. We haven't been able to win the close games, and to pull away in the second half could be the turning point in our season. I thought we showed some nice balance throughout and it's a big boost to us moving forward."
Ferguson had a monster game in net, finishing with 18 saves for Montclair (2-6). Keating was the playmaker offensively, finishing with three goals and two assists.
Bostwick had three goals, while Marissa Symendies and Sissler had two apiece for Ramapo (1-4). For both of these young squads, this season is more of a learning experience than anything else. While the outcome is certainly important, just as important is what each team takes from each game it plays to become a better team the next time they step on the field.
"This is a tough loss, but it's one we will definitely learn from," said Ramapo head coach Sue Montegari. "Being a younger team, we don't seem to react well when someone stops our momentum. Montclair got all the ground balls in the second half and they took smarter shots when we did. That was the difference. We have 10 sophomores called up this season, so we knew could go through some growing pains. But we have good senior leadership and they will help them get up to game speed. Once we can get everyone on the same page for two halves, not just one, we'll be a much better team and that will result in more wins."
FOR MORE PHOTOS OF THIS EVENT OR TO BUY A COLLECTOR'S PRINT OF THIS GAME STORY, PLEASE VISIT 4FeetGrafix.com.