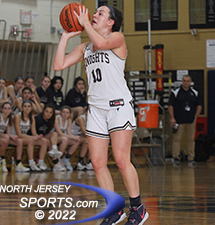 Melissa Brennan was one of three double digit scorers for Northern Valley/Old Tappan, which improved to 2-0 on the season with a 46-32 win over Ramapo.
OLD TAPPAN – With all but one player back from last year's rotation, Northern Valley/Old Tappan has options. Point guard Mackenzie Ward can take a defender off the dribble, Melissa Brennan can come off a screen and bang a 3, Layla Giordano is always looking to get out in transition, Marin DeGennaro is a capable standstill shooter and then there is Maya Giordano, who showed off her ability to finish in the paint multiple times in the second half of a close game on Saturday afternoon.
Up against Ramapo in an early season test for both perennial public school powers, Giordano scored 13 of her game-high 14 points in the second half and, with the exception of a free throw, none of them were from further away than six feet from the basket.
The halftime adjustment was obvious: get the ball to Maya Giordano in the block and then do it again.
"I started off rough in the beginning. My teammates were passing me the ball and I just wasn't doing well with it. In the second half I shaped up," said Maya Giordano, a traditional post player who absorbs and returns plenty of contact. "I just had to finish into the basket and stop fading away. I wasn't being physical, but my teammates kept giving me the ball and I figured it out."
Maya Giordano's putback with 5:13 left in the third quarter kicked off a 12-1 run that spanned the final two periods and gave Old Tappan the separation it was looking for in a 46-32 victory over Ramapo. It was an early, yet important victory for the Golden Knights, who are already jockeying for Bergen County and state sectional tournament seedings, With all of the quality Group 3 teams in North Jersey, this win holds weight.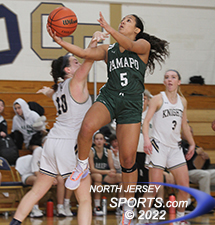 Senior Alexa Lora, Ramapo's lone returning starter, finished with a team-high 7 points.
"I never got to play against Ramapo in high school because if COVID and the schedule, but I know of the rivalry that we have had," said Maya Giordano, who finished with a game-high 14 points. "We were excited to play them. We know they lost a lot [of players to graduation], but it was still Ramapo. We know they are good and this was a good win for us."
Ramapo is breaking in a host of new starters as only Alexa Lora returns from last year's squad that made it to the North 1, Group 3 state sectional final. Freshman Camden Epstein is now the starting point guard after four years of Madison Schiller (now playing at Colgate), Maggie Murtha, Skyla Corley and Ella Saxton are stepping up from supporting roles and junior Cayla Menicola joins the starting lineup after transferring in from Mahwah.
Roles are still being defined and the Green Raiders fell behind 8-0 in the first 3:36 after Ward (11 points) scored back-to-back buckets on an elbow jumper and in transition after a Brennan steal and assist. After a timeout, Ramapo responded with eight straight points of its own and the rest of the first half was tightly contested. Old Tappan, which never trailed in the game, led 12-9 after the first quarter and by 19-14 at halftime.
Then, right out of the gate in the second half, the Knights started pounding the ball inside to Maya Giordano, who scored off the high/low with Layla (5 points), her twin sister, getting the assist to open the third quarter scoring. Maya Giordano made three field goals on the interior in both the third and fourth quarters, which opened other avenues to the basket.
"That is exactly what I told my team what they were going to try to do. They were going to try to have those two [the Giordano twins] take over the game and we had to try to match it," said Ramapo head coach Sandy Gordon. "I told our kids that they had to come in here and compete and they pretty much did that. They followed the defensive scouting report as best that they could, but we gave up some second chance points."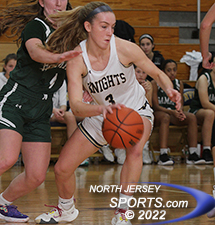 Senior point giard Mackenzie Ward had 11 points for Old Tappan..
Maya Giordano's putback kicked off a third quarter closing 9-1 run that stretched the Knights' lead into double digits. Sierra Lumia's jumper from the corner gave NVO a 32-20 advantage at the end of three and Maya Giordano scored the first three points of the fourth quarter to make it a 15-point lead.
Natalie Fernandez's 3-pointer from the wing with 2:13 left to play got Ramapo back to within 42-30, but the Giordano twins split the next four points and the Raiders could get no closer.
By looking at the postgame scorebook it is clear that Ramapo, which opened the season with a win over Fair Lawn, is still trying to hone in on a rotation. Eight different players scored at least two points and none scored more than 7. Lora, who will play next season at Johnson & Wales University, led the way with the team-high 7 points and was 3-for-3 from the free throw line, a bright spot for the Raiders, who went a combined 8-for-15 from the stripe. Fernandez (6 points) made both of Ramapo's 3-pointers, Epstein and Corley finished with 5 points apiece, Menicola made a field goal and a free throw, and Saxton, Murtha and freshman Toni Pernetti each made a basket.
"Against the good teams you have to make your free throws and you have to make your layups. We missed some easy ones and then we had some defensive mistakes, but this was a good early test for us," said Gordon. "It gave us a good look at what we need to work on. We'll probably see [Old Tappan] at some point later in the season and we will get to see how much we can improve."
Old Tappan (2-0) has no such inexperience to conquer and has plenty of motivation to make this a special season. The Knights went out in upset fashion in the quarterfinals of the North 1, Group 3 state sectional tournament last season when Pascack Valley hit a buzzer beater. That, and the fact that head coach Brian Dunn just led the football program to the first ever Group 3 state championship, can serve as motivation.
Also, when the Giordano twins, Brennan and DeGennaro (3 points) are on the floor at the same time, the tiny hamlet of Northvale, which is beautiful during the holiday season, is well represented.
"We are usually known as more of a defensive-oriented team with most of our points coming off of turnovers and fastbreaks, but we have more options this year. We have the twins inside, we have me, Marin and Natalie [Carril] that can shoot, Mackenzie can do, literally, everything on offense and we have a really strong bench, too," said Brennan, who finished with 11 points, one of three Knights in double figures. "Coach [Dunn] just won in football and now we want to show that we can win, too. We want to win a championship, give him a double and we are really motivated and excited for this season."
FOR MORE PHOTOS FROM THIS EVENT PLEASE CLICK HERE. TO BUY A COLLECTOR'S PRINT OF THIS STORY PLEASE VISIT 4-FeetGrafix.com.