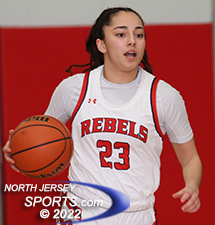 Paulina Paris scored 10 points in a game-opening 22-5 run that gave Saddle RIver Day control on its way to a 72-60 win over IHA and a record sixth straight Bergen County Tournament championship.
FAIR LAWN – When Danny Brown took over as the head coach at Saddle River Day, he inherited a program that had won just one game in its previous two seasons before his arrival. A lot has changed since then in what has been a meteoric rise to the top for the Rebels, who built a fanbase from scratch, picked a fair share of detractors, and also plenty of hardware for the trophy case. With a chance to make history in this year's Bergen County Tournament final, there was one final hurdle to clear. Standing in the way was Immaculate Heart Academy, the last team to win a county title before the Rebels started their historic run.
After a sluggish start in their semifinal win over River Dell, the Rebels did not make the same mistake. They put together a near perfect first quarter performance that set the tone. Love 'em, like 'em, or otherwise, there is no denying that Saddle River Day has set the bar in Bergen County and does not plan to relinquish the perch anytime soon.
Saddle River Day senior Paulina Paris was unstoppable from the opening tap until the final buzzer. She hit a 3-pointer on the first possession of the game and had 10 points in a game-opening 22-5 run. Paris tied a career-high with 34 points as top-seeded Saddle River Day became the first girls' basketball program ever in Bergen County to win six straight Bergen County Tournament titles with a 72-60 victory on Thursday night in front of a packed house at Fair Lawn High School.
Although the crowd was buzzing well before tip-off, there were no early-game jitters from the Rebels. Paris and fellow senior Cierra Pearson hit back-to-back threes on the first two possessions of the game. With that the Rebels were off and running. They consistently moved the ball to find open shooters, which also opened lanes to drive to the basket. Along with being locked in defensively and denying IHA's quick point guard Isabella Asencio the ball, it looked like this game might be over before it really started with Saddle River Day holding a 26-11 lead after one quarter of play.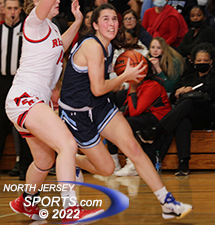 Sophia Valente and IHA fell to 20-5 heading into the Non-Public North A state sectional Tournament.
"The first couple of possessions set the tone, but we knew IHA wasn't going to give up," said Paris. "I've been battling some injuries, but once the ball is thrown up to start the game I just block everything else out and focus on the task at hand. I was going totally on adrenaline tonight. Offensively, we played great all night. Defensively, we were a little shaky at times but got the stops when we needed them."
IHA clawed its way back in the game. Julia Schutz kept the Blue Eagles afloat until Asencio got going. Schutz scored on several tough left-handed drives, including one that trimmed the once 17-point lead all the way down to six, 32-26. The Rebels weathered the storm with a back cut by Dakota Corey for a layup as they bumped the lead up to nine, 41-32, by halftime.
Although the Rebels' roster has plenty of star power there are also unsung heroes who have contributed to their success. On this night, it was sophomore center Alexis Rosenfeld. Having to counter IHA's size advantage inside, the 6-foot-2 Rosenfeld (4 points, 7 rebounds) provided quality minutes and contributed on both ends of the floor. She scored late in the third to put Saddle River Day up by 13.
"The energy tonight was great, and I was ready to contribute if I was called upon," said Rosenfeld. "A lot of the work happens in practice and we had to be ready for this moment. I love being out here playing with these girls. I'm so grateful to be part of this team and enjoy this experience with them."
The Blue Eagles made one last stand with Asencio's buzzer-beating jumper to end the third was followed by a Gina Gaccione bucket to start the fourth and cut the deficit back to single-digits. Saddle River Day never blinked as another unsung hero, Julianna Almeida, hit a pair of free throws and Paris followed with a steal and a layup to quell any hopes of a comeback. As IHA was forced to foul late and the final seconds ticked down, the smiles over the faces of his players made Brown give a rare in-game smile himself.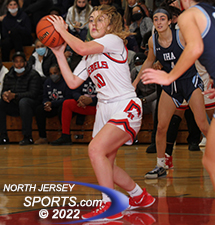 Dakota Corey stuffed the stat sheet for Saddle River Day, which improved to 22-1 on the season.
It dawned on everyone associated with the program what they had accomplished. When the final buzzer sounded, the Rebels poured onto the floor in celebration of a sixth straight Bergen County crown.
"This is awesome, being able to celebrate like this with your teammates is what it's all about," said Pearson. "We set the tempo from the jump, and everyone got involved both on offense and on defense. This time of year we know we have to step up and play our 'A' game every time out."
Paris hit five 3-pointers on her way to the 34-point outburst for Saddle River Day (22-1). Corey was everywhere on both ends of the floor with a stat-stuffer performance. She finished with 16, 10 rebounds, four assists, and three steals. Almeida led all players with 11 rebounds. She along with Pearson, and Faith Williamson each added six points.
Ascenio led four players in double-figures for IHA (20-5) with 18 points. Gaccione had 13 points and six assists. Schutz and Naszimento chipped in with 12 and 11 points, respectively.
With the record-setting Bergen County dynasty now cemented, the Rebels will turn their attention towards the North Non-Public B state section tournament, which features two of the state's top teams, Montclair Immaculate and Morris Catholic.
"Especially after not being able to play in a county tournament last year, winning this one feels amazing," said Corey. "I couldn't ask for better teammates, a better coaching staff, or a more hyped atmosphere to play in front of. IHA is a great team and they gave us a tough fight, got to give them a lot of credit. We've created a culture that revolves around sticking together and winning championships. Now with a county title and states coming up this week we have to turn it up another notch and be even more locked in. This is our last ride and we have no choice but to go all out."
FOR MORE PHOTOS FROM THIS EVENT PLEASE CLICK HERE. TO BUY A COLLECTOR'S PRINT OF THIS STORY PLEASE VISIT 4-FeetGrafix.com
---