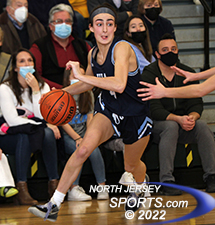 Gina Gaccione scored 10 points for third-seeded IHA, which advanced to the Bergen County Tournament final with a 44-42 win over No. 2 Ramapo on Sunday .
FRANKLIN LAKES – When Immaculate Heart Academy and Ramapo met back on January 21, Ramapo jumped out to a double-digit lead in the first quarter and never looked back in a 19-point win. After a sub-par performance, the Blue Eagles got a reprieve later that evening when the seeds came out for the Bergen County Tournament and they saw the potential to see Ramapo again in the semifinal round.
The seeds held true and the rematch happened on Sunday with a berth in the county final on the line. It looked like a carbon copy of their first meeting as Ramapo jumped out to another early double-digit lead, but with a gritty backcourt, a size advantage inside, and a nothing-to-lose attitude IHA never lost hope and clawed all the way back to force overtime on two clutch free throws from Julia Schutz.
The Blue Eagles had all the momentum and a stifling defense that got better as the game went on. Led by the backcourt of Gina Gaccione and Isabella Asencio along with the physicality of Ava Naszimento inside, third-seeded IHA allowed just seven points over the final 13 minutes of play, including just one point in overtime, and snapped Ramapo's 43-game winning streak to reach the Bergen County Tournament final with a 44-42 triumph at Ramapo High School in Franklin Lakes.
Playing on their homecourt in front of a packed house the Green Raiders got off to a hot start beyond the 3-point line. Savannah Ring and Alexa Lora each hit a pair of 3-pointers in the first quarter. Lora's second shot from beyond the arc gave Ramapo a 16-4 lead five minutes into the game. IHA were teetering on the edge of another blowout but rallied to stay within striking distance. Selena Cieszko and Schutz scored late baskets to get the lead back down to single digits heading into the second quarter.
After a slow start Ramapo's leading scorer, Madison Schiller, got going. She had nine second-quarter points, but the Blue Eagles countered with a balanced attack. Five different players scored during the period as IHA was hanging tough but still trailing Ramapo at the half, 28-20. If the Blue Eagles had any hopes of making a run in the second half it had to start with getting defensive stops.
Alexa Lora hit two first quarter 3-pointers to help Ramapo get off to a fast start.
"We knew we had to identify their shooters and close out quicker on them than we did in the first half," said Cieszko. "Coach (Steve Silver) gave us the gameplan and we just had to execute it. Even though our adrenaline was through the roof our captain Gina Gaccione kept us hyped up but also calm and composed at the same time. We showed that discipline and in overtime. If we played IHA basketball we'd be in it at the end and it turned out the way we wanted it to."
Ramapo continued to take outside shots, but they were not falling as they were early in the game. The Blue Eagles extended their zone out and forced tougher shots throughout the second half and in overtime. Schutz and Sophia Valente hit baseline jumpers late in the third quarter to keep IHA close.
Lora's three bumped the Ramapo lead back up to four when the pace of the game changed with just over five minutes to play. The Green Raiders slowed it down significantly in an attempt to use the clock to their advantage. However, a pair of missed free throws and a pair of turnovers helped IHA pull it to a one-possession when Acensio hit a corner three with 2:04 to play. Then in a final minute, Schutz was fouled on a drive to the basket. The junior was 0-for-1 from the foul line before hitting a pair of clutch free-throws to tie game. Schutz had a chance to win it with a mid-court heave at the buzzer. The shot was on line but a little too strong as the ball bounced off the backboard and the teams headed to overtime.
With the crowd going crazy and both teams totally locked in defensively it was evident that it was a possession or two that would decide the outcome. Ascensio, who did not play in the teams' regular-season meeting, was a factor throughout the second half and in overtime. Her drive to the basket and tough finish proved to be the only field goal of the overtime period. In the waning seconds, Ramapo had a pair of chances to tie the game on a drive and a putback. Naszimento was there to alter both shots as the buzzer sounded and the Blue Eagles poured onto the floor in celebration.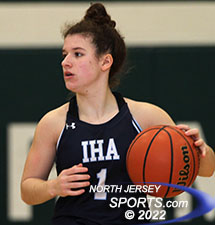 Isabella Asencio and IHA will play 5-time defendign champion Saddle River Day in the Bergen County final on Thursday.
"We've been in this position before but we always stay together as a team," said Asencio. "We were so prepared for this game that we never really panicked when we got down. This is an awesome feeling. Being able to enjoy a win like this with your teammates is what we dreamed about coming into today."
Schutz, primarily a defensive-minded player in her first two years, has been more of an offensive threat over the past few weeks for IHA (20-4). She has scored in double-figures in six of her last seven games, including a team-high 12 points. Gaccione and Acensio each added 10 points.
Schiller led all players with 22 points and 10 rebounds for Ramapo (21-1) which saw its' 43-game, two-year win streak come to an end.
IHA advances to Thursday night's Bergen County Tournament championship game at Fair Lawn High School with a 7:00 P.M. tip-off. Looming there will the top seed and five-time defending champion Saddle River Day. Riding a six-game win streak, coming off the program's biggest win in years, and with a county title at stake the Blue Eagles will embrace their underdog role once again.
"We knew this game was a game of runs and we were fortunate to have the last one," said Gaccione. "First time we played Ramapo the game wasn't in our hands. This time around we had a completely different approach and got more comfortable with the flow of the game. We were confident in our zone defensively and stuck to it. It's incredible to have this experience, especially after not being able to play in a county tournament last year. We had nothing to lose today and we'll have that again in the final."
FOR MORE PHOTOS FROM THIS EVENT PLEASE CLICK HERE. TO BUY A COLLECTOR'S PRINT OF THIS STORY PLEASE VISIT 4-FeetGrafix.com
---