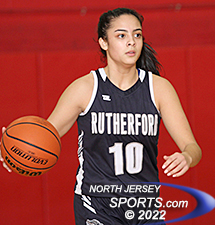 Maya Forte's career high 13 points led a balanced scoring attack for Rutherford, which finished off a perfect league season with a 52-27 win at Elmwood Park.
ELMWOOD PARK – With Rutherford already having wrapped up the NJIC-Colonial Division title, Thursday afternoon's game between the Bulldogs and Elmwood Park seemed like just another league game. However, league games are the most passionate ones between rivals. They typically show the fiercest competition and both teams still had plenty to play for. Rutherford was looking to polish off a rare feat and finish undefeated in league play. Elmwood Park wanted to right the ship and gain some momentum before state tournament play begins.
Maya Forte led a balanced scoring attack by dropping in a career-high 13 points. Nine of those came in an 18-0 first-quarter run that allowed Rutherford to take control of the game and finish an undefeated NJIC-Colonial slate with a 52-27 triumph over Elmwood Park at Elmwood Park High School.
Elmwood Park got off to a strong start with senior Nya Duran knocking down a three-pointer followed by a baseline drive from Jaylene Ferrer to give the Crusaders a 7-3 lead. Unfortunately, this lead did not last long as Rutherford quickly answered back. The team picked up the pace and Forte got hot from behind the three-point line. The sophomore forward, who did not hit a three-pointer all season going into the game, surprised everyone by hitting a trio of three-pointers in a four-minute span.
With the Crusaders focused on shutting down Rutherford's dynamic duo of Harmony Marquez, who recently scored her 1,000th point, and fellow senior Jocelyn Rodriguez, Forte recognized she needed to become that all-important third scoring option. She did exactly that, scoring half of the Bulldogs' points during the 18-0 run that turned a four-point deficit into a 21-7 lead by the end of the first quarter.
"I wanted to contribute to the team more than I usually do," said Forte. "When Harmony and Jocelyn are getting covered, everyone else has to step up."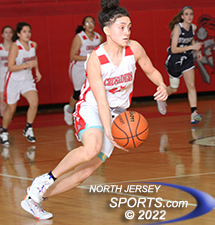 Jaylene Ferrer finsihed with a team-high 13 points for Elmwood Park..
That run also helped Marquez and Rodriguez find their rhythm. Marquez is an excellent rebounder and playmaker, while Rodriguez was effective with her hard drives to the basket. The Crusaders did not have any answers for the duo's aggressive play as Rutherford widened its lead by halftime, 33-14.
Forte had a team-high 13 points, Rodriguez had 11 points, and Marquez added 10 for Rutherford (17-4).
Ferrer also had 13 points for Elmwood Park (13-10). The Crusaders have a tough draw in the state tournament as they will take on Northern Valley/Demarest in the first round of North 1 Group 2.
Rutherford, the No. 3 seed in North 2 Group 2, have championship aspirations in a wide-open bracket. When asked about their team goals, Marquez is hopeful about making a potential run to a section title.
"It has definitely been a change from all the previous years I've played here," said Marquez. "We're coming in stronger than we ever have. Especially in the off-season, I tried to step up and I know Jocelyn (Rodriguez) did too. Everyone has stepped up and did their part and I think that has contributed a lot to our success."
FOR MORE PHOTOS FROM THIS EVENT PLEASE CLICK HERE. TO BUY A COLLECTOR'S PRINT OF THIS STORY PLEASE VISIT 4-FeetGrafix.com
---