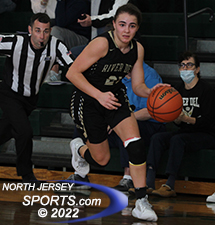 Sophia Firneno going in for what turned out to be the game-winning layup in River Dell's 47-45 victory over Dumont in the quarterfinals of the Bergen County Tournament.
HILLSDALE – History was on the line as the ball bounced free near the half court stripe late in the first of four Bergen County Tournament quarterfinal games played at Pascack Valley High School on Saturday. Dumont, which most recently had possession in the tie game, wanted to re-corral the ball and hold for a last shot that might send it into the semifinals for the first time in school history. River Dell wanted to run down the loose ball and run into the Final 4 for the first time since 2002.
River Dell senior Sophia Firneno won the race and had open floor in front of her.
"After I got the steal I knew I had [a defender] on my back. I went for the layup and I knew she was going to foul me or that I was going to get it in," said Firneno, who made the shot and was fouled on the way up. "It worked out being both ways and it was a great feeling when the ball went in."
Firneno did not complete the 3-point play, but she did give River Dell, after a nervy final stand on the defensive end, the lead for good in a 47-45 victory. The Golden Hawks avenged their first and only loss of the season, which came last weekend against Dumont in the final round county tournament pool play on their way to the semifinals where they will play top-seeded Saddle River Day. The five-time defending champion Rebels left their foot on the gas straight through a 62-23 win over No. 8 Demarest in the last game of Saturday's quadruple header.
River Dell head coach Lindsay Steffner, back when she was known as Lindsay Davis, was on the only team to ever win a county title in girls basketball (1997) and was a senior on the team that made it back to the final in 1998. In 2002, River Dell also reached the final and lost to IHA, which won its first ever championship that year under the late Jeff Horohonich. River Dell has had good teams in the last 20 years, but none have been this far.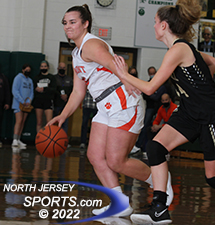 Kelsey Boyhen was one of three double digit scorers for Dumont, which lost for just the second time this season.
"I didn't have a lot to say to them. I was really speechless with their performance today; never giving up, wanting this so bad and playing so hard," said Steffner. "This is about the community, this is about our two towns [River Edge and Oradell] coming together to support us. We had a lot of people out here supporting us today and this was a big moment for the community and our program. Seeing where this program is going leaves me speechless and also very proud of them."
River Dell had to earn it because Dumont is similarly gritty and focused on making program history. The Huskies were wearing their white jerseys because they knocked off River Dell last weekend to claim the No. 4 seed and, after falling behind 9-3 because of a couple of Sarah Vanderbeck 3-pointers, they eight points in row from the Heaney twins, Meghan and Colleen, to take a 14-9 lead after the opening quarter.
Dumont opened the largest lead of the game for either side, 19-11, after a Meghan Heaney drive, but River Dell was not going anywhere. Vanderbeck, Firneno and Ari Rodríguez all made 3-pointers in the final five minutes of the second quarter as the Golden Hawks edged back in front, 24-23, by halftime.
"Coach Steffner has been telling me all week that I need to be more offensive minded and that I had to keep shooting," said Vanderbeck, the senior point guard who made 5 of River Dell's 7 3-pointers in the game. "I had to take more shots, even if I was missing because we could get offensive rebounds. Coach stayed on me to keep shooting, I stayed after practice and kept shooting and the preparation worked."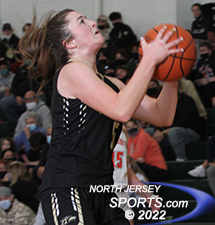 Sarah Vanderbeck scored a game-high 17 points for 4th-seeded River Dell, which will play top-seeded and 5-time defending champion Saddle River Day in the semifinals.
Dumont opened the third quarter with a little trickeration that led to an open Meghan Heaney layup and that was the first of six second half lead changes. Kelsey Boyhen hit a triple at the third quarter horn to give Dumont a 33-31 lead and Naomi Lucca opened the fourth quarter scoring to give the Huskies a four-point advantage.
The first of three ties of the second half came at 37-all after River Dell's Lily Crowder scooped up a loose ball and scored and Dumont took a lead at 39-37on Boyhen's fastbreak bucket that was answered at the other end by a Vanderbeck 3 from the corner with 5:22 left. Vanderbeck also scored on a drive to put the Hawks up 42-39 with 4:36 to go, Dumont got back even on a Julia Angeles 3 from the top of the key with 2:51 to play and Meghan Heaney put the Huskies in front for the last time at 45-42 after Colleen Heaney made the extra pass with 2:30 to play.
A minute later Vanderbeck found herself open with the ball in her hands in her favorite spot in the corner. A miss might have spelled the end for the Hawks, a make would mean just the opposite.
She made it.
"We had been running that play all game and they kind of knew what we were doing and [a defender] was cheating toward me in the corner," said Vanderbeck. "I faked a cut, Soph[ia Fernino] had the ball on the wing, my defender took a step off of me and I had a little bit of space and shot it."
That tied the game at 45 with 1:28 to go and Dumont held the ball for nearly a minute, surviving two loose balls out of bounds before the third one bounced free in front of Firneno, who grabbed and raced in for what turned into the game-winning layup after Dumont's last shot from the top of the key missed wide left.
Vanderbeck (17 points) and Firneno (13 points) led the way for River Dell, which improved to 17-1 on the season. Isabella Gilmour added 8 points, Crowder had 6 and Rodriguez's 3 accounted for all of the Hawks' bench scoring. Boyhen (12 points), Meghan Heaney (11) and Colleen Heaney (10) all finished in double figures for Dumont, which lost for the just the second time this season. Julia Angeles added 5 points, Naomi Lucca added 4 off the bench and Kylie McQuade's 3 points rounded out the scoring for the Huskies.
River Dell will now get a shot Saddle River Day, which has left a lot of blowouts in its wake on the way to winning all of the last five Bergen County Tournaments.
"We don't have anything to lose," said Vanderbeck. "So we will just go out there, play hard, do the best we can and have fun."
FOR MORE PHOTOS FROM THIS EVENT PLEASE CLICK HERE. TO BUY A COLLECTOR'S PRINT OF THIS STORY PLEASE VISIT 4-FeetGrafix.com.