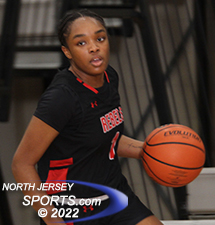 Cierra Pierson helped Saddle River Day improve to 12-0 on the season with a 75-37 win on the road at Teaneck on Monday.
TEANECK – When facing a tough team on the road and taking a sizable halftime cushion the normal reaction is one of elation amongst both the players and coaching staff of the team in the lead. However, when such team has their eye on not only winning county and state titles but to finish the season as the best team in New Jersey with a Tournament of Champions title a lackluster first half is inexcusable.
As the Saddle River Day players walked to the locker room for halftime with a 15-point lead over Teaneck the looks on their faces and that of their head coach Danny Brown told a thousand words without saying one.
Championship teams know how to turn it on when faced with adversity.
All-state guard Paulina Paris and sensational freshman Faith Williamson led the way during a 20-2 run as Saddle River Day finally got into a rhythm and remained unbeaten with a 75-37 win over Teaneck on Monday afternoon at Teaneck High School.
"We're a third quarter team and we came alive in the third quarter, but we can't have these slow starts anymore," said Paris. "There was one play where they got a bunch of offensive rebounds and eventually scored. In a way that woke all of us up and we knew that could not happen again."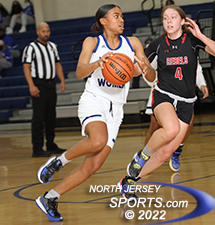 Deja Young scored a team-high 11 points for Teaneck, which fell to 7-5 on the season.
Using their smothering defense and long-range shooting the Rebels quickly grabbed a double-digit lead. Paris and fellow senior Cierra Pearson hit 3-pointers in a 10-0 run to open the game. Teaneck made some early miscues with the ball but settled down with a nice feed from Rachel Gordon to Isabella Torrado for a layup to beat the first-quarter buzzer.
The play in the second quarter was relatively even as Teaneck dominated the offensive glass. The Highwaywomen often got two or three, or on one possession five, looks at the basket before cashing in. It was an aspect of the game that did not sit well with the players and especially with Brown with the Rebels holding a 36-21 halftime lead.
"We were up at halftime but we weren't playing with the fight that (Teaneck) was showing in the first half," said Saddle River Day's do-everything senior Dakota Corey. "At halftime we got together and regrouped. We came out in the second half ready to do whatever it takes and play with the intensity we needed to be successful."
The laser-like focus that this team is capable of having showed up in the third quarter. On-the-ball pressure and great help defense helped fuel a pace that Teaneck was unable to match. They created one turnover after another and put an emphasis on making the extra pass to get wide open looks from three-point range. Nobody benefitted more than Williamson, who has showed early in her career that she can score in bunches.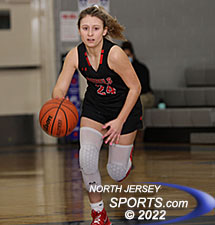 Saddle River Day freshman Bella Padone scored 5 points in her varsity debut.
Deja Young scored on a drive for Teaneck to open the second half and cut the lead to 13. It never got closer as Williamson hit transition three-pointers on three straight possessions with Paris adding another in the 20-2 run that broke the game wide open.
"Our team moves the ball really well and my teammates do a great job of finding the open player," said Williamson. "We practice our ball movement a lot and it's about finding an open shot and being ready to shoot when you get the ball."
Paris, who is averaging 23.9 points per game on the season, led all players with 26 for Saddle River Day (12-0). Williamson and Corey each reached double-figures with 16 and 14 points, respectively. Pearson added six points and freshman guard Bella Padone in her varsity debut chipped in with five points.
Young led the way for Teaneck (7-5) with 11 points.
With a showdown against the state's No. 1 team and No. 5 nationally, St. John Vianney, less than two weeks away the Rebels know that this is the time to put it all together and eliminate lulls like they had throughout the first half in this game.
"Two weeks!," added Paris. "We can't wait for that game. It's going to be a huge problem though if we play like we played in the first half today. We have a whole week or so to practice and have a couple of games before the St. John Vianney game to fix some things and be at our best for that game."
FOR MORE PHOTOS FROM THIS EVENT PLEASE CLICK HERE. TO BUY A COLLECTOR'S PRINT OF THIS STORY PLEASE VISIT 4-FeetGrafix.com.