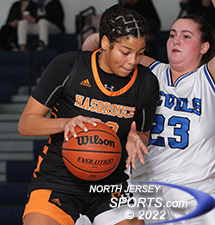 Senior Gaby Solis scored a game-high 16 points for Hasbrouck Heights, which won its second game in 16 hours with a 60-20 victory over Wood-Ridge on Saturday morning.
WOOD-RIDGE – It was not even noon yet on Saturday morning and already Hasbrouck Heights' girls basketball team had had a great weekend. Not more than 16 hours after knocking off rival Becton in a slugfest, the Aviators turned right around and took care of another rival on a short, but frigid road trip. With its 60-20 win over Wood-Ridge on the tail end of the back-to-back, Hasbrouck Heights improved to 9-1 on the season and 9-0 against fellow public school opponents.
"Both of the schools that we played in the last two days are right down the road, they are rivals and there are a lot of emotions involved. Becton is as well-coached as any team in the area, not just the league, and that was a really tough game last night," said Hasbrouck Heights head coach Mike Kilgallen. "So to turn right around and just show the energy that they showed this morning…it was inspiring."
Hasbrouck Heights has the kind of size up front that is not all that common in a Group 1 school. That advantage, along with its unselfishness, got the Aviators off to a fast start against Wood-Ridge. Heights had five different players make at least one field goal in the first quarter and did the same in the second period to take a 27-13 lead into halftime.
Sophomore Sam Russo, a 6-foot-1 sophomore, and senior Gaby Solis, another 6-footer, controlled the paint on both ends of the floor. Russo led all scorers with 16 points and, unofficially, had 9 blocked shots. Solis finished with 15 points and the pair also passes well out of double teams or out of situations where the defense sags too low beneath the foul line.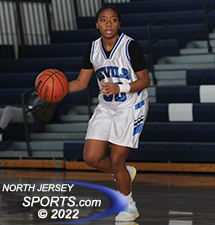 Freshman Emarriya Bradshaw was a bright spot for Wood-Ridge.
"We are a senior heavy team, so we have a lot of good leadership and we have been playing, pretty much, up to the best of our ability so far this year," said Russo. "Our defense was really strong today. Wood-Ridge is such a big rival and even though we played last night, we were excited to play this game. We have high expectations to win a league title and get as far as we can in the states and these are the kinds of games we have to win to get there."
Heights' only loss of the season came against Immaculate Conception and the league title will likely be decided by the result the second time around, but any slip-ups between now and then would scuttle the Aviators' chances. With that in mind, Heights dominated the second half Russo scored 8 points in the third quarter, Solis added 4 of her game-high 15 in the period and the Aviators pushed their lead to 46-16 heading into the fourth quarter.
Again, five different scorers made at least one field goal for Heights in the third quarter, same story in the fourth and in all, eight different Aviators scored in the game.
"We are working well together as a team and that is one of our biggest strengths. This year we have good forwards and guards and we all want each other to do well," said Solis. "This season has been fun so far. We play every game to the max as far as effort goes and we had to games against close rivals back-to back. We were really excited to play these games and that showed with the way we came out today."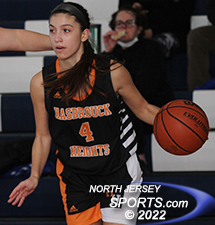 Chiara Alvarez scored 7 points for Hasbrouck Heights, which improved to 9-1 on the season.
It was the rare high school basketball game to end without a 3-pointer made by either team. Hasbrouck Heights stuck to its strengths inside the paint and Wood-Ridge, to its credit, continuing to go to the basket despite being dwarfed in one-on-one matchups. A bright spot for the Blue Devils is Emarriya Bradshaw, a freshman slasher who goes hard to the hoop. She finished with 5 points and got to the free throw line on multiple occasions.
Ava Rizos (6 points), Victoria Drotos (4 points), Dakota Bently and Paige Christina, who each scored a pair and an Ava Picheo free throw rounded out the scoring for Wood-Ridge, which now stands at 3-6 on the season.
Heights got offensive contributions from a bunch of players as Russo and Solis combined for 31, Lexi Samperi scored 8 points off the bench, all in the second half, Chiara Alvarez finished with 7, Devon Songzoni added 6, Sam Lahullier had 6 and Marissa Mucci and Maria Shafik each made field goals for the Aviators.
"We lost on Wednesday to IC so we had to refocus and work on the things we needed to fix. The two games were important to win so that we could move on and achieve our goals for the season," said Songzoni, a senior guard. "We looked at everything, we worked on the problems and now we are playing then we did before and we want to keep it going for the rest of the season."
What the rest of the season might look like is still a bit unsettled. The Aviators obviously will continue their pursuit of a league title, they will be a high seed with a chance to make a deep run in the North 1, Group 1 state sectional tournament, but their Bergen County Tournament plans are up in the air. With the new tournament format of putting the Top 16 teams in four groups to play round-robins before the four group winners advance to the semifinals, Heights might have to make a choice.
If chosen as one of the Top 16 teams in the county, which is not a given, the Aviators would have to decide if they would want to enter and play a minimum of three games as underdogs against opponents culled from the county's top programs or choose the secondary county tournament, which will be played in the traditional format against more teams of like size.
"I love our team, I really do. That being said, the [selection] committee is good at what they do so and when they talk about the best 16 teams in the county I don't know if we are a part of the discussion," said Kilgallen. "We might not have a decision to make at all, but that [secondary tournament] would be better suited for us to prepare for the state tournament. We'll see."
FOR MORE PHOTOS FROM THIS EVENT PLEASE CLICK HERE. TO BUY A COLLECTOR'S PRINT OF THIS STORY PLEASE VISIT 4-FeetGrafix.com.