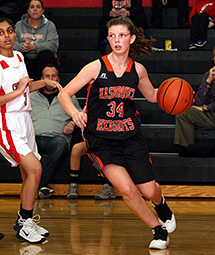 Hasbrouck Heights' sophomore Devon Sonzogni scored 16 points to lead the Aviators to the Elmwood Park Holiday Tournament title with a 45-29 win over the host school on Monday.
ELMWOOD PARK – This season was expected to be a rebuilding one for Hasbrouck Heights' head coach Mike Kilgallen. Having graduated four senior starters there was a question where the Lady Aviators' leadership would come from with four sophomores and a junior in his starting lineup. After squandering an early lead against Elmwood Park he looked for someone to step up and take over the game. Point guard Devon Sonzogni was happy to oblige and came alive from behind the three-point arc in the second half.
The sophomore nailed a 3 early in the third quarter then hit back-to-back threes in the fourth quarter to put the game away and lift Hasbrouck Heights to the Elmwood Park Holiday Tournament title with a 45-29 win over the host school on Monday.
"We needed someone to step up and Devon really provided us the spark we needed," said Hasbrouck Heights' head coach Mike Kilgallen. "We threw a triangle-and-two to start the second half and it worked well even though we didn't practice it. This team is really enthusiastic and they come to work every single day. Nothing they do will shock me this season."
Hasbrouck Heights got off to a hot start with a balanced attack. Veronica Legaspi, Gaby Solis, Paige McGuire, and Sonzogni all had field goals as the Aviators hit four of their first six shots to grab a 9-0 lead.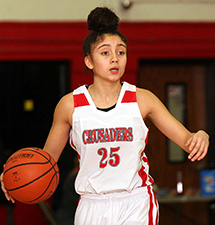 Jaylene Ferrer led all scorers with 17 points for Elmwood Park.
Despite having just eight players on the roster and six in the rotation for the game the Crusaders battled hard. Led by dynamic point guard Jaylene Ferrer they slowly crept back in the game. She then brought officially all the way back on a deep three-pointer at the buzzer to knot the score, 17-17, at halftime.
"We were short-handed today but I love the way we fought to tie the game," said Elmwood Park head coach Tom Cannon. "When we took care of the ball and made good decisions we got the shots we wanted. There's a lot of learning on the fly with a young group of kids like we have. It's about building and setting the standards for the program going forward. Now we just have to put it together with a full 32 minutes consistently."
After a scoreless second quarter and a couple of turnovers for Sonzogni she made it her mission to be more aggressive and more confident for the second half. That showed right out of the gate with a three-pointer and a short jumper with the Aviators mirroring the first quarter with another 9-0 run to start the third quarter.
Elmwood Park trimmed the lead to 6 on a Ferrer three-pointer and had a chance to cut it further on the final possession of the quarter. Another sophomore guard for the Aviators, Paige McGuire, made a steal and went the distance for a layup at the buzzer to bump the lead back up to eight. The fourth quarter was all Hasbrouck Heights with consecutive three from Sonzogni and another from McGuire that put to rest any hopes for a comeback.
"We want to win the first and last minute of every quarter, we did that in the second half today," said Sonzogni. "I have the ball in my hands a lot so I have to stay confident all the time no matter what is going on in the game."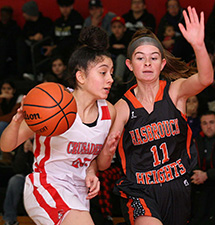 Paige McGuire (right) scored 9 points for the Aviators.
Sonzogni finished with a team-high 16 points for Hasbrouck Heights (2-1). McGuire and Solid chipped in with nine points apiece and freshman Sam Lahullier added six points off the bench.
Ferrer led all players with 17 points for Elmwood Park (2-1).
With the NJIC-Meadowlands schedule right in front of them the Aviators are excited to see how they stack in a league race that should be wide-open all season.
"We lost to Becton in our first game and that really woke us up," added Sonzogni. "I thought since that game we've had great communication, we rebound well, and we're going to play good defense. We're excited for the tough games we have coming up. Even though we're young we think we can have a great season."
FOR MORE PHOTOS FROM THIS EVENT PLEASE CLICK HERE. TO BUY A COLLECTOR'S PRINT OF THIS STORY PLEASE VISIT 4-FeetGrafix.com.