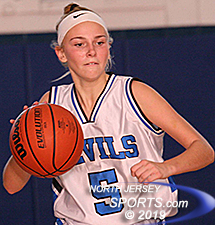 Point guard Samantha Eckert scored 5 of her 6 points in the fourth quarter to help Wood-Ridge notch its third straight win to start the season, a 37-31 home victory over Paramus on Monday.
WOOD-RIDGE – After his team headed to the bench at the end of the first quarter against Paramus it already felt like it would be 'one of those days' for veteran head coach Lou Wejnert, who is in his first year at Wood-Ridge. His team had nine first-quarter turnovers and scored just one point during the opening stanza. Wejnert saw this as an opportunity to see what his team's mental makeup was.
Although shots struggled to fall all game long for both teams, the Blue Devils battled back from the slow start and grinded out a win the old-fashioned way with sheer determination.
Wood-Ridge grabbed the lead just before halftime and never gave it back to improve to 3-0 on the season less than one week in with a 37-31 win over Paramus on Monday morning at Wood-Ridge High School.
"These kids are finding out how to win and we're getting better game by game, quarter by quarter," said Wejnert. "They are smart kids and they're good athletes. They're willing to learn what I'm trying to teach them and there are going to be some growing pains along the way."
Paramus took control early by using 1-2-2 full-court pressure to force one turnover after another. Consecutive turnovers led to a jumper and driving layup from senior guard Alexis Buccola to give the Spartans a 9-1 lead after one quarter. The Blue Devils were in trouble but it could have much worse. For as poorly as they had play, they trailed by eight points and the clear path back into the game was taking better care of the ball and knocking down some open shots.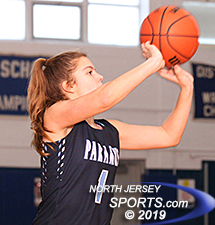 Alexis Buccola finished with 8 points, 4 rebounds and 3 steals for Paramus.
"We know what to do to win, we had to start playing better defense," said Wood-Ridge's Amanda DiMase. "Playing good defense helps us on offense too. We got away with it today but we have to start strong every game from now on."
After allowing 10 offensive rebounds in the first quarter, the Blue Devils cut that number down to two in the second quarter. That allowed them to chip away at the Paramus lead before a late flurry put them in front. Jenna Castellano and DiMase knocked down back-to-back threes in the final 90 seconds of the first half to give Wood-Ridge a 16-14 lead.
Natalie Cala knocked down a three from the wing to bump the lead up to six but the Spartans did not go away quietly. Paramus' Vanessa Scrivanich had a steal and a layup to tie the game at 26 just 20 seconds into the fourth quarter. Once again the Blue Devils handled an adverse situation with hustle and rock solid defense. Scrivanich's basket was the only field goal of the final quarter for the Spartans.
"We play together more this year than we were this time last year," said Cala, a junior shooting guard. "We wanted to work harder than last year and we wanted to be better than we were last year. I thought we did a good job today of getting out of that early hole we were in but we can't rely on that for the games we have coming up. We have to put four good quarters together."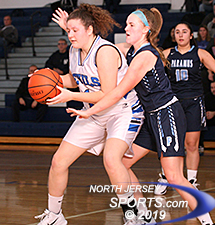 Wood-Ridge's Amanda DiMase scored a game-high 11 points and had 9 rebounds for Wood-Ridge,
Point guard Samantha Eckert only had one point going into the fourth quarter but came up big when her team needed her most. She knocked down a three-pointer midway though the quarter before converting a driving layup that put the game away.
DiMase finished with a game-high 11 points to go with nine rebounds for Wood-Ridge (3-0). Cala added nine points while Eckert and Castellano chipped in with six points apiece. Alexis Buccola had eight points, four rebounds, and three steals to lead the way for Paramus (1-1).
Facing their first tough test of the season and having passed it the Blue Devils know that the potential is there for an improvement from last season.
"We saw tough kids from Paramus and we had to match their toughness," added Wejnert. "During the season we're going to face some tough games and tough situations, it's about how we handle adversity. This is the first time we were down all season in a pressure and I'm happy with the way our kids responded."
FOR MORE PHOTOS FROM THIS EVENT PLEASE CLICK HERE. TO BUY A COLLECTOR'S PRINT OF THIS STORY PLEASE VISIT 4-FeetGrafix.com.