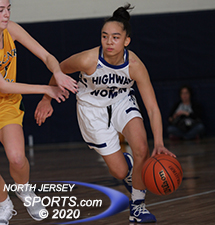 Sophomore Elyssa Russo scored a game-high 22 points for Teaneck, which beat Pascack Valley, 71-58, in the Round of 16 of the Bergen County Tournament.
OLD TAPPAN – Watching the first quarter of Bergen County Tournament Round of 16 game it was almost worth asking if Teaneck just might be the public school team that is the biggest threat to Non-Public favorites IHA, this year's top seed, and Saddle River Day, the four-time defending champion.
The fourth-seeded Highwaywomen played a near perfect opening period, at least on the offensive end where they used their defense to set up easy fastbreak looks and added four made three-pointers that put them on a pace to score a ridiculous 112 points should they be able to duplicate their production for all four quarters.
Then, in the second quarter, the question quickly became, "Is Teaneck about to be upset by 13th-seeded Pascack Valley?" Such were the wild swings in a wildly entertaining matchup on Saturday morning at Northern Valley/Old Tappan High School.
Teaneck scored 28 first quarter points to take a double-digit lead then was promptly outscored 20-4 in the second period as Pascack Valley rallied to take a five-point halftime lead. Teaneck revved it back up in the second half to claim a 71-58 victory and a spot in the quarterfinals where it will play 12th seeded Northern Valley/Demarest, an upset winner over No. 5 NV/Old Tappan.
"We are a very fast team. The girls are fast, they shoot, they have worked really hard on their games and they worked really hard over the summer to get better. Last year we could not shoot the same way that we do now," said Teaneck head coach Brad Allen, whose team improved to 12-5 on the season. "We can shoot, we can pass and we can attack the gaps in the zone. We had some trouble with the flu, which put us a little bit out of sync, but now the girls are getting their stamina and their wind back, so hopefully we can continue what we are doing."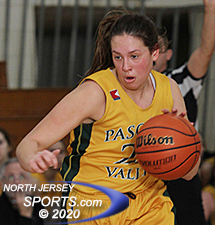 Jules Vassalo scored 15 points for Pascack Valley.
Teaneck ran like the wind in the first quarter as it pushed the pace and pushed a lead into double figures as sophomore point guard Elyssa Russo made two three-pointers and Rachel Gordon added another in the final 1:32 of the opening period to put the Highwaywomen up 28-17.
While it struggled to contain Teaneck, Pascack Valley was presenting plenty of problems of its own from behind the arc. Paige Skene, Jules Vassalo and Kelly Andreason all hit first quarter three-pointers, Vassalo and Andreason each hit two in the second quarter and the above mentioned trio combined to score all 20 of PV's points in the second period in which it held Teaneck to just four as it rallied to grab a surprising 37-32 lead at the intermission.
"Coach [Allen] took us in at halftime and got us regrouped. We gave up too many open shots [in the second quarter] and we had to make the adjustments," said Teaneck senior Taylor Riddick. "We had to get back to playing good defense because our offense comes off of that."
Pascack Valley was not interested in ceding its momentum. It was back-and-forth for most of the third quarter and the Indians still had the lead, 49-48, after a Nicole Perrone putback with 3:05 to go in the period. Then Ciara Forbes and Deja Young combined to score all the points in a 10-0 run that put the Highwaywomen back in front for good. Forbes went coast-to-coast for a layup that made it 58-49 before Skeane's basket drew PV back to with 7 points heading into the fourth quarter.
"We needed to maintain our poise and discipline and that is what let us down. We didn't have either in that stretch in the third quarter. They made the shots because we lost our poise and turned the ball over," said Pascack Valley head coach Jeff Jasper. "Their pressure is excellent. We handled it until we didn't handle it."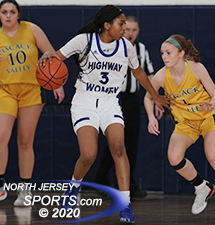 Senior Taylor Riddick scored 18 points for Teaneck, which will play Demarest in the quarterfinals.
Andreason hit a trey to open the fourth quarter scoring and PV then got a steal and a layup opportunity that could have pulled it back to with two points, but the shot did not go in and Teaneck responded with an 8-1 run that turned the tide in its favor for good. Riddick made a three and Russo and Gordon made consecutive baskets to put Teaneck up 66-55 with 2:44 to play and it closed it out from there.
Russo, the sophomore who is starting in place of injured junior Fajr Ali, led the Highwaywomen with 22 points and Riddick (18 points) and Young (13 points) also finished in double figures. Gordon added 8, Forbes chipped in with 6 points off the bench and Nahali Tittle had the other 4 points for Teaneck, which made 10 three-pointers as a team and shot 7 of 10 from the free throw line.
"Usually the defensive spark off the bench, but with our player injured I wanted to make sure in doing my part shooting, making threes and helping out," said Russo. "We had a good warm-up, we are always looking for our teammates and passing the ball and that is always what is in our minds, to be unselfish."
Andreason led Pascack Valley with 16 points, 15 of them coming from behind the three-point stripe. Vassalo (15 points) and Sofia Battista (13 points) made it three Indians in double figures, Skene added 8 points and Laura Jennings had 4 points to go with 11 rebounds.
"This is the kind of game that your walk away from and ask yourself, 'Where do I stand as a player right now?' Looking at the girl in the glass and asking, how am I going to get better?  Am I putting in the work every day? Does my body language say I am putting in the work? Is my enthusiasm, energy and effort up here every day? If the answer is that you have room to get better, than you will get better and that is what we take out of here," said Jasper, whose team fell to 12-5 with the loss. "Would I have loved to have won this game? Absolutely, but we were the 13th seed for a reason and they are the No. 4 seed for a reason. You have to play the games to see how it turns out, but if we play that team 10 times they probably win 8 or 9."
FOR MORE PHOTOS FROM THIS EVENT PLEASE CLICK HERE. TO BUY A COLLECTOR'S PRINT OF THIS STORY PLEASE VISIT 4-FeetGrafix.com.