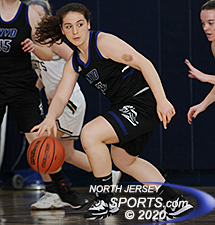 Sophomore Casey Sullivan made all 6 of her fourth quarter free throws as a part of her 20-point game as No. 12 Demarest upset No. 5 Old Tappan, 60-53, in the Bergen County Tournament's Round of 16.
OLD TAPPAN – Northern Valley/Demarest and Northern Valley/Old Tappan are sister schools with plenty of shared history but little in the way of current rivalry. No longer in the same league or state sectional bracket and appearing nowhere on each other's independent game schedule, it takes a special occasion to bring the Northern Valley back together.
The Round of 16 of the Bergen County Tournament was one such event and, after nearly two hours of nip-and-tuck, exciting basketball played in front of a packed house in Old Tappan, maybe it is time to make sure these types of get-togethers happen a little more often.
The players certainly look forward to it.
"It is a lot of fun to play against Old Tappan. I am friends with some of the girls on that team and we were texting each other," said Demarest senior Dayna Tirado. "It wasn't mean-spirited, but we were all just excited to play each other in this tournament."
Tirado, the senior who recently committed to play at Fairfield University next season, showed she was up for the challenge. Tirado scored five points in a game-opening 7-0 that signaled Demarest's intentions, scored seven straight points late in the third quarter to rescue her team from its largest deficit and then went 8 for 8 from the free throw line in the fourth quarter to help seal a famous win for the Norsewomen.
Demarest, the No. 12 seed, upset No. 5 Old Tappan, 60-63, on Saturday morning in Old Tappan.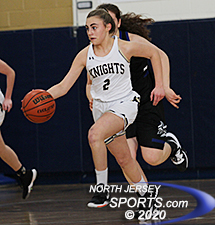 Issie Gampaglia scored 11 of her 13 points after halftime for Old Tappan.
"We have a good little team. We are fun, we are tough, we are not stubborn and we are willing to adjust. We are going to cherish every moment because Demarest doesn't often get teams like this," said Jenny Jurjevic, who is in her fifth season as NVD's head coach. "For two years in a row now we are competing. Last year we won a league title, but we have not won a county game since my first year here. Five years ago we beat Queen of Peace in a nail-biter, but we have not won since so this is a big win for our school and our program."
Kate Slowikowski cut the basket and scored off an assist by Tirado to give Demarest the first two points of the game and that kicked off a 10-2 game-opening run. That put Old Tappan in chase mode right from the start and even though they caught up fully when sophomore Sofia Berisha nailed a buzzer-beating three-pointer to tie the game at 15 after one quarter, the Golden Knights had already spent a lot of energy and piled up a bunch of team fouls in the first eight minutes, which would be a recurring theme the rest of the way.
Berisha, a sophomore who transferred back to NV/OT from Saddle River Day, came off the bench on fire in the first half when she knocked down three three-pointers and scored 13 of her team-high 16 points. She hit a triple with 28 second left in the second quarter to give the Knights a five-point lead, their largest of the first half, before they settled for a 24-20 lead at the break.
With a fresh start in the team foul department, Old Tappan opened the second half on a 7-2 run with Issie Gampaglia's triple from the top of the key giving the Knights a 31-22 lead. Then, midway through the third quarter, Kyra Uglione and Hallie Plescia each hit three-pointers and Gianna Saccoccio completed a conventional three-point play as part of an 11-3 run that gave Old Tappan its largest lead of the game, 44-32, with 2:05 left in the third quarter.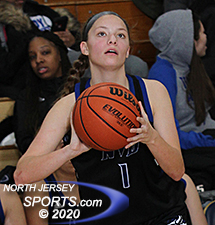 Sophomore Liz Argenziano scored 10 points in addition to her outstanding work on the defensive end.
Demarest, however, stuck to its game-plan of attacking the basket. Casey Sullivan stood up to the pressure and got the Norsewomen into their offensive sets, which included getting Tirado touches just about every time down the floor. With sophomore Liz Argenziano driving hard from the wings as the third offensive option, Demarest again forced Old Tappan into foul trouble.
The Knights were whistled for nine of them in the third quarter and Demarest went 5-for-5 from the stripe in the final 1:10 of the third quarter to draw to within 44-41 heading into the final period, where it became a true free throw shooting contest.

The teams combined to score 28 points in the fourth quarter, but only 9 of those points came from made field goals. Starting with four straight makes by Sullivan and Tirado to open the final stanza that gave the Norsewomen a brief 45-44 advantage, Demarest went to the line 16 times in the fourth quarter and made 14 of them. Tirado went 8 for 8 in the fourth quarter and made 16 of the 17 free throws she attempted in the game. Demarest as a team was 25 of 30 in the second half and 35 of 44 for the game.
"I have been in games like that a bunch of times, games that are won and lost at the free throw line," said Tirado. "Sometimes you just have to take the game on your shoulders, step to the line and stay confident if that is what it takes to help the team."
However, it was from the free throw line where Old Tappan went back in front as Gampaglia knocked down a pair and then followed that up with a basket after Demarest turned the ball over right out of its own time out. That gave the Knights a 48-45 lead with 3:37 to play and they were up 49-48 when Gampaglia hit a free throw with 2:32 left, but it was all Demarest from there.
Sullivan's two free throws with 2:23 left but Demarest up for good at 50-49. Tirado scored her team's final field goal with a cut and an assist by Sullivan as part of the game-deciding 8-1 run that ended with two Sullivan free throws and a 56-50 advantage with 19 seconds left.
"It was all fight. We prepared in practice yesterday, we worked hard and it was about commitment. You have to commit to your team and then go out there and play as hard as you can for your teammates," said Sullivan. "We have great fans and the whole [Norsemen] Nation showed up today to support us. It was just so much fun to play in front of so many people."
Tirado (28 points), Sullivan (20 points) and Argenziano (10 points) combined to score all but two of the points for the Norsewomen. The other bucket was Slowikowski's game-opening lay-up.
Old Tappan was led by Berisha's 16 points and Gampaglia scored 11 of her 13 after halftime. Saccoccio, playing through injury and with her usual intensity, scored all of her 9 points in the third quarter. Plescia made two three-pointers and Uglione (4 points) and Tina Chugranis each made one to account for the rest of the scoring for the Knights.
Demarest, probably under-seeded because of its slow start that could be attributed to Tirado missing the first six games of the season, advance to the quarterfinals where they will play Teaneck, the No. 4 seed that dispatched Pascack Valley in the Saturday morning Round of 16 opener.
"Teaneck is fast and athletic. We watched them play in the game before us and obviously our focus is going to be trying to make adjustments to them," said Jurjevic. "But the cool thing is I think we are going to be able to force them to adjust to us, too. If we can handle that pressure like we did today, it could be interesting. We have to go back to the drawing board and see how we can force mismatches on them rather than the other way around, but it is not going to be easy."
FOR MORE PHOTOS FROM THIS EVENT PLEASE CLICK HERE. TO BUY A COLLECTOR'S PRINT OF THIS STORY PLEASE VISIT 4-FeetGrafix.com.