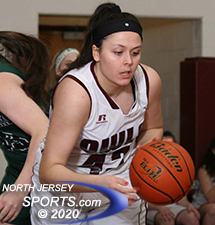 Shannon Burns finished with a double-double of 17 points and 10 rebounds for Park Ridge, which forged a three-way tie for first place in the league with a 51-41 win over Midland Park.
PARK RIDGE – Coming into this season, Park Ridge had one of the best 1-2 inside punches around in seniors Shannon Burns and Lexi Vonderleith, but for the Lady Owls to go from a contending team to a potential league and state sectional championship team it needed another player to shoulder more of the scoring load to keep defenses from cheating. Sophomore Ella Madden has taken the challenge to heart and has quickly emerged as one of Bergen County's most improved players.
Facing a tough Midland Park squad fresh off of a win over Cresskill (a team who beat Park Ridge in the season-opener) Madden put it all together in a first half that has vaulted the Lady Owls back into title contention.
She hit four of her six shots in the first half, including all three of her three-point attempts as Park Ridge led wire-to-wire, leading by double-digits for the final three quarters to create a three-way tie atop the NJIC-Patriot Division with an impressive 51-41 triumph over Midland Park on Thursday afternoon at Park Ridge High School.
"We talked about our gameplan coming in and we executed it extremely well in the first half," said Park Ridge head coach Ryan Dennis. "Midland Park is always a tough team and well-coached. We knew we had to start fast and Ella took advantage of a lot of opportunities to be successful. Our team doesn't have any stars, just a bunch of tough players who can contribute on both ends of the floor. Ella has been consistent all year for us but she really gave us a lift right out of the gate today."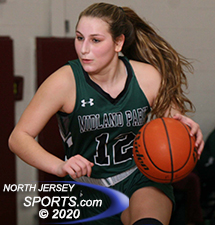 Avery Kasbarian finished with 11 points for Midland Park, which is now 5-4 on the season.
Right off the opening tap the Owls set a tone and did not their foot off the gas during the first half. Shannon Burns converted a conventional three-point play and Madden had a more modern version with her three-pointer on the wing to give the Owls a 6-0 lead just 48 seconds in.
Avery Kasbarian swished a three-pointer from the top of the key to cut the lead to 10-5 but center Gillian Luberoff was then whistled for her second foul and was forced to the bench for the remainder of the first half having seen less than three minutes of time on the court. It was a turning point as Madden kept her hot hand going and the Panthers did not have any answers. Madden outscored the entire Midland Park team in the second quarter with a pair of threes during a 14-1 run that helped Park Ridge take a commanding 32-11 lead at halftime.
"When I have the open shot I have to take advantage of it," said Madden. "Shannon and Lexi get so much attention from other teams. That leaves other people open but they are such good passers that it's hard to guard us. We play well together and we share the ball well because of the work we put in every day in practice."
To the Panthers' credit, they did not lie down in the second half and continued fighting to get back in the game behind the play of Olivia Calderone. She came into the game averaging a shade over three points per game but erupted for 13 of her career-high 14 points in the fourth quarter. She canned a three-pointer to cut the lead to 13 with 5:35 to play. But the Panthers never got any closer until another Calderone three at the buzzer. That is large part due to the poise of Burns, not only because of her six fourth-quarter points or her play in the paint but also her ability to bring the ball up the court without turning it over.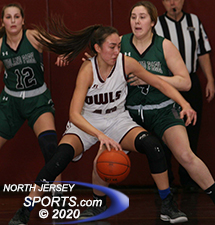 Lexi Vonderleith finished with 7 points and 10 rebounds for Park Ridge, which improved to 7-1 on the season.
"This was a chance to get an upper hand in the league and we had to take advantage of this opportunity," said Vonderleith. "Coach (Dennis) gave us a gameplan and we stuck to that. Taking care of the ball and getting stops on defense were big. It allowed to get baskets in transition or get good shots in our offense."
Burns and Madden both had double-doubles for Park Ridge (7-1). Burns led all scorers with 17 points to go with 10 rebounds. Madden netted 13 of her 15 points in the first half and pulled down a game-high 11 rebounds. Vonderleith had 10 boards to go with seven points. Ashleigh McManus quietly had a solid performance with five points, four rebounds, three assists, and three steals.
Calderone led the way with 14 points and Kasbarian added 11 for Midland Park (5-4).
The win was the Owls seventh in a row. More importantly, it created a three-way tie with Midland Park and Cresskill with the second half of the league schedule still to come.
"We want to win the league title this year and we definitely needed this win if we are going to do that," added Madden. "Us losing to Cresskill, Midland Park beating Cresskill, and us beating Midland Park just evens everything out in the league. Winning helps us with our league record, power points for the states, and it gives us the confidence that we can be a team that goes all the way."
FOR MORE PHOTOS FROM THIS EVENT PLEASE CLICK HERE. TO BUY A COLLECTOR'S PRINT OF THIS STORY PLEASE VISIT 4-FeetGrafix.com.