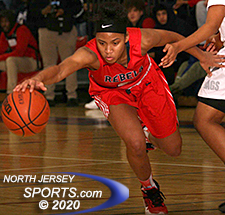 Saniah Caldwell scored the first nine points of the game for Saddle River Day, which led wire to wire in a 55-34 win over East Orange Campus on Tuesday night.
EAST ORANGE – Cracking the rotation of the most talented collection of players ever assembled in the history of Bergen County girls' basketball last year as freshmen, Saddle River Day's Saniah Caldwell and Cierra Pearson knew their roles: Follow the seniors' lead, make the simple play and do not take any chances. With those four Division 1 players graduated the now-sophomore duo had to grow up fast and take on more leadership. It is something they both have mentally and physically prepared for this season with dividends of their maturation showing quicker than expected.
Facing previously unbeaten East Orange Campus on its homecourt, Caldwell kept up her torrid start to the season with a trio of three-pointers in the first two minutes of the game to set the tone. The Jaguars made a run late in the second quarter but Pearson put a stop to it with a bucket late and another one to start the third quarter as Saddle River Day regained control and cruised to a wire-to-wire 55-34 win on Tuesday night.
Racing off to a 6-0 start this season, East Orange Campus was looking to earn a statement win over last year's Tournament of Champions finalist. Caldwell wasted no time in showing that the new-look Rebels can be just as dangerous as the Saddle River Day teams that have been a state power for the past four years. She knocked down her first three shots, all of them from beyond the three-point arc, for a personal 9-0 run to start the game.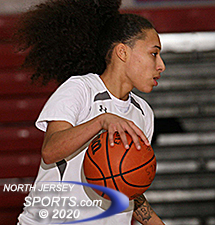 Trinity Haskins finished with 14 points for East Orange, which lost for the first time this season.
"I think every day it's getting easier for me to take on this leadership role and get more comfortable right at the start of a game," said Caldwell. "Jordan (Janowski) got some tough fouls called against her. She's such a great leader and brings so much energy to our team that we had to work together to replace her energy while she was out. Even though we're a real young team I thought we showed a lot of poise tonight."
The lead was 13 on a buzzer-beating layup by Pearson to end the first quarter and it swelled to 17 on an elbow jumper from freshman Dakota Corey early in the second quarter.
The Jaguars climbed back in contention behind the play of sophomore guard Trinity Haskins, who had seven points in a 10-3 spurt to trim the deficit to 10, 31-21, with two minutes to play in the first half. With Janowski, a do-everything senior guard, only playing five-plus minutes in the first half due to foul trouble, Caldwell and Pearson admirably filled the leadership role that Janowski has provided to this point in the season. A Caldwell steal and assist on a Pearson three stopped the Jaguars' run and spark one for the Rebels. Pearson and freshman forward Alanis Diaz scored inside as the Rebels ripped off nine straight points spanning the second and third quarters to help hand the Jaguars their first loss of the season.
"I got hurt last year and missed a big part of the season but I have to keep trusting myself and play as hard as I can," said Pearson. "I worked really hard to get back to this point so I don't want to hold back now that I'm back on the court."
Caldwell led all players with 22 points for Saddle River Day (8-1). Pearson finished 13 points and Corey added 10. The Rebels allowed just 13 points over the final 18 minutes of the game. Haskins was the lone scorer in double-figures for East Orange Campus (6-1) with 14 points.
Over the past four years the Rebels have been an offensive juggernaut that used the shooting prowess of Michelle Sidor, the athleticism of Jaida Patrick, the size inside of Jenna Jordan, and the versatility of Sydnei Caldwell to overwhelm teams. This year's team has a totally different look. The entire roster is filled with sophomores and freshmen with the exception of the NYU-bound Janowski. Based on hustle mixed with rock solid on and off-the-ball defense the Rebels pride themselves on smother their opponents into submission.
"When we stick to our gameplan defensively we're a pretty tough team to beat," said Saddle River Day head coach Danny Brown. "As talented as we were last year I think this team is a lot more feisty, especially on the defensive end. Our practices have had such high energy and these kids are really pushing each other every single day to get better. There is a great camaraderie on this team and it's showing with how we're playing. We had no idea where we were going to land this season and what our identity was going to be. But we've defined it pretty quickly that we're a really good defensive team and it's created an offense that works for them. It's been a lot of fun to see them develop so quickly against tough competition."
FOR MORE PHOTOS FROM THIS EVENT PLEASE CLICK HERE. TO BUY A COLLECTOR'S PRINT OF THIS STORY PLEASE VISIT 4-FeetGrafix.com.