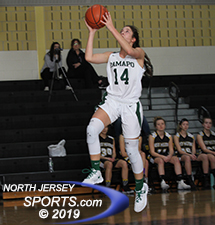 Sophomore Julia Corella is the tip of the spear in Ramapo's high pressure defense. She also scored 5 points in a 63-20 win over West Milford at the Wounded Warrior Benefit Games on Saturday in Cresskill.
CRESSKILL – As the non-public schools have pulled away from their public school counterparts in the marquee sports of football and basketball it is easy to forget that the gulf was not always this wide. It was just a decade ago that Ramapo's girls basketball team had the best player in Bergen County in Sarah Halejian and won back-to-back county championships by beating parochial schools in both of the championship games in 2009 and 2010.
Now in the modern era, the one where Saddle River Day is the four-time defending Bergen County champion, it just might be Ramapo that proves that public programs can once again hang. With three straight classes full of talented players that decided to stay home and represent the green and white, Ramapo, even without a single senior on the roster, is close to rejoining the county tournament contender conversation if it is not in it already.
IHA is the obvious and deserved favorite, but Ramapo is in the mix with those that come next. After a thorough 63-20 victory over West Milford in the Wounded Warrior Benefit Games on Saturday at Cresskill High School, the Green Raiders ran their record to 7-0 on the season. Maybe even more indicative of the optimism surrounding the program now is that Halejian's name came up in the postgame interview.
"As coaches we have talked about that. This group is very similar to the one we had when Sarah was here," said Sandy Gordon, the Raiders' head coach then and the Raiders' head coach now. "Collectively I think right now we are a little bit better player for player."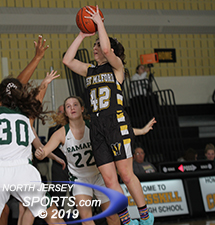 Senior captain Ashley Jacobs scored 6 points for West Milford.
One or even multiple players in the current crop may grow into kind of player that Halejian, who went on to have a stellar career in the Ivy League and become a captain at Yale University, was, but no one in the group is at all focused on individual accolades. This group plays with a team-first mentality.
"You can see how we share the ball. We give it up and there is no me, me, me. These girls don't care. They make the next pass, they are very unselfish and that is a big part of why we have been averaging about 60 points per game," said Gordon, whose team ran out to a 17-0 lead against West Milford using its defensive pressure to create easy and abundant offensive opportunities. "Our strength is our man defense and our pressure. We try to set the tone defensively, we try to push the pace starting with Julia [Corella] putting the pressure on the ball."
Ramapo's starting lineup consists of Lauren Achter and Savannah Nowak, two juniors and the sophomore trio of Corella, Madison Schiller and Savannah Nowak. All five of them scored at least two points in the opening quarter against West Milford and then vacated the floor in a hockey-style line change. The five new players that took their place to start the second quarter plus a few more capable subs outscored the Highlanders by a 16-6 count and gave Ramapo a 37-11 halftime advantage.
It's almost an embarrassment of riches as three of the first five off the bench are Alexa Lora, Skyla Corley and Maggie Murtha, three freshmen. Lora made a par of second quarter three-pointers and junior center Faten Huzien, who is reestablishing herself in the rotation, scored four points by rebounding and running the floor. Ella O'Brien added four points in that second quarter and Lexi Wolfe made a field goal and grabbed a couple of rebounds.
In all, Ramapo had nine different scorers in the first half with Schiller's 8 and Ring's 7 leading the way.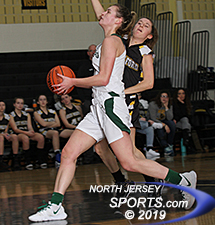 Junior Lauren Achter and Ramapo are now 7-0 heading into a Showcase game on Sunday in Paterson.
"We all came back from last year so we started off the season all knowing each other very well already. Practices are competitive and we play tough against each other, so we are getting better every day," said Schiller. "Every game it is like everyone in the starting five has right around 10 points, we get scoring off our bench and we all love to share the ball. We want to support each other and get the job done."
West Milford was led by Rachel Chandler's 7 points and also got 6 from senior captain Ashley Jacobs. Schiller finished with a game-high 17 points, the last two on a steal and a layup that closed the third quarter scoring and gave Ramapo a 54-14 lead. The starters were given the fourth quarter off, a luxury considering the quick turnaround to Sunday's game against an out-of-state opponent at the New Year's Resolution in Paterson.
"We have goals. We want to win a league championship; we want to get as far into the county tournament as possible and the same with the state tournament. We want to make some noise," said Achter, who gives Ramapo a viable offensive option on the foul line and baseline as defense push out against the Raiders' four-guard offense. "We have no limits with this team, so we just want to push it as far as we can."
FOR MORE PHOTOS FROM HIS EVENT PLEASE CLICK HERE. TO BUY A COLLECTOR'S PRINT OF THIS STORY PLEASE VISIT 4-FeetGrafix.com.