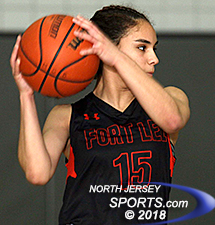 In a game where points were hard to come by, Emily Diaz went 4-for-4 from the charity stripe in second quarter to keep Fort Lee's offense moving in a 30-24 win on the road at Mahwah on Thursday night.
MAHWAH – When two teams that are league rivals have similar personnel and skill sets play one another, the result more often than not it a hard-fought defensive struggle that likely boils down to a handful of plays. Such was the case when Mahwah and Fort Lee squared off. Just as it has been in recent years, the low-scoring affair came down to the final minute when Fort Lee's Liah Lasval came up huge down the stretch.
She converted a three-point play with a minute to play then came up with a big steal as Fort Lee swept the season series with a 30-24 win on Thursday night in Mahwah.
"It is always a close game with Mahwah," said Fernandez. "We had to stick together as a team and just keep playing defense. On defense we seem to do better under pressure. We really work together well and we had each other's backs."
Playing on their home court, the Thunderbirds came out hot with six straight points to start the game. Fort Lee came right back with three straight baskets of their own with Kailyn Fernandez's backdoor layup tying the score at 6.
The second quarter was a carbon copy of the first with Mackenzie Cariddi hitting jumpers on three straight possessions to give Mahwah the lead. The Bridgewomen struggled to score from the floor all night. However, they were effective in getting to the foul line with Emily Diaz going 4-for-4 from the charity stripe in the final minute to knot the score again at 15 going into halftime.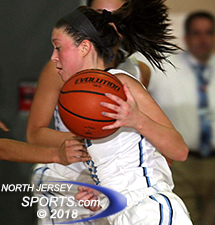 Mahwah's Mackenzie. Cariddi (11 points) was the only player for either team to finish in double figures.
In a game were points were already hard to come by the third quarter saw the two teams combine for just six points. Julia Almonte's driving layup gave the Thunderbirds a 19-17 lead heading into the fourth quarter.
It was a lead they maintained until a Fernandez free throw gave the Bridgewomen their first lead since the first quarter with 1:54 to play. After getting a defensive stop, Lasval provided the crucial play of the game on the ensuing possession. She got the ball on the low block and rose up through the contact to score while getting fouled with 1:00 to play. The senior forward converted the free-throw to make it a two-possession game. It was a three-point game with less than 30 seconds left when Lasval got her hand on a pass toward the wing. Teammate Chloe Diaz came up with the loose ball and hit a free-throw to ice the game as Fort Lee climbed back to .500 on the season.
"On (the three-point play) it was just a scramble. I ended up with the ball in my hands and just reacted," said Lasval. "Our team always comes out strong defensively, offensively it takes a little longer sometimes for us to get going. The important thing it was came up strong at the end of the game when it counted."
Emily Diaz led a balanced scoring attack with eight points for Fort Lee (7-7). Lasval scored all seven of her points in the second half and Fernandez chipped in with six points. Cariddi was the only player on either team to reach double-digits with 11 points for Mahwah (7-8).
Fort Lee has less than 24 hours to regroup as they go on the road again to take on St. Mary's (Rutherford) at 4:00 P.M. in the first round of the inaugural Bergen County Girls' Invitational Tournament. It is an opportunity that to see just how far the Bridgewomen can go in a tournament atmosphere.
"We are happy that the (BCWCA) has put this tournament together and we're very excited to be a part of it," said Fort Lee head coach Bill Straub. "It's given other team like us an opportunity to play in a competitive tournament. I can tell you that we're going to be ready and we're going to play hard."
FOR MORE PHOTOS FROM THIS EVENT PLEASE CLICK HERE. TO BUY A COLLECTOR'S PRINT OF THIS STORY PLEASE VISIT 4-FeetGrafix.com.