Sunday, February 21, 2016
By Rich Barton
NJS.com Staff Writer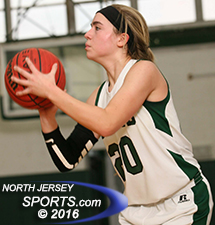 Alexis Monroy, the lone starter in New Milford's starting lineup, pulled down 10 rebounds to help the Knights win the first-ever NJIC Tournament title with a 58-42 win over Emerson on Saturday.
NEW MILFORD – For Bergen County's smaller schools, the county girls basketball tournament has presented a dilemma. To play or not to play?
Other than those rare but notable occasions when a Group 1 team rides a cycle of talent that allows it to compete against, if not beat, the bigger opponents, entering the county tournament has not been an easy decision. Because the selection committee considers all teams with a .500 or above record and because the lowest seeds are thrown in against the top right from the get-go, Group 1s often faced the possibility of an opening-round blowout and a confidence rattling loss that could affect state tournament seeding.
This year though, for the first time ever, some of those smaller schools were presented with another option; a chance to not only play meaningful tournament games, but also the chance to play for a championship. It was a chance that New Milford felt it could not pass up.
With numerous schools within the NJIC opting out of county tournament play, a tournament just made up of NJIC members quickly gained traction and drew a 16-team field. On Saturday, the final was played in a true championship atmosphere between New Milford and Emerson with a packed house on hand to watch.
Vianca Soriano had a dominant performance in the paint with 17 points and a career-high 22 rebounds. Teammate Ezzy Reyes scored six points in a 10-2 run to break a halftime tie and help lift top-seeded New Milford to the inaugural NJIC Tournament title with a 58-42 win over third-seeded Emerson at New Milford High School.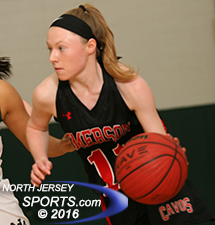 Devin Riker finished with 10 points, three assists, and three steals.
"This was a great game and we all came into this tournament knowing we had to play for each other and not for ourselves," said Soriano, a junior forward. "We knew that if we played hard and played our game that we could take that trophy."
Emerson got off to a hot start with a 3-pointer form Carly Petrover that sparked a 7-2 spurt to open the game. Emerson rallied to tie it by the end of the first quarter, but Karina Toledo came off the bench to nail a 3-pointer to start the second followed by consecutive jumpers from Reyes for a 22-15 New Milford lead. The Cavos got a spark of their own off the bench with four straight points from Nadia Itani to cap a 12-2 run before New Milford sharpshooter Natalie Miller drilled a 3 from the corner to pull the teams even going into halftime, 27-27.
Reyes had the hot hand to start the second half as the Lady Knights pushed the tempo. Soriano almost single-handedly kept the Cavos off the offensive glass and Reyes did the work on the other end with three drives to the basket during a 10-2 run to make it 37-29. During that span Emerson center Jenna Cooper picked up her third foul, which gave Soriano more of an advantage inside.
"We can't just depend on one person and everyone picked things up in the second half," said Reyes. "I think we played a lot faster in the second half and we forced turnovers that got us going."
The New Milford lead was seven heading into the fourth quarter and never dipped below that. Behind Alexis Monroy (the Knights' lone senior) and Bionca Chambers, New Milford clamped down defensively and allowed just four points over the final eight minutes to capture the NJIC Tournament crown.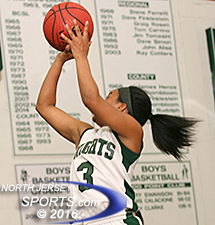 Ezzy Reyes led all scorers with 20 points as New Milford improved to 21-3 on the season.
Reyes led all players with 20 points for New Milford (21-3). Miller finished with 10 points while Monroy and Chambers each pulled down 10 rebounds.
Cooper battled through foul trouble all game to led Emerson with a double-double of 14 points and 11 rebounds. Junior guard Devin Riker added 10 points, three assists, and three steals.
With an NJIC title now in hand, New Milford will look to ride a wave of confidence into the North 1, Group 1 state sectional tournament (the Knights are the No. 3 seed) knowing that no matter what happens from here on out, they are already champions.
"Coming into this tournament was the right move for our team," said Reyes. "We could have gone into the county tournament and maybe played tough or even beat a good team. Playing in competitive games with teams just like us helps us get more prepared for the state tournament. We came into this tournament guns blazing and this gives us so much momentum heading into states knowing that we know how to win big games in a tournament setting."
CLICK HERE FOR MORE PHOTOS FROM THIS GAME. TO BUY A COLLECTOR'S PRINT OF THIS STORY, PLEASE VISIT 4FeetGrafix.com.