Tuesday, March 6, 2012
By Cory K. Doviak
NJS.com Editorial Director
Samantha Tabakman scored a game-high 29 points for Pequannock, which beat River Dell, 56-42, to win the progam's first state sectional title
PEQUANNOCK – With both teams playing just two days after thrilling upsets in the North 1, Group 2 state sectional semifinals, it was going to be interesting to see how much each had left in the tank for Monday night's final. Fortunately for Pequannock, it was able to use its cruise control for most journey to girls basketball program's first-ever sectional championship.
With a 10-0 run that spanned the last 3:03 of the first quarter and the first 13 seconds of the second, Pequannock opened a 13-point lead and saw it slip below double digits just three times, and even then just barely, the rest of the way as the Panthers advanced to the Group 2 state semifinals with a wire-to-wire 56-42 win over River Dell in front of a packed house at Pequannock Township High School.
"Once we got the lead and we had the crowd behind us, we could relax and little bit and just play our game," said Samantha Tabakman, Pequannock's center and one of its eight seniors. "This is our last year, our last chance and we knew that once in our four years that we were going to win one. Turns out that this is our year."
Pequannock knocked off second-seeded Mountain Lakes by two points in the semifinals while River Dell nipped top-seeded Glen Rock in overtime on game-winning shot by senior center Kate Brock. Because the games were played at alternate times, each was able to scout the other and Pequannock head coach Peggy Bionde knew her team needed to focus most of its attention on Brock. To do it, the Panthers used a reverse box-and-1 defense that had four defenders playing man-to-man with Tabakman hanging back in the lane.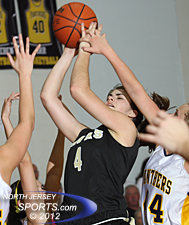 Kate Brock scored a team-high 14 points for River Dell.
Every time Brock tried to post up, she had a defender, either Bridget Carr or Colleen Carr, fronting the entry pass with Tabakman waiting behind. But it was foul trouble that really took Brock out of the game as she picked up her third with 5:34 to play in the second quarter. When Brock left the game River Dell was trailing 18-9. When she returned at the start of the third quarter, the Hawks were down 29-15 and the three-man crew of referees had awarded Pequannock 23 first half free throws.
"They put Kate on the bench with three fouls in the first half and one guy called all of the fouls. We had to sit her, that changed things and we couldn't make even a little bit of a run before halftime," said River Dell head coach Lou Wejnert. "And we shot poorly. The kids made a great run to get here, but we had stinker of a game at exactly the time we did not want to have one. We had some turnovers, we made some mistakes and they were able to play from comfortably in front all night on their own home court."
Jordan Bastable hit a three-point right out of halftime to get River Dell to within 29-18, Kayla McGovern's drive to had the Hawks as close as nine points at 31-22 with 5:10 to go in the third quarter, and Bastable's putback 2:23 later cut Pequannock's lead to single digits for the last time at 32-24, but the Panthers never got flustered. They closed the third quarter on a 9-2 run to take a 40-26 lead and managed the game skillfully the rest of the way.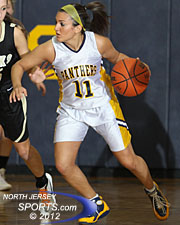 Alyssa Senatore and Pequannock will play Shabazz in the Group 2 state semifinals on Wednesday.
"We had a couple of blips on the screen, but that came when we were retreating. Our plan is to always go forward and when we do that we win. When we retreat we don't," said Bionde. "These girls wanted this since they were in eighth grade. They really wanted to put '2012' on that banner on the wall and I wanted it so bad for them."
Tabakman was a force all game for Pequannock, not only on the defensive end, but also from the free throw line. She finished with a game-high 29 points, 18 of them coming in the first half, and was 7 of 10 from the stripe. The rest of the Panthers were just a combined 13 of 30, but the the quantity proved to be more important than the quality as they stayed away from turnover and continually got shots at the basket. That left few transition opportunities for River Dell, which needed them to get back in the game.
Alyssa Senatore scored 8 points for Pequannock, Nicole Hauselben added 6. Dan Torchia (3 points), Quinn (3 points) and Kat Kosmack (2 points) did just enough on the offensive end to keep River Dell honest.
The Golden Hawks were led by Brock's 14 points with 9 of them coming from the line were she missed just one of her 10 attempts. Bastable made three three-pointers on her way to 13 points and Katelyn Lee (5 points) and McGovern (4 points) chipped in as well. For record keeping sake, River Dell's final points in a 21-9 season came on a three-pointer by senior Kristen Hartwick.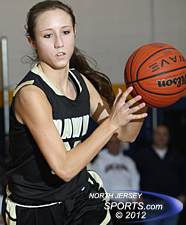 Kayla McGovern and River Dell finished the season at 21-9.
"We didn't get any breaks here and we didn't make any breaks of our own. We couldn't get the ball to Kate and then she got in foul trouble and she was getting beat up. We were playing a zone and we got 10 fouls in each half and somehow they weren't fouling," said Wejnert. "But we dug our own hole here tonight because we made a lot of silly mistakes. That being said, the kids played hard and they had a great season,"
Pequannock (20-9) is having a great season too and it is off to the Group 2 state semifinals where it will face a formidable opponent in Shabazz, which blew out Hudson County champion Lincoln in the North 2 final on Monday night. The Panthers will be the decided underdog to get any further than Wednesday night, but it is a game they have been looking forward to for a long time.
"In the beginning of the season we set our goals and one of them was to win 20 games. Tonight was our 20th win, but the first words our of Tabakman's mouth that day was to play and beat Shabazz. That was the first goal set," said Bionde. "Everybody looked at her, but she knows the game and she knew the brackets. She knew they were coming down to [Group] 2, so just to be able to go and play them...I am happy."
FOR MORE PHOTOS OF THIS EVENT OR TO BUY A COLLECTOR'S PRINT OF THIS GAME STORY, PLEASE VISIT 4FeetGrafix.com.