Wednesday, February 29, 2012
By Rich Barton
NJS.com Staff Writer
Stella Mayer helped Dwight-Englewood win its first state tournament game since 2008 in a 42-19 win at Kent Place on Tuesday.
SUMMIT – Dwight-Englewood has had stretches in every game this season where shots just won't fall , but it has had a resurgence anyway with the defensive pressure it can put on an opponent leading to easy baskets. But without the services of defensive stopper Rachel Cole for Tuesday's first-round state tournament game against Kent Place, it was a matter of who would step up and fill that void. In a show of true solidarity, it was not one Bulldog, but a collective unit working together as one to toward a goal that was considered a reach when the season started.
April Flaim scored seven straight points during a 14-3 second quarter spurt that gave the 12th seeded Dwight-Englewood the lead for good. The Bulldogs held onto that lead in impressive fashion by allowing just two points over the final 12 minutes of regulation and pulled away for a 42-19 upset over No. 5 seed Kent Place in the first round of the Non-Public North B state sectional at the Kent Place School.
"We wanted to dictate the tempo and I thought we did that quite well," said Dwight-Englewood head coach Matt Larrowe. "Playing hard-nosed defense for 32 minutes is a mindset that our girls have bought into from day one. We've really progressed with that throughout the season. I thought we also hit open three-point shots when we needed them to give us a nice cushion, which allowed us to be more aggressive defensively."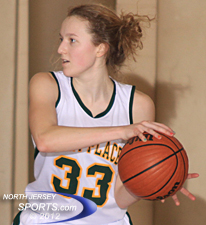 Claire Crispo and Kent Place finished the season with a 13-9 record.
The Bulldogs got off to a hot start, scoring eight of the game's 10 ten points, but Kent Place clawed back to within two on a three-pointer by Liza Kowaliu early in the second quarter.
Flaim, the D-E's lone senior starter with Cole out of the lineup, showed off her versatility by hitting two foul shots, scoring inside on a post-up move, and stepping out to hit a three-pointer to pad the lead before Haley Brescia canned a three-pointer from the wing to give the Bulldogs a 23-12 halftime lead.
"I tried to be more aggressive and it was big for us to have a bigger lead by halftime," said Flaim. "It gave us more room for error and we could play the way we normally play without a lot of pressure."
Kent Place looked to regroup and make a run but sophomore Stacy Goldberg never allowed that to happen. She hit a three-pointer on the first possession of the third quarter and scored again a minute later to push the lead up to 15 and essentially put the game away.
"The three before the end of the half and the one to start the second half really deflated us mentally and we never got back in the game," said Kent Place head coach Sue Murray. "I thought we got some good shots in the first half, they just didn't go in and then they went on a run late in the half. In the second half it was a different story. They forced us into a ton of turnovers and never allowed us a chance to make a run of our own."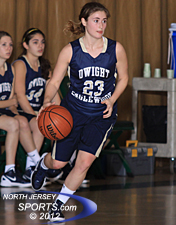 Haley Brescia and D-E will face Immaculate Conception in the next round.
Brescia finished with game-highs of 12 points, six steals, and three assists for Dwight-Englewood (14-10), which won its first state tournament game since 2008. Flaim notched a double-double with 11 points and 11 rebounds, while Zoe Oz chipped in with seven points. Jillian Nash led the way with seven points for Kent Place, which finished the season with a 13-9 record.
Now that Dwight-Englewood has surpassed expectations for this season with a state tournament win, the pressure will be off when they face one of the favorites to win the Non-Public B North section title, fourth-seeded Immaculate Conception on Thursday. If the Bulldogs are to pull another upset, they know it will come down to their bread-and-butter to get the job done.
"Anytime you play in a big game, it always comes down to defense," said Dwight-Englewood's Haley Brescia. "There was some pressure to come in here and win today. Once we got the lead though, I felt like the pressure was off of us. Immaculate Conception is a great team and it's going to be a real tough game. But we have nothing to lose and we're going to come in playing our hardest. No matter what, if we can play our hardest and give them a battle until the very end, we'll have no regrets because of how far we've come this season and what we've already accomplished."
FOR MORE PHOTOS OF THIS EVENT OR TO BUY A COLLECTOR'S PRINT OF THIS GAME STORY, PLEASE VISIT 4FeetGrafix.com.