Monday, February 20, 2012
By Rich Barton
NJS.com Staff Writer
Jakelle King-Gilchrist and Teaneck's talented senior class are now just one win from an elusive county title after knocking off Paramus Catholic, 70-37, in Sunday's semifinal round.
MAHWAH – It is no stretch to say that the gymnasium at Ramapo College is not a welcoming venue for the seniors of the Teaneck girls' basketball team. In each of the past two years, they have entered the Bill Bradley Sports and Recreation Complex as heavy favorites to win the Bergen County crown only to suffer heartbreaking losses and walk away wondering what might have been. For Teaneck's four senior starters, this year's Bergen County Tournament represents their last chance to win that elusive county title.
So when when Paramus Catholic made an early run to cut Teaneck's lead to one, the look on the faces of the Teaneck players said it all. It was not one of panic, but one of determination to not let any obstacle stand in the way of the reaching their ultimate goal.
Monique Cheek set the tone defensively as Jakelle King-Gilchrist, Rebecca Sparks, and Kayla Gibbs did the work on the offensive end, each scoring six points in a 21-7 run to close out the half as top-seeded Teaneck cruised into the Bergen County final with a 70-37 victory over fourth-seeded Paramus Catholic on Sunday.
"We know the disappointments we have had here and this year is our last shot, so we have to make the most of it," said Cheek. "When they made that run early, we weren't worried. We just had to stop their momentum and make sure we didn't give up the lead. I don't think any team in the county can play at our pace, but we realize from the past few years that we have to play smart too or you give a team a chance to comeback and beat you."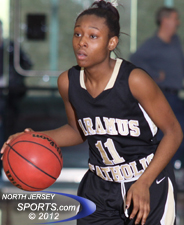 Tianna Smith finished with 9 points for Paramus Catholic.
Teaneck was off and running right from the tap, jumping out to a 17-6 lead. But the Paladins, who got a buzzer-beater from Alisha Cornett last week to beat Immaculate Conception in the quarterfinals, scored 10 straight points capped by a layup from Tainan Smith to cut the lead to one, 17-16. But the Highwaywomen kept applying pressure with Cheek being the difference-maker to get them back on track. Nine second-quarter PC turnovers led to numerous layups as Teaneck regained control by halftime, 38-23.
"When they made that run, I knew a timeout would stop the bleeding and let us catch our breath," said Teaneck head coach Sheen Clarke. "I think Monique was the sparkplug for us today. Her intensity rubs off on everyone and I thought she did a great job of distributing the ball, too. We got good games out of our entire lineup and that balance helped us get back in control."
The second half was more of the same as Teaneck held PC to just 14 points over the final 16 minutes en route to its third victory of the season over the Paladins.
Gibbs finished with a game-high 20 points, while Sparks and King-Gilchrist each added 14 for Teaneck (18-1). Cheek had a solid overall game with 12 points, six assists, five steals, and two blocks. Cornett finished with 12 points and Smith had nine for Paramus Catholic (14-11).
Teaneck advances to its first county final in 21 years and will face third-seeded Northern Highlands next Saturday at 2:00 P.M. for the Bergen County title. Although they already beat the Highlanders this year on their home court, Clarke knows that it is a whole different ballgame when a county title is at stake.
"We know what it would mean to these seniors and to this program to be county champs," added Clarke, who, as a player, led Ridgefield Park to a county final in her senior season. "Our confidence is high, but we know we have to stay grounded because of what's happened to us in the past. Now we're just four good quarters away and it's the opportunity we've been waiting for all season."
FOR MORE PHOTOS OF THIS EVENT OR TO BUY A COLLECTOR'S PRINT OF THIS GAME STORY, PLEASE VISIT 4FeetGrafix.com.