Sunday, February 5, 2012
By Rich Barton
NJS.com Staff Writer
Alyssa Sinski scored a season high 13 points for Immaculate Conception, the No. 12 seed that took out No. 5 Ramapo, 52-37, in the Round of 16 of the Bergen County Tournament.
ORADELL – Before the seeding meeting for the Bergen County Tournament began, most everyone agreed that Immaculate Conception was certainly better than the 12th best team in the county. But after a loss to Holy Angels right before the cutoff along with a two-point win over a young Secaucus team being its most impressive win, Immaculate Conception did not have much of a resume or much of a case to be seeded any higher. That not only made the Blue Wolves mad, it gave them that little extra push to grow into a complete team and one that nobody looks forward to facing.
Alyssa Sinski and Paige Frankel are largely in the starting lineup to do all the little things that make a team run successfully. Before Saturday's Bergen County Tournament game against Ramapo, IC head coach Jeff Horohonich took both players aside and implored them to shoot the ball when they were open. The duo heeded the coach's advice and showed Ramapo and the rest of the county that Immaculate Conception is much more than just a two-player team.
Sinski dropped in a season-high 13 points and Frankel scored all of her career-high nine points in the first half. Six of those points came on a pair of three-pointers in the final 90 seconds of the first half that gave Immaculate Conception the lead for good as it pulled away for a 52-37 upset over No. 5 seed Ramapo at River Dell High School.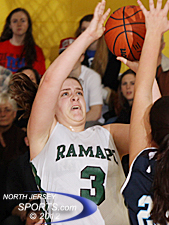 Ramapo's Caitlyn Amato scored a team-high 10 points.
"We came into this game pumped up and for once we were the underdog, which was nice," said Sinski. "We are coming together as a team. As a team, we felt confident that we could come here and win if we played our best. How we played today is how we have to play if we want to make it even further in the tournament."
Both teams got off to a torrid start from long-range with Sinski hitting two three-pointers in the first two minutes of the game and Ramapo's Caitlyn Hickey answering with a long two-pointer just before the first-quarter buzzer to put the Green Raiders ahead, 15-12.
Immaculate Conception pulled in front by two when a crisis moment could have shifted the momentum. Kelcey Castro, an all-county guard the past two seasons, picked up her second and third foul on consecutive possessions and was forced to the bench for the final 4:02 of the first half with three fouls and without having scored a single point.
After Ramapo hit a three-pointer to take the lead, Frankel answered right back with a three-pointer of her own, then hit another one with seconds to play in the half that capped an 8-0 burst and gave the Blue Wolves a 27-20 lead at halftime.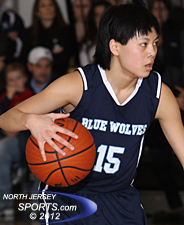 Paige Frankle and Immaculate Conception will play Paramus Catholic in the quarterfinals.
"Those last four minutes, we had a chance to capitalize and we didn't take advantage of it," said Ramapo head coach Sandy Gordon. "Let's face it, Immaculate Conception is no 12 seed and it was definitely a tough draw for us. But if you told me that Castro would be on the bench for four minutes in the first half and we held her scoreless, I'd say we were winning and probably by a good margin. But they had some other kids step up and knock down some huge threes that gave them the momentum they needed."
Ramapo tried mightily to get back in it in the third quarter, but every time the Raiders looked like they could go on a run, IC answered with a big basket. None of those were bigger than the final one of the quarter. After a missed shot by Ramapo, Frankel and Shakir Negron hustled to get the ball down the floor to Sinski in the corner, whose three-pointer hit nothing but net as the buzzer sounded to give the Blue Wolves a more comfortable nine-point cushion heading into the fourth quarter, 39-30.
"I honestly didn't even have time to think, I just knew there wasn't a lot of time left," added Sinski on her buzzer-beater. "I just heard my entire bench yelling for me to shoot it, so I just put it up and it went in."
Immaculate Conception pulled away down the stretch and finally earned the signature victory it was searching for.
"I thought we all played really well and we worked as well together in this game than we have all season," said Frankel. "Even though we're a small school, we want to show that we can play with anyone. We used that to motivate us and it worked out pretty well."
Caitlyn Hickey scored 8 points for Ramapo.
Freshman sensation Sam Fuerhing showed she could hold her own inside leading all players with 17 points and nine rebounds for Immaculate Conception (14-2). Sinski and Frankel each hit a trio of three-pointers en route to 13 and 9 points, respectively.
Kaitlyn Amato was the lone player to crack double-digits for Ramapo with 10 points. Hickey added 8 points and Kasey Woetzel scored 7.
Immaculate Conception will now get a crack at fourth-seeded Paramus Catholic, a 59-43 winner over Bergenfield, in next weekend's BCT quarterfinals. Now that the Blue Wolves have won two county games and advanced to the quarterfinal round all the pressure is off, which head coach Jeff Horohonich finds to be a huge positive at this time in the season.
"This is the game we have been waiting for all season and we pulled it together," said Horohonich. "To beat a team like Ramapo that always does so well in the tournament, you have to get a full 32 minutes out of everyone. In our losses to Neptune and Gill St. Bernard's, we had a bad stretch during the game and never recovered. We never had a bad stretch today and because we didn't Ramapo couldn't get on a big run. We have nothing to lose, so we're just going to go out and play."
FOR MORE PHOTOS OF THIS EVENT OR TO BUY A COLLECTOR'S PRINT OF THIS GAME STORY, PLEASE VISIT 4FeetGrafix.com.