Wednesday, February 1, 2012
By Cory K. Doviak
NJS.com Editorial Director
As the focus of the halfcourt set, Teaneck center Kayla Gibbs scored a game-high 24 points in a
66-39 win over Paramus Catholic on Tuesday.
TEANECK – Having won its last five games by a combined margin of 54.25 points while waiting for the competition to stiffen in the later rounds of the Bergen County Tournament and then the states, motivation might be the biggest challenge at this stage of the season for the Teaneck girls basketball team. But for the Highwaywomen, with four seasoned seniors in the starting lineup determined to finally win a county championship after three years of disappointment, motivation is not a problem. In fact, Teaneck was fired up after its 66-39 win over Paramus Catholic on Tuesday night as it sought to quiet its critics.
The issue is the perception that Teaneck is a one-trick pony, a team that lives and dies by its full court press. If it can't turn you over, it can't win...or so the theory goes.
"I noticed that in the paper that it was said that we don't know how to run a half-court set. They need to look at today's game, look at the score and know that we only scored 12 points off fastbreaks created by our steals tonight," said Teaneck head coach Shenee Clarke. "These rest of those points were from the half-court set. We have been really focused, really committed to the offense and now we are comfortable in it. We are not at our peak yet, but we are only about an inch away."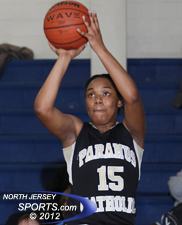 Jina Crawford scored a team-high 12 points for Paramus Catholic.
For most of the first quarter against Paramus Catholic, it was a half-court game even if the transitions from one end of the court to the other were brisk. A full six minutes in, Paramus Catholic's Jina Crawford made a jumper from the corner to tie the game at 6. The Paladins were forcing their pace, but missed a few open looks that could have had them playing from in front, which might have made it easier to withstand a Teaneck run, which is going to happen at some point.
That point was the 59 second mark of the first quarter when Rebecca Sparks made a steal and a layup to kick off a 19-2 run that put the Highwaywomen in control for good. Eight of those points came from center Kayla Gibbs, showing that Teaneck is willing to move the ball and pound it inside instead of taking the first available shot and either chasing the rebound of trying to steal the inbounds pass. Gibbs, a 6-foot sophomore, battled all night with Dejah Taylor, a 6-foot-1 junior. Gibbs finished with a game-high 24 points as a focal point, not an afterthought of the offense.
"We take it real personal when somebody says we can't do something. They say we can't run an offense, but that is not the reality. We are behind our coach 100-percent with all of the things she has to deal with," said Jakelle King-Gilchrist, Teaneck's senior forward who will play at Florida State next season. "We feel like we are a family, so if someone is messing with our coach, then it is our job to go out and handle on the court."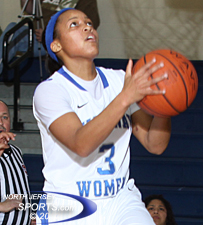 This layup by Rebecca Sparks kicked off a 19-2 Teaneck run.
The Highwaywomen handled the outcome of Tuesday night's win in the span of 4:38 when it went from tied at 6, to up 13-6 at the end of the first quarter to a 25-8 lead 3:39 into the second quarter when Chauntel Seymour banked in a three-pointer. Teaneck led 37-12 at the half and 52-25 after three quarters on the way to their 15th win of the season against just two losses, neither against Bergen County competition.
If there is a formula for a Bergen County team to beat the Highwaywomen in the regular season or in tournament play, it is to get them in foul trouble and stay away from turnovers and not just for parts of games, but for the full 32 minutes. That is easier said than done.
"You can't play their game. Our game plan coming in here was to maintain possession of the ball, keep the ball out of their hands, pass the ball two or three times before we looked to go and score in the half court set," said PC head coach Al Roth, who is just 17 wins shy of 400 for his career. "If you can play a disciplined half-court game against Teaneck, you are going to be in the ballgame. Early on, we missed a few easy baskets. We could have easily been ahead 10-4 or something like that, next thing we knew were down 15 and you can make up that kind of ground against a team like Teaneck."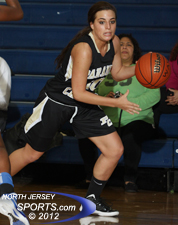 Alisha Cornett scored 10 points for PC, which will play Bergenfield in the county tournament this weekend.
And PC is a quality opponent. The Paladins fell to 9-9 on the season, but they have played one of the most difficult schedules of any team in Bergen County and they are also still alive in the Bergen County Tournament where they will play Bergenfield in the Round of 16 on Saturday. Crawford scored a team-high 12 points against Teaneck followed by 10 from Alisha Cornett and 7 seven each from Taylor and Tianna Smith.
"We gotta put this one in the rearview mirror. I can't go into the locker room now and torment theses kids, we have to get ready to play Ramapo on Thursday and then we have Bergenfield on Saturday," said Roth. "We'll look at this game as a way to prepare ourselves for a deep run in the county and we'll move on."
Teaneck was led by Gibbs' 24 points, Gilchrist added 16 and Sparks and Monique Cheeck, the starting backcourt, combined to score 17 points. Teaneck showed it is not looking past anybody as it gets ready to chase the elusive county title. The Highwaywomen have been knocked out in the semifinals by Holy Angels in each of the last two seasons, but aren't in county-title-or-bust mode just yet.
"Honestly we are taking it one game at a team. Every game is a new challenge that we have to meet on the day that we play it," said Clarke. "We know that we have to focus every time we get on the floor, we can't just expect to win. We have to work for it and I know that my girls are willing to do that."
FOR MORE PHOTOS OF THIS EVENT OR TO BUY A COLLECTOR'S PRINT OF THIS GAME STORY, PLEASE VISIT 4FeetGrafix.com.