Wednesday, January 18, 2012
By Rich Barton
NJS.com Staff Writer
Kayla Gibbs scored a career-high 26 points for Teaneck, which all but locked up the top seed in the Bergen County Tournament with a
76-63 win at Northern Highlands on Tuesday.
ALLENDALE – Heading into this season, Teaneck's Kayla Gibbs had modest goals. Just being on the varsity bench and logging some minutes sporadically would have been enough to feel like she was part of one of the state's best teams. But the Teaneck coaching staff saw something different. They saw someone could be a difference maker, so they convinced her on the first day of practice that it was a make-or-break point to get more serious about doing the little things off the court, mainly conditioning, to improve as a player.
To her credit, Gibbs came ready to work hard every single day in practice with the feeling that her time would come to be that difference maker. That time came on Tuesday afternoon and her team desperately needed her support.
Gibbs, a sophomore, scored a career-high 26 points with 11 of those coming in the fourth quarter as Teaneck put the hammerlock on the top seed in this year's Bergen County Tournament with 76-63 victory over Northern Highlands in Allendale that was much closer than the final score indicated.
"We needed to make something happen in the paint and Kayla has given us that stability," said Teaneck head coach Shenee Clarke. "She's a sophomore who has been playing more like a senior for us lately. Her work ethic and enthusiasm seems to rub off everyone else and that showed up today."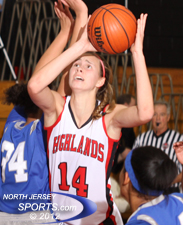 Highlands' Jackie Reyneke filled the stat sheet with

15 points, 16 rebounds, four blocks, three steals, and three assists
Teaneck looked like it would take control early as Florida State-bound guard Jakelle King-Gilchrist scored seven straight points in a 40-second span in the first quarter to give the Highwaywomen a 13-6 lead.
However, two themes started to take shape late in the first quarter. For one, Northern Highlands was not going to go down without a fight; and two, that holding the ball for the last shot of a quarter when you can against a team like Teaneck is of the utmost importance, especially when having to guard a player like King-Gilchrist.
Northern Highlands cut the lead to one and looked to hold the ball for a last shot. Instead, they put up a shot and missed it and allowed Teaneck to come down and score in the waning seconds to go up 18-15, at the end of the opening stanza.
Teaneck quickly stretched the lead to 13, but once again the Highlanders came back to cut the lead to five on a three-point play from Arista Meneve and a putback by Melissa Heath. Down five with the ball and just over 30 seconds to play, the Highlanders again took an ill-advised shot with Gibbs grabbing the rebound. King-Gilchrist made them pay for their mistakes throughout the first half and did so again with an NBA-range three-pointer just seconds before the halftime buzzer to put the Highwaywomen ahead, 38-30.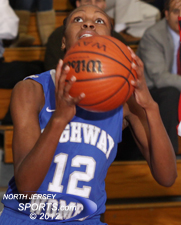 Tenaeck senior Jakelle King-Gilchrist scored 20 of her 25 points in the first half.
"Those two big possessions and we needed to show more patience," said Northern Highlands head coach Al Albanese. "When you are playing the best team in the county, every possession matters and you can't give them any more opportunities than they already create on their own with their press. We were right there and we certainly had our chances. I think we just made mental errors at the wrong time and, in the end, it ended up costing us."
After baskets by Sonya West and Heath to start the third quarter, Teaneck quickly pushed the lead back up to double-digits. But Tori Balzano stepped up for Northern Highlands, hitting a deep three late in the quarter to cut the lead down to a manageable five points, 52-47, heading into the fourth quarter.
That seemed to swing the momentum momentarily as Jackie Reyneke scored inside to cut the lead to one then grabbed a rebound off of a Teaneck miss to give the Highlanders the ball and the chance to go ahead. Sparks came up with arguably the biggest play of the game by snatching the ball and feeding Gibbs for a layup. Gibbs, who has dropped 20 pounds since the first day of practice, got stronger as the game wore on. She scored again inside to bump the lead up to five and help the Highwaywomen regain control of the game for good.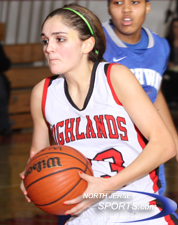 Highlands point guard Madison Dunbar finished with 16 points,
7 assists, and 4 steals.
"I give Northern Highlands credit because they kept coming at us in different ways," said King-Gilchrist. "I thought we showed a lot of poise and communication was key to us coming up with big plays when we needed them. It is easy to get wrapped in being in a close game like this. But we stayed focused and I thought we did a great job of clock management, which hasn't been one of our strong points in the past, so that was a good thing."
Gibbs was clutch down the stretch by hitting four of her five fourth-quarter shots and leading all players with her 26 points for Teaneck (8-1). King-Gilchrist netted 20 of her 25 points in the first half, and Sparks added 16 points, four assists, and four steals.
The 6-foot-3 Reyneke did a little bit of everything with 15 points, 16 rebounds, four blocks, three steals, and three assists. Emerging sophomore point guard Madison Dunbar had 16 points, seven assists, and four steals. Balzano and Meneve had 12 and seven points, respectively.
With the win, Teaneck locked up the top seed in the Bergen County Tournament with Northern Highlands more than likely getting the No. 3 seed with their only losses coming in the past three days against Teaneck and likely No. 2 seed IHA. Although she is just starting to come into her own as a player, Gibbs is well-versed on the history of the Teaneck program, a program that has seen success on the state level but has not won a county championship recently despite being a favorite on several occasions. With Gibbs firmly entrenched in the middle and the Highwaywomen clicking on all cylinders, they finally feel this is the year to get over the hump.
"We want to be county champions, it's something we have talked about since day one and this is finally going to be our year," said Gibbs. "We have some seniors who have had frustrating losses in the counties and we want to win this for them and for coach. As for me personally, I know I'm a work in progress. But I'll keep being aggressive and I'll learn from my mistakes as I go. I'm not going to try and do too much, just do what I'm capable of doing. If I can help this team win a county championship, then it's worth it."
FOR MORE PHOTOS OF THIS EVENT OR TO BUY A COLLECTOR'S PRINT OF THIS GAME STORY, PLEASE VISIT 4FeetGrafix.com.