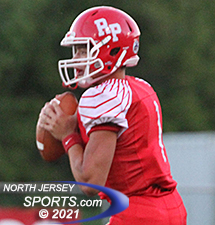 Brevin Cooney piloted Ridgefield Park's offense to a record night in a 51-14 victory over Teaneck on Friday.
RIDGEFIELD PARK – Being on the wrong end of blowout scores week after week can be physically and emotionally draining on a team that is either building or re-building a winning culture. It is something the players from Ridgefield Park have experienced first-hand. Under second-year head coach Chris Rapp the Scarlets took their lumps in a truncated 2020 season, but instead of packing it in an accepting defeat the senior-laden Scarlets took it upon themselves to restore the pride of the once-proud program.
As they took the field for Senior Night, the Scarlets felt what they have been searching for all along: An enthusiastic, packed crowd cheering them on and fueling them to reach heights that only they could have expected coming into this season.
Ridgefield Park showed its offensive firepower with a school record 45 points in the first half in cruising to a 51-14 triumph over Teaneck on Friday night at Ridgefield Park High School.
"We bought into working hard in the off-season and being ready to compete every day," said Ridgefield Park's Andrew Vargas. "We've been locked in since day one and as a senior we wanted to put on a show for our school tonight. It's a family we have going here, and we'll be dedicated for the rest of the season."
The Scarlets did not waste time in getting on the scoreboard. Junior quarterback Brevin Cooney led them down the field before rolling out to his left and hitting Joe Rinaldi for a 12-yard touchdown. Their next drive got into the Highwaymen red zone before they had to settle for a 27-yard field goal from Vargas.
Teaneck nearly got a little a momentum when a run on a fake punt went for 52 yards inside the Scarlets' ten-yard line. But it was called back due to a chop block with Cooney and Co. continuing their onslaught. He looked for his favorite target, Vargas and found him twice for TD strikes on consecutive drives.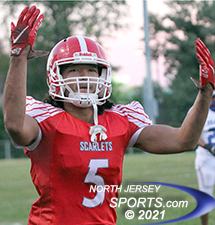 Andrew Vargas and Ridgefield Park are now 3-1 heading into Thursday night's showdown with Ramsey.
Vargas first caught an out route, broke two tackles along the sideline then went 37 yards to paydirt. On the following drive, he ran a skinny post and hauled on a beautiful pass from Cooney to give Ridgefield Park a commanding 24-point lead early in the second quarter.
Aaryn Lugo got Teaneck on the scoreboard with a 78-yard scoring strike. It did little to slow the Scarlets, who continued to roll right through halftime. Antonio Torcchia and Justin Meran each ran for TDs as the Scarlets put the game away and ensured a running clock for the entire second half with a 45-6 halftime lead.
"We've been on the other end of games like this, but we've kept working hard and we keep moving forward," said Rapp. "In the 90's and early 2000's 'The Pit' was a tough place to play. We want to play Ridgefield Park football, hard-nosed football. We're bringing that culture back and these guys have been doing the work to get to this point."
Ridgefield Park will play its biggest home game and likely see its biggest crowd in over a decade when undefeated Ramsey, which squandered a 22-point second-half lead before downing West Milford in overtime on Friday, comes to town on Thursday night.
With 21 senior Scarlets having restored the pride of the program now they are looking for respect as a true contender come playoff time.
"We take it one week at a time and focus on getting the job done that week," said Cooney. "There is more behind-the-scenes stuff than just winning on Friday nights. All the 6 A.M. morning lifts, the double sessions, working through the winter, spring, and summer. That all plays a factor, and it pays off when look up at the end of a game and you see your team is victorious on the scoreboard."
FOR MORE PICTURES OF THIS EVENT PLEASE CLICK HERE. TO BUY A COLLECTOR'S PRINT OF THIS STORY PLEASE VISIT 4-FeetGrafix.com.